How Much Do Business Plan Writers Cost?
When you're starting or growing a business, it's important to have a clear plan in place. Writing a business plan can help you outline your goals and sales strategies, and it can be a valuable tool when seeking funding from potential investors such as venture capitalists or a bank loan. 
If you don't have time to write your own business plan, or if you need help getting started, professional business plan writing services can be a great option. But, how much do these services cost? And is it worth the investment? Let's take a closer look.
How Much Should I Pay For a Business Plan Writing Service?
Professional business plan writers and consultants generally charge between $2,000 and $25,000. However, the cost largely depends on the required quality of your plan, the complexity of your business plan, and the length of the document. Professional business plans for very small companies may only require a few thousand dollars to be written, while more complex business plans for larger, growing companies can easily cost over ten thousand dollars.
There are also private consultants who will write or edit your business plan on an hourly fee basis. Fees can range from $50 to $300 per hour or more, depending on the consultant and the complexity of your business plan.
Whoever you choose to get started with your business plan, be sure to consider what's included in your service. At the very least, you should expect:
Comprehensive business plan including an executive summary, market analysis, marketing plan, financial plan with 3-5 years of financial projections, and other essential components required by potential investors
Customization based on your business model and specific to your business needs
Well-researched business plan based on relevant industry information and a thorough competitive analysis
There are several companies out there that offer complete business plan writing services. However, the quality of their work can vary dramatically. If you're considering hiring outside help to write your business plan, choose carefully.
It's important to remember that you get what you pay for when it comes to these types of services. If you go with a cheap plan writer, you run the risk of ending up with a low-quality business plan. If your business plan isn't strong and professional-looking, it may be harder for you to get funding or attract investors.
Looking for a Business Plan Writer?
You've come to the right place! Since Growthink was founded in 1999, we have provided business plan writing services for thousands of clients including startups, small business owners, nonprofit organizations and mid to large-sized companies.
We understand that writing a business plan can be a time-consuming process for many entrepreneurs. Hiring a business plan writer will allow you to quickly and expertly create a custom business plan.
 Expert Team of Business Plan Writers
 Fully Customized Business Plans
 Market & Competitor Research
 Complete Financial Projections
 Strategic Consulting For Growth & Funding
Get Started Now!
Call us at (800) 216-3710 or complete the form below and one of our business plan writers will reach out to you to schedule a time to speak about your business plan needs.
You can learn more about our business plan consulting services here
What Factors Impact Business Plan Pricing?
Some things that impact business planning services pricing include:
Length – Longer, more complex business plans will cost more than shorter business plans.
Company Size – A business plan for a large or complicated company can be more expensive to write.
Level of Expertise – Smaller companies may opt to hire less experienced writers who charge lower prices, while larger, well-established companies choose to work with high-quality professionals who charge higher rates. You can't expect a less experienced writer to help you achieve your goals (funding, growth) for your business plan.
Turnaround Time – Generally, shorter turnaround times mean increased prices. Typically it will take 3-4 weeks to write a quality business plan.
Additional Services – Some companies offer additional services, such as business plan presentation and pitch deck editing and support. These can cost extra.
To really get your business off the ground, it's important to have a business plan in place that has been written by someone with the expertise to put together a successful business plan. A professional business plan consultant is an excellent investment for increasing your chances of securing the funds you need to start and/or grow your business. However, it's important to do your research and choose carefully when you're ready to hire.
Who Can I Hire To Write My Business Plan?
When choosing a business plan writer or consulting firm, it's important to look for a company with significant business experience and proven expertise in business plan development. Look for companies that have been around for at least five years and do business plan writing on a regular basis. They should also be able to provide references from other companies that they've worked with.
A Business Plan Writing Company or Consultant
When hiring a business plan writing service , you'll have two primary options. You can opt to work with a single writer or a dedicated team of experts who will be responsible for the entire project. The price of the service may vary depending on which option you choose.
A business plan writer typically costs less than an entire team, but it's important to keep in mind that you may have less control over the outcome. The upside is that your business plan will be written by an expert with a deep understanding of the writing process.
When choosing this route, you should ask for references and examples of previous work. Before hiring any business plan writer, be sure they have the proper credentials and experience to meet your needs. You should also ask about any fees associated with revisions or updates.
Many businesses choose to work with a business plan consulting firm that offers a collaborative team of experts. This type of company will give you the best of both worlds. You'll be able to utilize the knowledge and expertise of all the experts involved in the project, while still retaining control over the direction and vision of your business plan.
If you're trying to determine how much it will cost to work with a business plan writing service, take some time to explore all of your options before making a final decision. You should consider both pricing models as well as the qualifications offered by the various service providers in your area. Doing so will ensure you find the most qualified choice for your business planning needs.
You Can Write It Yourself
If you are a newer entrepreneur or business owner or you are trying to save money, there are several free resources available online to help you write your business plan. The Small Business Administration (SBA) and your local Chamber of Commerce offer business plan services, workshops, or courses that can help you get started. Using a business plan template is a great way to quickly and easily complete your plan, especially if you are unfamiliar with the business planning process.
Some business owners are comfortable writing business plans without any outside help. This option offers you complete control over the process, but it typically takes more time than you have to spare. For that reason, not writing your own plan is usually recommended for experienced business owners, even those with plenty of business plan writing experience.
In most cases, experienced business owners who write their own business plans will have a better idea of what elements are needed and how they should be presented. However, it can still take considerable time to compile all the necessary information into a cohesive business plan that meets your audience's needs. And it's one thing to write a business plan; it's another to write a business plan that gets investors or lenders to write you a large funding check.
A Combination of Business Planning Services
If your budget doesn't allow you to hire a comprehensive business plan service, combining outside services with writing your own business plan may be the best option. This approach gives you complete control over the process, while still allowing you to benefit from an expert business plan writer's advice. It is also a great option for entrepreneurs who don't have time to write their plan but aren't quite ready to hire someone else to do it either.
Other business services that could help you include:
Market Research – Conducting thorough market research can help you determine which business opportunities are viable. Experienced consultants can help you identify your target customer so you can design the right marketing strategy to reach them.
Copywriting Assistance – Many entrepreneurs have a great product or idea, but lack the writing skills needed to effectively advertise it in their business plans or online marketing materials. A business plan copywriter can help you create a compelling marketing message that resonates with your target audience.
Startup / Growth Opportunities – If you're thinking about starting a business or expanding your established business, it's important to consider all of the potential opportunities before diving into something that may not be feasible for your current situation. A business plan consultant can help you identify what makes your business idea unique and how you can capitalize on those opportunities.
Business Plan Review – Once you've completed your business plan, it's important to have it reviewed by an expert. They can identify any gaps or mistakes in logic that could affect how potential lenders or investors perceive your business idea.
As with any decision affecting your company's future, you should take the time to explore all of your options before committing to a specific service provider. The goal is not only to find the best fit for your budget and needs but also to find a business plan consulting service that can meet your expectations and deliver quality content on time and within budget.
Is It Worth It To Use a Professional Business Plan Writing Service?
As with anything else, you'll get what you pay for. If you are short on time or don't have the writing skills required to write a business plan, it may be worth considering a professional writing service. These services can help you complete the necessary research and planning to get a comprehensive business plan written for your company.
How Growthink Can Help Your Business
Since 1999, Growthink has developed thousands of business plans for entrepreneurs and business owners to start and/or grow their businesses. From small business owners to Fortune 500 companies, we have provided a variety of business plan services to meet the needs of each client.
Our business planning services include:
Business Plan Consultants – Our experienced business plan consulting team has helped numerous businesses from small businesses to multi-million dollar corporations identify new opportunities and develop their business plans using existing information where possible, or by conducting new research as needed.
Business Plan Writing Services – Our business plan writers are experienced professionals who are committed to providing you with a business plan that delivers results. Depending on your needs, our business writers can either help you complete the research and writing process, or write your business plan for you from start to finish.
Done For You Market Research – Our market research team can conduct independent market research for your business through access to several market research databases. Utilize this research to help you write a business plan that is more in-depth and gives you a distinct advantage over competitors in your industry.
Private Placement Memorandums – Growthink's experienced business consultants can help you prepare a private placement memorandum (PPM) that is tailored to the unique needs of your business. PPMs are used to help businesses raise capital from accredited investors.
Growthink's Ultimate Business Plan Template – Our simple business plan template is available in MS Word and when completed can be sent to investors and lenders in Adobe PDF format. Use this business plan template to help you focus your business concept on the information that is most relevant for lenders and investors, while also providing a flexible foundation for future growth.
Business Plan Writing Help Center – We have a wide variety of free resources for business planning on our website. Use our selection of 200+ business plan examples to help you write a business plan specific to your industry or learn more from our selection of business planning and funding articles.
No matter what product or service you choose, we wish you success in your business venture

Upmetrics AI Assistant: Simplifying Business Planning through AI-Powered Insights. Learn How

400+ Sample Business Plans
Business Plan Course
Strategic canvas templates, e-books, guides & more.
Customers Success Stories
Business planning, financial forecasting, ai assistance, see how upmetrics works →, stratrgic planning, business consultants, entrepreneurs and small business, accelerators and incubators, educators & business schools, students & scholars.
How Much Should a Business Plan Writing Cost?

Free Guide On Writing A Business Plan
Radhika Agarwal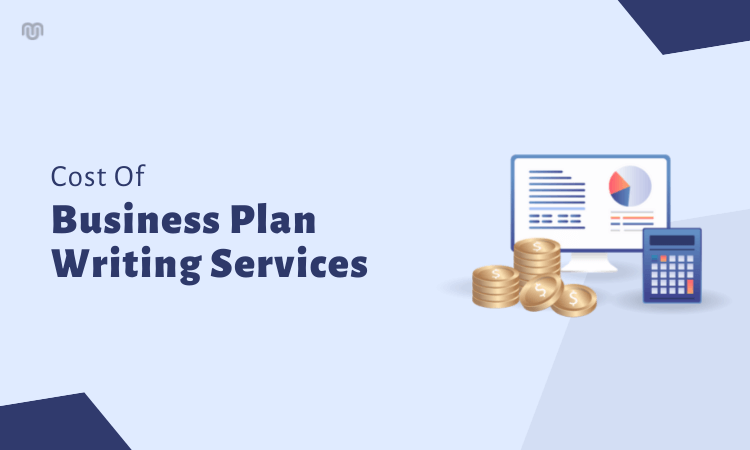 This blog will give you a clear idea about business plan cost and other relevant factors associated with it.
What works for someone else might not work for you. The same goes for a business plan and the type of services you take to write one.
You might have heard and read about the importance of business plans from various resources, so the next step would be to decide upon the method and budget for writing your plan.
Depending on your business, you might not need to spend hundreds or thousands of dollars on a business plan. And as effective spending matters for businesses, it is the best practice to go through all of your options and pick the one that fits your business and budget the most.
In this article, we'll discuss different sources for writing a business plan, and normally how much writing a business plan costs .
Hiring a Business Plan Writer
Hiring a consultant, writing it through a software, using combined services, the hiring cost of a business plan writer.
With thousands of things to look after, you might not want to or have the time to write a business plan on your own. In this case, you can hire a business plan writer who'll write a professional and well-put-together business plan.
Here are the pros and cons of hiring a business plan writer:
Time-saving.
Well researched with added points.
Business plan writers know the jargon and style investors prefer.
Let you focus on other aspects of your business.
Might look homogenous with other plans in the same industry.
You might have difficulty including your own vision in the plan .
Would be a big drawback if the writer doesn't know enough about your industry.
Can be difficult to present as you've not written it.
Doesn't help you answer an investor's tangent questions.
Can be expensive, especially if you're just starting out.
Learn more about Hiring a business plan writer
How much does the business plan writer cost:
A business plan writer costs anywhere between $1000 to $3000 . It is the appropriate method for businesses that need above $500,000 in investment and has complex planning and staffing needs.
The Hiring Cost of a Consultant
One of the most popular options, especially if you are trying to attract a particularly large sum of investment. A consultancy company would help you at every step from research to strategizing, business plan writing, and updating the plan.
But on the downside, consultancy services can be pretty expensive and aren't for every business. Here are some pros and cons.
Pros and Cons of hiring business plan consultancy:
Consultants are usually experts in the niche and can give out-of-the-box ideas.
They look at things from an unbiased perspective.
They charge a predecided fixed amount.
Help with updating and improving business practices and plans.
They handle multiple clients and struggle with availability.
They don't give a guarantee of success.
Consulting services are expensive and not viable for everyone.
It can be difficult if the company leaves the organization.
Many consultants go for generic solutions which might not work.
How much does the business plan consultancy cost:
Consultancy services for writing a business plan costs anything between $25,000 to $50,000 . This also depends highly upon the firm you're approaching and their level of expertise in the industry.
Consultancies also charge on a per-hour basis. The rates also depend upon the complexity of the work.
The Costs of Using Business Plan Software
Writing your business plan with the help of software is the least expensive option on the list. On the downside, you'd have to do most of the work yourself. But that gives you the added benefit of knowing your business, the strategies, and the industry inside out. It also reduces your dependence on external resources.
And although it is time-consuming, writing your business plan yourself helps you get the main essence of planning your business and also makes you sound more credible to your investors.
If you have a large-scale business, writing it on your own might not be viable given the time constraints. Also, it can be difficult to come out of roadblocks on your own.
Pros and Cons of writing through software:
You get to inculcate your plans and strategies better in your business plan.
It is the cheapest way to write a well-rounded plan.
You can work more independently on your plan.
Financial forecast software  helps you deal with your finances too.
Most of the software services come with step-by-step guidance.
It is time-consuming.
You might need additional help.
Might not be sufficient if you need a bigger amount in investment.
Software as a business plan writing service can cost anything between $50 to $500 per annum depending upon the plan and software you choose to go with.
Using Combined Services to Reduce Business Plan Costs
Now if you don't want to spend a huge chunk of money on a business plan writer or consultancy, but need a little more help than a business plan software would provide then you can also use a combination of services to write your business plan. If you need more help with the leg work you can do so with the help of a consultant and business plan software.
And if you can do the initial research and create the first draft of your business plan, you can use a combination of business plan software and business plan writer.
This might be a good choice for entrepreneurs who have the initial idea and a rough plan of how to set goals and milestones but would need more help with writing a business plan.
Why Does Your Personal Touch Matter in Your Business Plan?
All of us know that a business plan is much more than a 20-30 page long document. It captures the essence of your business and acts as a roadmap on your business journey. So, even if you'd save loads of time by using a business plan writer or consultant, your business plan would lag in a personal touch and unique vision.
Also, it is important to note that you can't rely too much on consultants. Because no matter how good they are at their job, they're still an external source and can leave your business anytime, and that would be a major setback for your business if you rely solely on your consultant.
Hence, taking part in your business plan writing process would ensure that you have a strong grip on your business from the beginning itself.
In conclusion, if you look through your options you can not only save money but also pick a method that would be the best for your business.
A business plan is perhaps the most important document for your business.
Hence, it is essential for you to think through these 4 steps:
Figure out the time and resources you have.
Figure out what you can do by yourself and the areas you would need help in writing.
After you find out what services you'd need, study the different software, writers, and consultants available on the market.
Look through the services and what their previous clients say about them before you go ahead and take your pick.
At the end of the day, do your research, pick the right services, and take part in the process with full force and determination.
After all, your business dreams deserve all of it and more!
Build your Business Plan Faster
with step-by-step Guidance & AI Assistance.

About the Author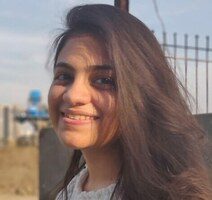 Radhika is an economics graduate and likes to read about every subject and idea she comes across. Apart from that she can discuss her favorite books to lengths( to the point you\'ll start feeling a little annoyed) and spends most of her free time on Google word coach.

Reach Your Goals with Accurate Planning
No Risk – Cancel at Any Time – 15 Day Money Back Guarantee

Popular Templates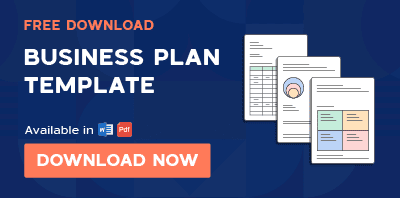 How Much Does a Business Plan Cost?
A complete business plan helps you to identify your business goals and how you plan on reaching them. Whether you are a new business owner or an experienced entrepreneur, writing a comprehensive business plan can help you start, grow, and/or attract investors to fund your business.  
How Much Does It Cost to Write a Business Plan ?
Business plan pricing depends on what route you take to create it. However, there are a few essential elements that are common to all business plans:
Executive Summary
Business Description
Market Analysis
Customer Analysis
Competitive Analysis
Marketing Strategy
Operations Plan
Management Team
Financial Plan
There are several ways to approach writing a successful business plan, but the cost of each way varies widely. The cost of a business plan can be a significant investment, but it's an essential tool for any business. Below we provide some tips for what to consider and the costs for the various methods of completing your own business plan.  
Considerations When Writing Your Own Business Plans
There are several things to consider when writing your own plan. Depending on whether you're in need of funding and how much, the costs for your business plan will be different.
Take into account:
How long will your business plan be?
How many hours does it take to complete the business plan?
What kind of language is used in the business plan?
Who will use the business plan?
Who will fund your business?
How much are you looking to raise or if you need funding at all?
According to our business consultants' surveys of investor requirements, a 15- to 25-page business plan is the ideal length. Adding more pages may cause your time-constrained investor to skim portions of the plan, even if they are interested, which might result in important information being overlooked. However, fewer pages may lead potential investors to believe that the firm has not been thoroughly thought out or simply doesn't have enough information for them to make an investment decision.  
Business Plan Template Costs
There are a variety of business plan templates online that you can purchase for a one-time fee. These templates range in price but usually start at around $100. Remember, a bargain business plan template may not include all the information that you need, so it's important to understand what is included with the template you purchase.
Many of these templates also come with instructions to help you fill in the template and make changes as needed. However, if there is something you want to be changed on the template, it may take time and money to have it done.
Be sure to do your research and find the right template for your business. The wrong template could set you back even further and change the face of your business entirely. If you purchase a professional business plan template, make sure it's from a reputable business plan company with business plan writing skills   in a variety of industries.
The business plan template should be easily editable and customized for your specific business needs and industry trends.
If you do not want to pay for a template, there are companies that will charge by the page and some that offer free resources . However, these templates may not have been professional business plans written for your exact type of business.  
Experienced Consultants & Business Plan Writers Cost
Hiring a business plan writer or professional writing service will help you get a comprehensive business plan written just for your business. A professional business plan consultant will help you identify your goals and how your company will reach these goals. A business plan consultant fee usually costs more but can be worth it if you do not have the time or resources to complete the business plan yourself.
A business plan writer can be found through online directories, but be sure to do your research prior to engaging in business with them. Be sure to ask for references and read reviews before hiring a business plan writing service.
If you choose to hire a business plan consultant, the complexity and length of the plan will determine how much is a business plan. Generally, a consulting firm or private consultants charge between $1,000 and $5,000 to have a comprehensive business plan written . However, a lengthy and complex plan can easily start at a few thousand dollars and stretch into the tens of thousands of dollars based on the needs of the business.
Some experienced business plan writing services also offer package deals that include additional services, such as market research, a marketing plan, and realistic financial projections.
Business Plan Software Costs
There are business plan software applications that can be used for free or have a monthly subscription cost, which may work better for your needs depending on what you need in a business plan. These apps provide templates and make writing a business plan and business planning easier. They help organize the information you enter into the app and will sometimes offer advice on how to do things like financial projections for your business plan .
The information that you put into the application can be used for several different types of business plan needs. These apps are great for startups and small businesses looking to raise capital or secure funding.
Each app or software varies in what it offers. Some are more customizable than others, some have more options for presenting your business plan, and some even offer investment opportunities. With just your business idea, the business planning software can help you write your own business plan quickly and easily. 
Write Your Own Business Plan from Scratch
If you do not want to purchase a template or use software, the easiest and most cost-effective way is to write a business plan from scratch. This route takes time and effort to complete but can be done by anyone willing to put in the work.
When writing your business plan documents, remember that they should be as detailed as possible. This document is your guide to starting and running your business. The more complete it is, the better off you'll be.
There are a variety of free resources available online to help you write a business plan, including articles, templates, and even video courses.
When writing a business plan from scratch, it's important to consider all of your business aspects. This includes your business concept or business model , management, production, market research , sales strategies , customer service, operations, human resources, financial projections , and more.
Try to be as thorough as possible when writing the plan. While the task may seem daunting at first, you'll find that putting together a business plan is not so bad once you get started. After all, if you can dream it, you can write it.
The cost of writing a b usiness plan is dependent on the purpose, type, and length of the business plan. The amount of time it takes to complete a  business plan , the language used, and who will be using the document also play a factor in the cost. You can find templates for a one-time fee or pay by the page, hire a business plan writing service or a business plan writer , contact a consulting firm , or use software/apps to create your business plan. Whichever option you choose, make sure you do your research, conduct an in-depth business plan review, and find the best resource to meet the goals for your business.  
Recent Posts
How to Start A Car Rental Business
How to Start A Staffing Agency
Business Plan Outline and Example
Blog categories.
Business Planning
Venture Funding

Customer Reviews
Net 30 Account
Wise Services
Steps & Timeline
Work at a Glance
Market Research at a Glance
Business Plan Writing Services
Bank Business Plan
Investor Business Plan
Franchise Business Plan
Cannabis Business Plan
Strategic Business Plan
Corporate Business Plan
Merge and Acquisition Business Plan (M&A)
Private Placement Memorandums (PPM)
Sample Business Plans
Professional Feasibility Study
PowerPoint Presentations
Pitch Deck Presentation Services
Business Plan Printing
Market Research
L-1 Business Plan
E-2 Business Plan
EB-5 Business Plan
EB-5 Regional Centers
Immigration Attorneys
Nonprofit Business Plan
Exit Business Planning
Business Planning
Business Formation
Business License
Business Website
Business Branding
Business Bank Account
Digital Marketing
Business Funding Resources
Small Business Loans
Venture Capital
Net 30 Apply

Frequently Asked Questions
Business Credit Cards
Talk to Us 1-800-496-1056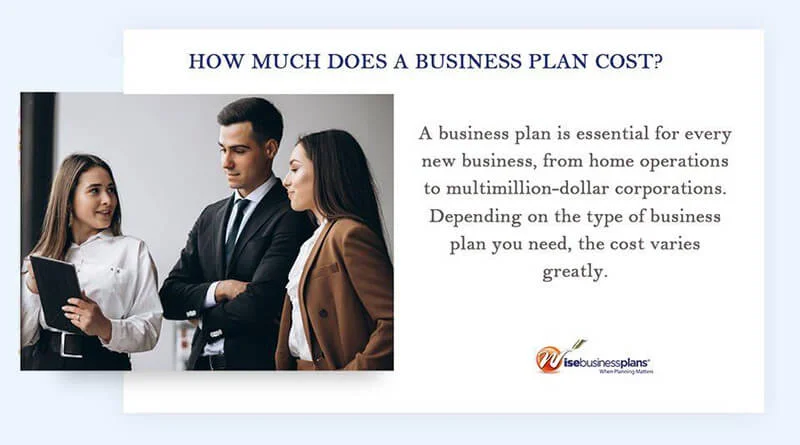 How Much Does a Business Plan Cost?
A business plan is essential for every new business, from home operations to multimillion-dollar corporations. The cost varies depending on the type of business plan you need.
How Much Does Business Plan Writing Services Cost?
Companies with specific planning needs such as market research, financial projections, or limited time can hire a business plan company to prepare a business plan.
Generally, a professionally written business plan company will charge between $2,000 and $20,000 for a professional business plan . Business plan costs vary depending on the type of industry, location, market size, business funding, and time in business.
Rates can be higher for companies that plan to use new or complicated technologies, disruptive models, have complex revenue streams, or require substantial investment capital.
You should decide what type of business plan you need to determine the average cost to write a business plan.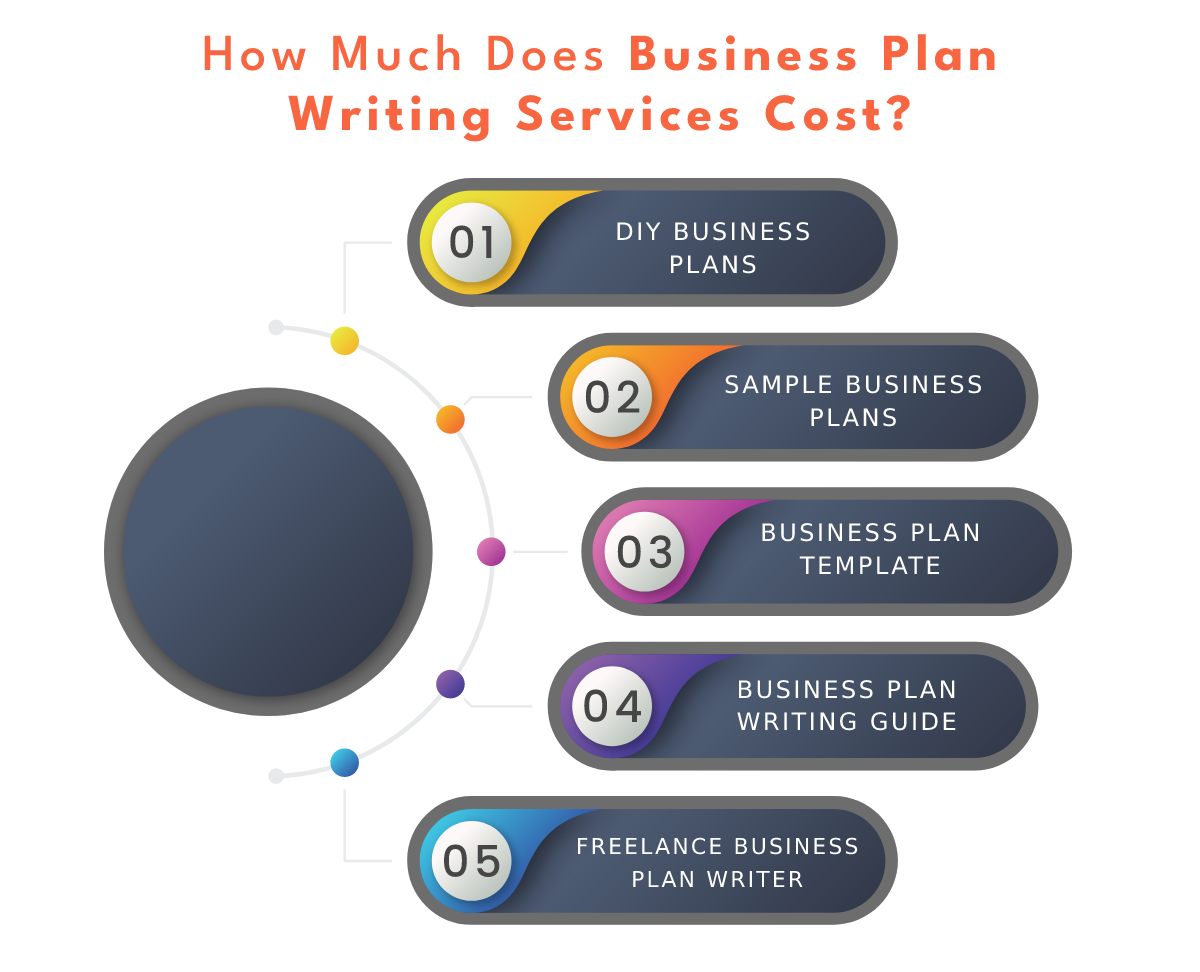 DIY Business Plans
A Do-It-Yourself (DIY) is an inexpensive option for writing your own business plan. You can buy software or business plan templates to speed up this process for $20 to $300, but you can also find free resources on the web that provide business plan templates and suggestions. DIY business plans are an excellent resource for startups with very low startup capital.
You can use our sample business plans to create a business plan that follows a complete structure and format, so you won't be left with an empty page wondering what to write.
Make your vision a reality! A Wise Business Plan template  includes everything needed to WOW your audience. Includes business plan in Word and business plan financials in Excel. Simply fill in the blanks and print. Make your vision a reality! A Wise business plan Template includes everything needed to WOW your audience. Simply fill in the blanks and print. In addition, you can download our 300+ free business plan templates covering a range of industries.
Business Plan Writing Guide
Business plans can be challenging to write. However, with our " how-to-write a business plan guide , " you will surely be able to complete your plan. You can use these resources to learn what to include in your business plan and the types of language used in these professional documents.
Freelance Business Plan Writer
Business plan writers range from $79 to $149 an hour. Most projects will take a minimum of 20-30 hours for the business plan writer to complete.
Hiring A Professional Business Plan Consultant
You can hire a professional  business plan writer  to write your business plan. Some larger, more complex plans can run higher in price, depending on the type of project and the number of staff members involved. For simple projects, costs start at $2,000 and can go up to $20,000+ depending on the scope.
BANK BUSINESS PLANS
A Bank Business Plan includes every piece of the planning puzzle that a bank loan officer would need to see before signing off on the funding. This plan focuses on professionally developed financials to show the ability to repay a bank loan successfully.
Ideal for: Anyone seeking traditional bank funding or looking to secure a Small Business Administration (SBA) loan.
INVESTOR BUSINESS PLANS
An investor business plan will showcase Return on Investment (ROI) and offer a compelling description of the company's leaders' experience, commitment and business acumen. This plan seeks to instill confidence in investors while also getting them excited about your company. An investor business plan will show that the company has strong potential to reward those who invest while mitigating risk. 
Ideal for: Anyone looking to work with venture capitalists, angel investors or private investors that provide funding in return for equity in the company.
Bonus Tip: 5 Best Places to Find a Venture Capitalist

FRANCHISE BUSINESS PLANS
A franchise business plan will demonstrate how the location being funded is supported by the strength of the parent organization, while also demonstrating that the new location adds value to the over-arching company. Franchise business plans are a mix of information on the parent company and the franchise being funded. They place heavy emphasis on the market that would support the new location. 
Ideal for: Anyone looking to fund a franchise. This kind of business plan can also help make a case for a new franchise location to the parent company, increasing the chances that your location will be approved.
Bonus Tip: Discover how to buy a franchise with no money ?

STRATEGIC BUSINESS PLANS
A strategic business plan is a valuable tool for business builders, allowing them to prepare for the future by aligning their business goals with their market, industry predictions and plans for structuring the company as it grows. This kind of business plan is a true roadmap to success that can help a savvy business owner define and meet goals more quickly by staying one step ahead of growing pains and economic turbulence. The plan is also commonly used for Mergers & Acquisitions (M&A). 
Ideal for: Anyone who wants a goal-oriented strategy for growing a business quickly and strategically while minimizing distractions and dead-end side projects.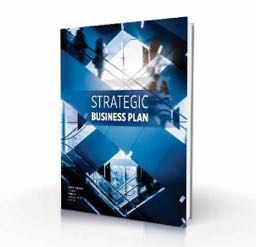 NONPROFIT (501 (C)(3) BUSINESS PLANS
Description: Rather than focusing on Return on Investment (ROI) or profit margins, a Nonprofit (501 (C)(3) business plan is created to demonstrate good stewardship of funds received in support of the company's mission. As with any other business plan, a nonprofit plan will include goals and market needs assessments, along with financials, but the mission of the plan will be to show that those leading the nonprofit have the experience, knowledge and goals in place to manage funds received from any source.
Ideal for: Those looking to start a Nonprofit (501 (C)(3) organization.

FEASIBILITY STUDIES – Starting at $10,000
Understanding the viability of a business concept or project ahead of time saves time, money and stress. A professional feasibility study from Wise is like a window into the future of the client's business.
PRIVATE PLACEMENT MEMORANDUMS (PPM) - – Starting at $5,000
A vital business document, a PPM is the key that opens the door to private investment transactions. Our writers work closely with business owners to ensure that each client's Private Placement Memorandum is both compelling and compliant.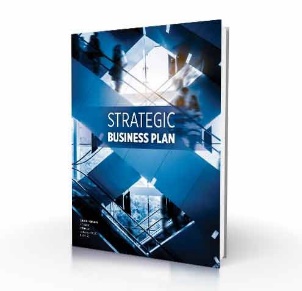 IMMIGRATION BUSINESS PLANS
Description: The United States offers several different visa programs allowing immigrants with valuable business skills to enter and work in the United States (Read below to learn more about each type of visa.) Immigration business plans must show that the person seeking a visa and the company sponsoring the applicant or being created meets very strict government guidelines about required skills and job creation. 
Ideal for: Those looking to bring talent from another country to boost growth or those seeking to immigrate to the United States for the purpose of creating a business.
L-1 visa : An L-1 visa is a non-immigrant, short-term visa often used to allow company leaders or specialists to assist in specific initiatives. L-1 visas are available to employees of an international company with offices in both the United States and abroad.
E-2 visa : An E-2 visa is an investor visa that allows investors to enter and work in the United States to direct and control a substantial investment in the company. This is a renewable visa.  
EB-5 visa: An EB-5 visa allows investors to begin becoming a permanent United States resident. This visa requires an investment of at least $1,050,000 and the creation of at least ten jobs for American workers. In areas of high unemployment, the investment requirement drops to $800,000.

Hiring an Accounting or Law Firm
Are you looking to go public? Hiring a CPA or law firm to write your business plan may be a good option. Securities attorneys and CPAs will require a retainer to start your project. Most projects begin between $50,000 to $100,000 with an hourly rate of $250-$500, depending on how many people are working on the project and their skillsets. 
The cost of a business plan can vary depending on various factors such as the complexity of the business, the level of detail required, and the experience of the business plan writer. On average, a professionally written business plan can cost anywhere from a few hundred to several thousand dollars.
Yes, there are free and low-cost options available for creating a business plan. Many online platforms offer business plan templates and resources that can help you create a basic plan at no cost. However, if you require a more comprehensive and customized plan, hiring a professional writer or consultant may be necessary, which can come at a higher cost.
Several factors can influence the cost of a business plan, including the size and complexity of the business, the industry, the target audience (such as investors or lenders), the level of research and analysis required, and the timeframe for completion. Additional services such as market research, financial forecasting, and industry analysis can also impact the overall cost.
It depends on the specific needs and goals of your business. A professionally written business plan can provide valuable insights, help secure funding, and serve as a roadmap for your business. It can increase your chances of success and make a positive impression on investors or lenders. However, if you have the necessary knowledge and resources, you can also create a solid business plan on your own.
Assessing the importance and potential benefits of a business plan for your specific business is crucial in determining the right budget. Consider your business goals, the complexity of your business model, the amount of research and analysis required, and the level of expertise you need from a business plan writer. It's recommended to research and compare costs from different sources to make an informed decision about your budget.
Hello. splendid job. I did not imagine this. This is a excellent story. Thanks!
Thanks for the comment. It's a pleasure for us to see your stance. If you want more information regarding the costs of business plans or any other information. Feel Free to contact us .
Great blog. It gave me enough information to write a business plan on my own. I can say that I can be a business plan writer for my own business.
You could certainly see your skills within the work you write. The arena hopes for even more passionate writers like you who aren't afraid to mention how they believe. At all times follow your heart.
Leave a Reply
Your email address will not be published. Required fields are marked *
Quick Links

Investor Business Plans
M&A Business Plan
Private Placement
Feasibility Study
Hire a Business Plan Writer
Business Valuation Calculator
Business Plan Examples
Real Estate Business Plan
Business Plan Pricing Guide
Business Plan Makeover
SBA Loans, Bank Funding & Business Credit
Finding & Qualifying for Business Grants
Leadership for the New Manager
Content Marketing for Beginners
All About Crowdfunding
A Comprehensive Guide to Venture Capitalists
EB-5 Regional Centers, A Step-By-Step Guide
Logo Designer
Landing Page
PPC Advertising

Business Entity
Business Licensing
Virtual Assistant
Business Phone
Business Address
E-1 Visa Business Plan
EB1-A Visa Business Plan
EB1-C Visa Business Plan
EB2-NIW Business Plan
H1B Visa Business Plan
O1 Visa Business Plan
Business Brokers
Merger & Acquisition Advisors
Franchisors
Proud Sponsor of




Business Proposal Cost
Jump to section, legal subscription plans.
ContractsCounsel made it very easy to find a lawyer to help our company with its legal needs.
Business proposal costs typically range from $1770 to $2500 , including expenses related to research, documentation, design, and compelling presentation. It refers to the estimated financial outlay of preparing a formal proposal to a client or partner. Let us delve deeper into a business proposal cost and its important aspects below.
Breakdown of Business Proposal Costs
Several elements make up for a business proposal cost in the United States. Here is a breakdown of the expenses associated with the particular proposal:
Drafting a Business Proposal : $1,860
Preparing and Filing a Business Proposal: $1,770
Reviewing a Business Proposal: $1,120
Factors Affecting Business Proposal Costs
Several factors can influence the cost of preparing a business proposal. These factors can vary depending on the nature of the proposal, the industry, and the specific requirements of the potential client or partner. Key factors affecting a business proposal cost:
Graphic Design and Visual Elements: Including high-quality graphics, charts, and visuals in the proposal can increase design and graphic-related costs.
Printing and Binding: For physical proposals, expenses related to printing, binding, and packaging should be considered.
Travel and Presentation Costs: If the proposal requires in-person meetings, travel expenses, accommodations, and presentation-related costs can impact the budget.
Proposal Software and Tools: Costs associated with using specialized proposal management software, design tools, or collaboration platforms for proposal creation should be considered.
Proposal Volume: Organizations that submit a high volume of proposals may invest in proposal management systems, which can have their own associated costs.
Translation and Localization: Costs related to content translation and localization can be substantial for international proposals.
Third-party Services: Expenses for third-party services should be included in the budget. It should be market research firms, legal consultants, as well as designers.
Technology and Equipment: Costs related to specialized technology or equipment needed for the proposal should be considered.
Compliance and Regulations: Proposals in regulated industries may require additional compliance-related documentation and legal reviews, increasing costs.
Post-proposal Activities: Costs associated with post-proposal activities, such as negotiations, legal agreements, or contract development, can affect the budget.
Steps to Engage a Lawyer for a Business Proposal
When approaching a lawyer to consider a business proposal cost, it's essential to follow a structured and professional approach to ensure clarity and mutual understanding. Here is a detailed approach:
Conduct an Initial Inquiry. Contact the lawyer to express an interest in discussing a business proposal. Briefly outline the nature and objectives of the proposal without disclosing sensitive details at this stage. Request a meeting or consultation to explore the proposal in more detail.
Prepare a Proposal. Prepare a comprehensive and well-documented business proposal with clear details on the project scope, objectives, timeline, and financial aspects. Consider having a summary of the organization's background, expertise, and any relevant credentials. Highlight the potential benefits of the proposal and its alignment with the organization's goals.
Schedule a Meeting. Schedule a meeting or consultation with the lawyer at a mutually convenient time. During the meeting, present the business proposal and provide a detailed overview of its contents. Emphasize the specific cost-related aspects, including budget estimates, payment terms, and cost-related considerations.
Assess the Proposal. Allow the lawyer sufficient time to review the proposal. Encourage the lawyer to ask questions, seek clarifications, and request any additional information they may need for a comprehensive assessment.
Have a Discussion. Discuss with the lawyer to address any legal implications, risks, or compliance requirements related to the proposal's cost and financial aspects. Explore potential modifications or safeguards that may be necessary to protect both parties' interests.
Seek Clarification. Request the lawyer to provide a clear assessment of the legal aspects of the proposal's cost, including any legal fees or expenses that may arise. Seek clarification on billing methods, fee structures, and any potential additional costs related to legal services.
Outline the Terms. If both parties agree to proceed with the proposal, work with the lawyer to draft a formal agreement or contract that outlines the agreed-upon terms, including cost-related provisions. Ensure that the agreement reflects the mutual understanding reached during the consultation.
Finalize the Agreement. Review the draft agreement carefully and make any necessary revisions or clarifications in collaboration with the lawyer. Once both parties are satisfied with the terms, finalize and sign the agreement.
Execute the Agreement. Execute the agreement per its terms and initiate the proposed project or collaboration.
Communicate Regularly. Maintain open and regular communication with the lawyer throughout the project to address any legal matters, cost-related issues, or modifications that may arise.
Benefits of a Business Proposal
A good business proposal cost offers several benefits for organizations seeking to secure new clients, projects, partnerships, or investments:
Controls Cost: Knowing business proposal costs helps organizations control costs by clearly outlining project budgets, pricing structures, and resource allocations.
Plans Budget: They facilitate effective budget planning by providing a detailed breakdown of project costs and expenses.
Allocates Resource: Having the proposal costs beforehand assists in allocating resources efficiently, ensuring that financial and human resources are optimized to meet project objectives.
Assesses Risk: Proposal costs enable organizations to anticipate and plan for cost-related contingencies by identifying potential project risks and challenges.
Evaluates ROI: Organizations can evaluate a project's return on investment (ROI) through cost analysis presented in the proposal cost, aiding in decision-making.
Maintains Cost Transparency: Knowing proposal costs offers transparency by clearly defining pricing, payment terms, and any additional costs, reducing the risk of unexpected expenses.
Establishes a Negotiation Framework: They establish a framework for cost negotiations, allowing parties to discuss and refine project pricing to reach mutually agreeable terms.
Enhances Client's Confidence: Transparent cost presentation in a proposal builds client confidence by demonstrating fairness, trustworthiness, and accountability.
Uses Resources Efficiently: Proposal costs help organizations use resources efficiently by aligning project costs with the expected benefits and outcomes.
Key Terms for Business Proposal Costs
Cost-benefit Analysis: An evaluation of a business proposal's financial gains and losses to determine its profitability.
Financial Projection: The particular forecast associated with future revenues, expenses, and cash flows provides insights into the financial aspects of the proposed project.
Cost Allocation: Distributing project costs among different elements or stakeholders, ensuring fair and accurate accounting.
Break-even Point: The level of sales or revenue at which the proposal's costs are covered, resulting in neither profit nor loss.
Value Engineering: A systematic approach to reduce project costs while maintaining or improving its functionality, quality, and performance.
Cost Containment: The strategic management of expenses within a business proposal to prevent cost overruns and maintain budgetary control throughout the project lifecycle.
Final Thoughts on Business Proposal Costs
The consideration of cost is not merely a numerical figure but a strategic element that can make or break the viability of a project in business proposals. It serves as an important aspect of informed decision-making. The same process enables organizations to navigate the complex field of project economics, resource allocation, and financial feasibility. Businesses can enhance their credibility and competitiveness by meticulously assessing, transparently presenting, and judiciously managing costs within a proposal and laying the groundwork for successful collaborations and ventures. When harmonized with value delivery, cost-consciousness is the compass guiding business proposals' trajectory toward sustainable growth and mutual benefit.
If you want free pricing proposals from vetted lawyers that are 60% less than typical law firms, click here to get started. By comparing multiple proposals for free, you can save the time and stress of finding a quality lawyer for your business needs.
Meet some of our Lawyers
My legal practice is focused on business transactions like general corporate matters, fundraising, technology contract negotiation, blockchain, crypto or token analysis, and others. I hope to be a good asset to you and looking forward to finding out how I can be of help!
Ms. Ayub is an attorney licensed to practice in Texas. Before moving to the US, she has a number of years of experience in contract review, analysis and drafting. Ms. Ayub is available to help you with your legal problems, as well as filling LLC and other business entity formation documents. To know more about her practice, please visit https://ayublawfirmpllc.com/.
Danielle G.
Danielle Giovannone is the principal of Danielle D. Giovannone Law Office. In her experience, Danielle has found that many business do not require in-house legal counsel, but still need outside counsel that knows their business just as well as in-house counsel. This need inspired Danielle to start her firm. Before starting her firm, Danielle served as Contracts Counsel at Siena College and as an attorney at the New York City Department of Education, Office of the General Counsel. At the NYCDOE, she served as lead counsel negotiating and drafting large-scale commercial agreements, including contracts with major technology firms on behalf of the school district. Prior to the NYCDOE, Danielle worked as an associate at a small corporate and securities law firm, where she gained hands-on experience right out of law school. Danielle has provided legal and policy advice on intellectual property and data privacy matters, as well as corporate law, formation and compliance, employer liability, insurance, regulatory matters, general municipal matters and non-profit issues. Danielle holds a J.D. from Fordham University School of Law and a B.S. from Cornell University. She is active in her Capital District community providing pro bono services to the Legal Project, and has served as Co-Chair to the Niskayuna Co-op Nursery School and Vice President of Services to the Craig Elementary School Parent Teacher Organization. Danielle is a member of the New York State Bar Association.
Rhea de Aenlle is a business-savvy attorney with extensive experience in Privacy & Data Security (CIPP/US, CIPP/E), GDPR, CCPA, HIPAA, FERPA, Intellectual Property, and Commercial Contracts. She has over 25 years of legal experience as an in-house counsel, AM Law 100 firm associate, and a solo practice attorney. Rhea works with start-up and midsize technology companies.
Benjamin S.
Benjamin Snipes (JD/MBA/LLM) has 20 years of experience advising clients and drafting contracts in business and commercial matters.
Experienced Attorney with a demonstrated history of working in the law practice industry. Skilled in Preparation of Wills, Trial Practice, Estate Administration, Trusts, and Estate Planning. Strong legal professional with a Juris Doctorate focused in Law from Howard University School of Law.
Karen V. Mills is the founding member of the woman-owned boutique law firm Mills Law, LLC, based in Atlanta, Georgia, specializing in contracts, corporate transactional and business law.
Find the best lawyer for your project
Contract lawyers by city.
Atlanta Business Lawyers
Austin Business Lawyers
Boston Business Lawyers
Chicago Business Lawyers
Dallas Business Lawyers
Denver Business Lawyers
Fort Lauderdale Business Lawyers
Houston Business Lawyers
Las Vegas Business Lawyers
Los Angeles Business Lawyers
Memphis Business Lawyers
Miami Business Lawyers
New York Business Lawyers
Oklahoma City Business Lawyers
Orlando Business Lawyers
Philadelphia Business Lawyers
Phoenix Business Lawyers
Richmond Business Lawyers
Salt Lake City Business Lawyers
San Antonio Business Lawyers
San Diego Business Lawyers
San Francisco Business Lawyers
Seattle Business Lawyers
Tampa Business Lawyers
Legal Plans
Learn about contracts.
501c3 Application
Accelerated Clinical Trial Agreement
Acceptable Use Policy
Acceptance Agreement
Accommodation Agreement
Account Agreement
Accountability Agreement
Accreditation Agreement
Acknowledgement Agreement
Addendum To Agreement
other helpful articles
How much does it cost to draft a contract?
Do Contract Lawyers Use Templates?
How do Contract Lawyers charge?
Business Contract Lawyers: How Can They Help?
What to look for when hiring a lawyer
Quick, user friendly and one of the better ways I've come across to get ahold of lawyers willing to take new clients.
Contracts Counsel was incredibly helpful and easy to use. I submitted a project for a lawyer's help within a day I had received over 6 proposals from qualified lawyers. I submitted a bid that works best for my business and we went forward with the project.
I never knew how difficult it was to obtain representation or a lawyer, and ContractsCounsel was EXACTLY the type of service I was hoping for when I was in a pinch. Working with their service was efficient, effective and made me feel in control. Thank you so much and should I ever need attorney services down the road, I'll certainly be a repeat customer.
I got 5 bids within 24h of posting my project. I choose the person who provided the most detailed and relevant intro letter, highlighting their experience relevant to my project. I am very satisfied with the outcome and quality of the two agreements that were produced, they actually far exceed my expectations.
Need help with a Business Contract?
Want to speak to someone.
Get in touch below and we will schedule a time to connect!
Find lawyers and attorneys by city
How much does a business plan cost?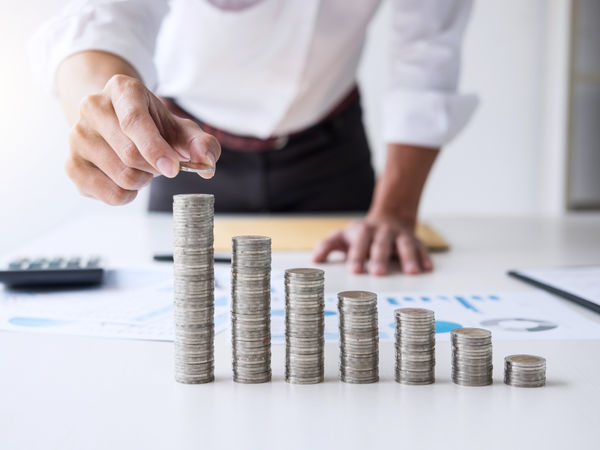 You need a business plan and are wondering how much creating one costs? 
You've come to the right place: in this guide, we'll look at the factors that influence the cost of a business plan. 
This will help you figure out exactly how much you should pay for a business plan software , writer, or even a template. So, let's get started.
In this guide:
What are the factors that influence the cost of a business plan?
How much does a business plan software cost, how much does a business plan writer cost, how much does a business plan template cost.
First, let's agree on the scope. In this guide we'll look at the cost of putting together the business plan itself and exclude the costs associated with preparatory research. 
There are a number of things you need to do before you begin drafting your business plan: gathering data, assessing budget lines, and iterating on multiple scenarios to find the best strategy for your business. 
Needless to say, all of these things require both time and money. However, these tasks are performed before creating the business plan itself, and are therefore excluded from the scope of our guide.
Now that we know what we are solving for, let's get to it. 
We will first look at the tasks that need to be completed to create the business plan, then we will look at tools that can be used to speed up the process, and finally at who can perform these tasks.
What jobs need to be done when drafting a business plan?
Fundamentally a business plan is composed of two main parts:
A financial forecast which highlights the business' funding requirements, growth prospects, potential profitability and cash generation
A written presentation which presents the business operations and strategy in details, and provide the context needed to judge the quality of the forecast
Both of these parts are essential and contribute to the cost of creating the business plan. 
Let's look at both of them in a bit more detail.
Creating the financial forecast for your business plan
A financial forecast helps assess the business's viability. This section of a business plan contains at a minimum the following financial tables:
A cash flow statement - a document that details how money comes in and goes out of the business. 
A Profits and Loss (P&L) statement - a document that provides information about the expenses and revenues the business has generated over a given time period.
A balance sheet - a document that details the assets and liabilities of the business at any given point in time. 
There are two ways to create your forecast. You can either opt for that old fashioned spreadsheet method or use a financial forecasting software instead.
The main driver in terms of cost when it comes to creating your forecast is the complexity of your business. 
Modeling a simple brick and mortar business is relatively straightforward. Modeling a complex business organization with multiple processes (manufacturing, storage, distribution, etc.), lines of products and services, and locations or legal entities will require more work and, therefore, increase the cost.
Writing your business plan itself
The written part of a business plan is without any doubt the most time-consuming, and contributes to the cost of creating the plan.
The time required (and, therefore, cost) to draft your business plan will first be influenced by the size of your business. 
Your business plan includes valuable strategic and financial information. If your business has multiple locations or products and services, you'll have more information to include. This means writing about the business as a whole will take longer, require more effort, and will increase the overall cost. 
Then comes the complexity of the industry your business operates in (or/and your business model). A business plan is argumentative and needs to demonstrate that there is a viable business opportunity to be seized by you on the market. 
To do this you'll have to provide in-depth explanations backed by market research, so that your reader can understand:
What you sell
Who you sell to
Who you compete against
Whether the market is large enough and your business correctly positioned to compete effectively 
This is quite straightforward to do if your business operates in an industry your potential readers are familiar with. If your reader is unfamiliar with your niche, however, then you will need to do more explaining. 
Adding these details will help make sure your readers - investors or banks, usually - understand that a commercial opportunity is ripe to be seized on the local market. However, this will require time and will add to the cost. 
Justifying the amount of funding you need for your business is the last factor that can increase the cost of writing your business plan. A funding requirement of $10 million will need more explanation and convincing than that of $10,000. Needless to say that it'll also take more time and effort. 
Now that we understand the factors that influence the cost of creating the document, let's have a look at the tools which can be used to create a business plan.
What tools can be used to write a business plan?
There are two ways to put together a business plan: 
Using a spreadsheet and word processor
Using an all in one business plan software
Using a spreadsheet and a word processor.
Creating a business plan using a spreadsheet and a word processor was the way to go in the 1990s. 
However, this method is quickly falling out of fashion, and for good reasons: 
It's incredibly long and needlessly complicated
It requires knowledge of accounting in order to create the forecast on a spreadsheets without making errors
Investors and banks are skeptical of figures modeled by entrepreneurs themselves on spreadsheets 
Formatting such a long document on a word processor takes time and effort
Nowadays, the way to go is to use an all in one business planning software.
Along with being affordable, using an online business plan software has numerous other benefits. 
Some of them include: 
Creating a financial forecast for your business plan without manual calculations
The financial forecast is the most technical part of the business plan. 
Working on this section without adequate knowledge of finance can lead to critical mistakes which endanger the business's future. 
Making such a forecast using online business plan software enables you to de-risk the process as the calculations and accounting treatments are done for you by the software using best in class modeling assumptions.
Furthermore, good online business plan softwares, such as the one we offer at The Business Plan Shop , come equipped with scoring algorithms which help identify issues within a financial forecast (such as insufficient cash or inventory, for example). 
This ensures that your forecast is free of modeling errors, and provides reassurance to the readers that the numbers can be trusted. 
Getting access to instructions and examples throughout the process  
As mentioned, creating a business plan is a complex process for those who're not familiar with creating such documents. 
Using online business plan software allows you to have access to expert guidance as you write. 
This means your business plan will be effective and completed faster than with a word processor. 
Being able to use downloadable templates to create a business plan 
Good online business plan softwares, such as the one we offer at The Business Plan Shop, come with dozens of downloadable business plan templates you can use as inspiration to write your business plan. 
Being able to look at concrete examples of business plans helps avoid writer's block and speed up the writing process, thereby reducing the overall cost of putting the plan together.
Saving time on formatting
Good online business plan softwares, such as the one we offer at The Business Plan Shop, also come with professionally designed themes and color schemes which enable you to quickly get a stunning document matching your brand colors, while delegating the bulk of the formatting to the software.
Software also automatically integrates your forecast into the document, saving hours of manual formatting compared to using word processors.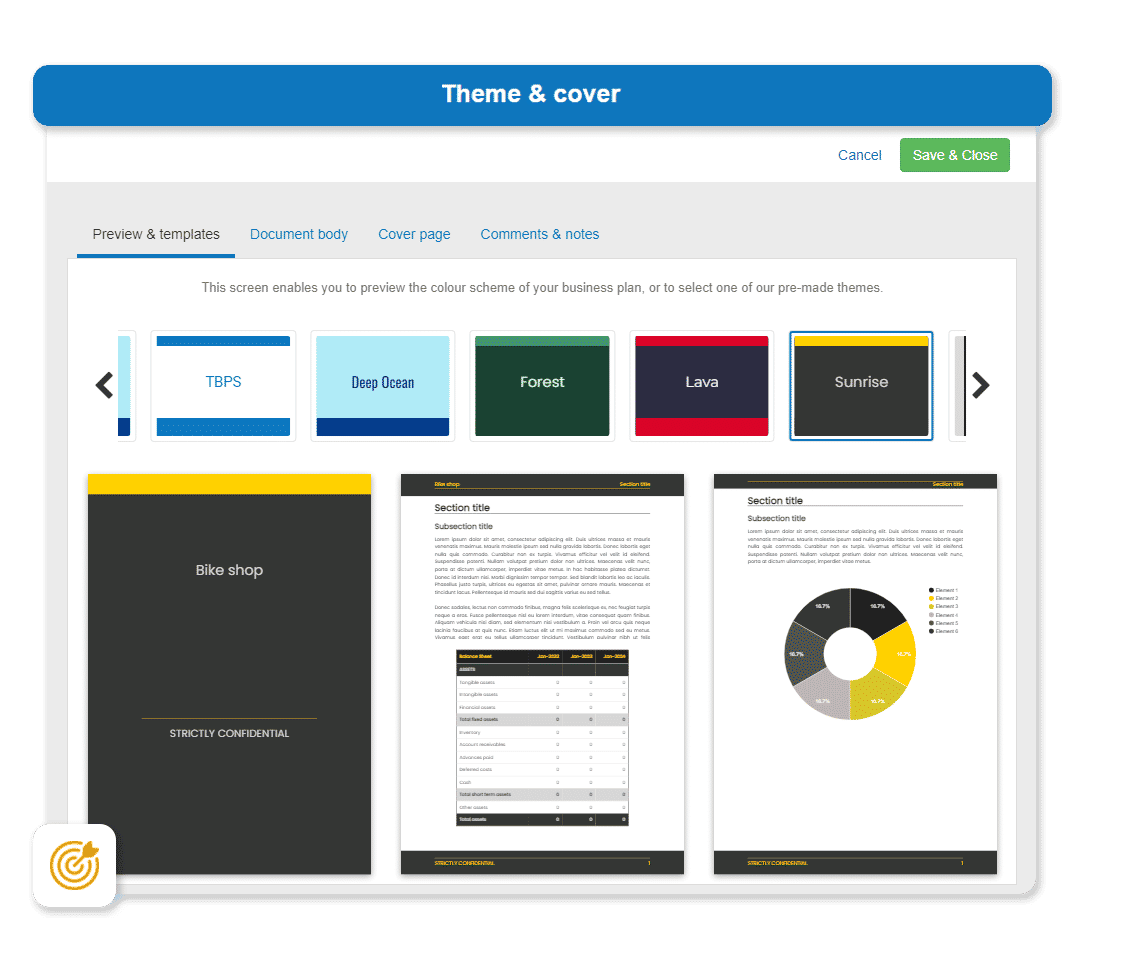 Now that we understand what tools can be used, let's have a look at the last factor that influences the cost of creating the business plan: the person writing the document.
Who's writing the business plan?
No matter what tool you use, writing a business plan is time consuming and the cost per hour of the person doing the actual writing will have a serious impact on the overall cost.
Here you have two options: either do the writing in-house using your team's time, or outsource it to a professional business plan writer .
Outsourcing is usually much more expensive than doing the writing in-house as you have to cover the writer's time, software, marketing costs, and profit margin. But it frees your team's time which can be used elsewhere.
Now that we've covered the factors that influence the overall cost of a business plan, let's have a look at the concrete price of the most popular options.
Create your business plan online!
Think your business idea could be profitable? Find out how with a business plan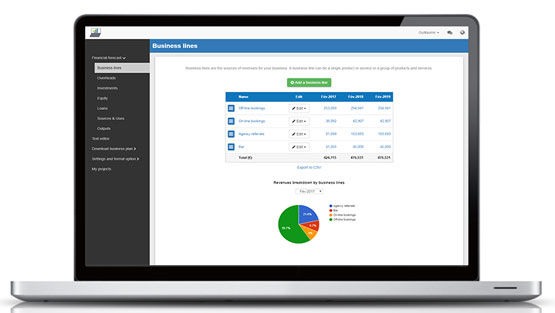 Using online software to create a business plan is undoubtedly the best approach, and you'll probably end up paying for software anyway - whether you pay for software yourself or the software's cost is included in your business plan writer's fee.
There is a common misconception that business plan software might be quite expensive. However, that's not the case with our online business plan software. 
As a publisher, The Business Plan Shop is committed to leveling-up the playing field between small businesses and large corporations by making our solution affordable to businesses of all sizes.  
You might think we're a bit biased when it comes to talking about our own pricing. But you're not bound to take our word for it: see our prices for yourself .
If you're thinking of outsourcing the writing of your plan your next option will be to hire a business plan writer. 
However, you need to know that when you hire a writer to draft a business plan, the cost of the plan will depend on the factors we've mentioned earlier in this guide. 
In addition, the pricing structure for writing the business plan varies among writers: 
Hourly pricing - the writer charges a fixed hourly rate for their services. The hourly rate is multiplied by the hours they spend working on your business plan. 
Fixed pricing - in this structure, the writer will charge a fixed price based on creating a business plan. The price may depend on the length, level of details, and complexity of the document. 
While getting a fixed price is easier for budgeting purposes, you need to remember that you get what you pay for. 
Business plan writing is a for profit activity, which means that if the price seems low, then there is probably a catch. The writer might either be inexperienced (a business student for example), or take shortcuts and not spend enough time on your document, or the result might be incomplete (only include a P&L in your forecast for example).
If you are writing a business plan to secure funding, you also need to remember that investors want their money to be used to grow your business, not wasted on consulting fees. So the amount you spend on your business plan needs to be reasonable in relation to the amount of financing you are looking for.
For example, if you are trying to secure $100k and spend $10k on business plan writing services and $10k in legal costs, then you've wasted 20% of the capital you are trying to secure, which will not impress investors.
Finally you also need to remember that outsourcing your plan is not a completely hands-off process. You still need to provide the writer with the inputs and the research materials needed to write your plan.
You are the only one who knows: how your business operates, what strategic and commercial actions have been planned, and how much sales are expected, and what employees are paid.
So, while we are discussing the amount spent on the actual business plan writing fee, it's not a total cost by any means, nor a like-for-like comparison with the cost of using software discussed above.
With that in mind, let's look at how much hiring a writer would actually cost. 
How much would a business plan writer cost per hour? 
The hourly rate for a business plan writer is usually around $100 to $300. This might not seem that much at first. However, you must understand that a minimum of 20 hours is usually required to create a business plan. 
So, if your business plan writer charges $100 per hour and works for 20 hours, you'll pay $2,000 for the document. If they charge $300 per hour, you'll pay $6,000. 
However, these are just for simple business plans. Depending on your business size and the complexity of your industry, the total price might end-up being much higher.
Another factor is the amount of revisions needed on your business plan. It's quite common for your plan to require several updates as you gain more information on your market conditions and feedback from lenders and investors.
When you use hourly consultants these revisions can quickly add-up as you have to pay extra for them.
How much would fixed business plan writing services cost? 
When it comes to fixed pricing, the actual cost may vary from one writer to the other. 
However, the price is generally based on their years of experience, level of expertise, and the amount of work they put in. 
Packed-based pricing service might start around $2,000. However, you'll only get basic-level business plans at such a price. 
If you need a complex business plan with in-depth market analysis, detailed plans about business operations, and three to five years of financial projections. Package services offering such business plans might cost as much as $30,000. 
Considering these prices, it's safe to say that you should only opt for this approach if you aim to secure a significant amount of funding. 
If you're in the starting phases of your business, it is better to use online business plan software instead. The money you spend hiring a writer can be used for other business operations such as marketing and product development. 
Don't start from scratch!
With dozens of business plan templates available, get a clear idea of what a complete business plan looks like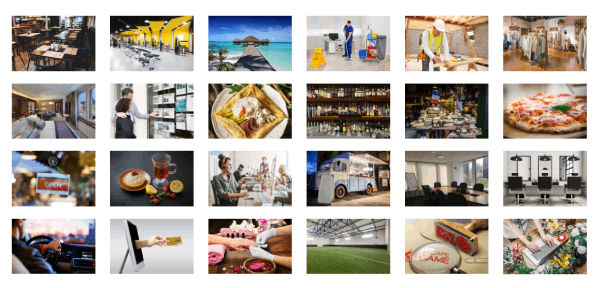 The last alternative to write your business plan at a low cost is to use an Excel and Word business plan template.
Most people often think a business plan template will not cost anything at all. They're right to a certain extent. 
You can find loads of free business plan templates on the internet, but here also: you get what you pay for. These free templates are usually either: very basic, not properly maintained and outdated, or prepared by unknown "experts" who don't seem to grasp the basic principles of accounting.
The cost of some business plan templates might go to $300. These templates are more detailed. In addition, some of these paid templates might even have visual aesthetics making them more presentable. 
Before you opt for this approach, you need to understand that these are just templates. This means they'll provide you with a structure and format. However, you'll still have to do all the work yourself. 
In comparison to using online business plan software, templates are more expensive and extremely low value for money. Furthermore, using a template still requires you to have a certain level of expertise and is an approach that's not free from error. 
The final verdict 
When it comes to creating a business plan, you have three options: online software, a business plan writer, or templates. 
Professional software usually offers the best return on investment. Templates are low value for money and should be avoided. And writers can be worth it, if you intend on raising a significant amount of capital. 
Also on The Business Plan Shop
Business plan vs budget: what's the difference?
Do I need a business plan? Your questions answered
Know someone who wants to create a business plan? Share this guide with them!
Create a convincing business plan
Assess the profitability of your business idea and create a persuasive business plan to pitch to investors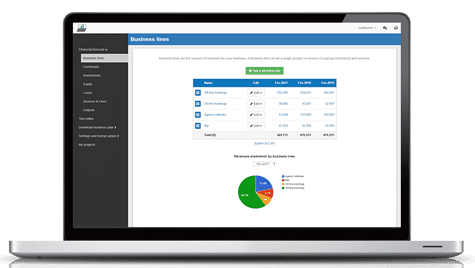 500,000+ entrepreneurs have already tried our solution - why not join them?
Not ready to try our on-line tool ? Learn more about our solution here
Need some inspiration for your business plan?
Subscribe to The Business Plan Shop and gain access to our business plan template library.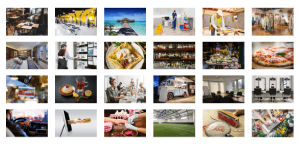 Need a professional business plan? Discover our solution
Write your business plan with ease!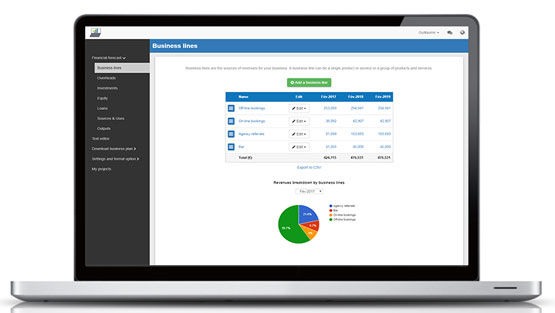 It's easy to create a professional business plan with The Business Plan Shop
Want to find out more before you try? Learn more about our solution here
About Our Business Plan Service
Cost of Our Business Plans
Business Plan Checklist
Business Plan Cost Calculator
Hiring a Business Plan Writer
Business Plan Help
Our Guarantees
Common Questions (FAQ)
Business Plan Outsourcing
Business Plan for Free (BrainHive Charity Program)
Business Coach & SME Coach
Startup Coach & Lean Coach
Business Plan Coach
Finance Coach
Manager & Corporate Coaching
Success & Life Coach
Coaching Cost Calculator
Financial Planning
Pitch Deck Creation
Business Prospectus
Grant Writing
Feasibility Study
Business Development Planning
Pitch Video Creation
Business Ghostwriting
Coworking / Coliving / Startup Retreat
Our Company
Code of Conduct
Competences / References
Volunteering and Internships
Business Plan Samples
How To Write a Executive Summary
How to Write a Market Analysis
Market Entry Strategy / Marketing Plan
Auto Repair Shop
Cleaning Business
Beauty Salon
Fashion Label
Fitness Studio
Interior Design
Café / Internet Café
Online Shop
Photography
Physical Therapy
Restaurant / Bar
School Business Plan
Spa Business Plan
Tech Startup
Web Design Agency
United Kingdom
Personality of Successful Founders
23 Tips Advice For Your Loan Interview
IT-Services Buyers Guide for Founders
Imprint & Disclaimer
Terms and Conditions
Privacy Policy
What is the Cost of a Professionally Written Business Plan?
The business plan writing services costs differ between service providers and degrees of length and difficulty. The typical business plan consultant fees charged for an average business plan creation stand at US $600-$1,000. Very complex business plans can cost more, but seldom should go beyond $5,000.
In the following article, you will learn what is a good price for an individual, professional business plan. Our business plan writing service was established to offer professional, accessible and transparent business plan consulting for you and the entrepreneurial and startup community as a whole. If you want us to calculate an individual offer for you straight away, please click the following link.
Calculate Offer
Learn in this article:
► Price list: BrainHive Business Plan Writing Services ► The Main Factors which Determine the B usiness Plan Costs ► Factors that Make a Business Plan Easier to Write ► Comparison Table: Write Yourself vs. Have it Written ► Process & Duration Hiring a Writing Service ► Checklist: What We Need From You ► BrainHive Quality Policy: Assuring a Stellar Service
For Individual Business Plans, Focused on Your Objective.
Over 500 Plans - Over 80 Industries - Over €120 Million in Aggregate Capital
From Business Plan to Pitchdeck to Pitch Video: We Win Your Investors.
Business Plan Writing Service Costs: Our Fee Sheet
One of the most competitive pricing for professional business plans: Get to know the BrainHive business plan writers and our founder-friendly business plan writing fees. Please note: We DO NOT use generic business plan writing software or massive chunks of templated, generic business plan texts. Our plans are free of fluffy, inflated, redundant phrasing which many other services put in your plan to stretch the page volume.
When you are comparing business plan writing service pricing, always keep in mind that quality must be your top concern to convince your business plan recipients and get your business established. If you can find a business plan writer who can beat our price on high-quality business planning service packages (written part + financial part) definitely let us know and we will refund you double the difference. At BrainHive, we like going above and beyond offering THE most client-friendly business plan writing service available to founders worldwide. For our clients in the UK, please refer to this article about business plan costs for clients from the United Kingdom .
Business Plan Cost for Flat Rate Business Plans vs. Projects With Specific Requirements
Depending on the complexity of your project and the requirements of the business plan recipients (e.g. the VC firm has different quality policies than a loan bank, when it comes to foundation loans, and all these will differ from those criteria put up by subsidy/grant programs, crowdfunding platforms or immigration bureau guidelines), you may choose between four different business plan consulting package options, which cover everything you need. Should you require additional services due to your businesses' complexity, or if you need other business ghostwriting solutions, please contact us to learn the exact cost of your individual business plan project . Here you will find an outline of additional services we offer in relation to business plan ghostwriting or other business ghostwriting projects, plus there is also a very interesting article on how to hire a professional business plan writer .
Under certain circumstances, we offer discounts for our services, e.g. for foundations of companies with charitable character, student founders/young founders, or long-term cooperation with other company consultants ordering a certain amount of plans per month. Please tell us about your requirements. You may also use an express rate for very urgent business plans, applicable if your plan must be delivered in under 4 workdays.
Business Plan Cost Factors
Factors impacting a business plan writers' cost include the following:
Selection of your service provider (are you going to hire a tax accountant, a lawyer, an auditor – or a dedicated business plan writing service /business plan consultant?)
Your quality requirements (Do you need a professional, semi-professional, or simple business plan? This depends on who you are planning to present the business plan to)
Difficulty level of your business plan (number/type of business activities, continuation/turnaround plan/newly establishing, capitalization, location/spheres of influence, etc.)
Special requirements, such as your business planning horizon (e.g. 3 vs. 5 years), or written part (additional items, particular evaluation procedures)
The Scope of required additional consulting: Coaching of founders, calculation consulting, marketing consulting, etc.
Reducing Business Plan Costs with the Proper Tools
At BrainHive, the price of your business plan will be about 40% cheaper than with other consulting firms who offer comparable quality. Compared to providers which are less specialized (such as tax consultants, business lawyers, auditors, etc.), you might even achieve savings of up to 60%, because these will charge by the hour, with a typical hourly fee of $120-$150. Assuming that even a really simple business plan takes about 12 hours to create and refine, you are looking at costs of at least $2,000 upwards if you go with these business professionals.
How are we at BrainHive able to undercut our competition so significantly and yet keep a stellar quality? We save costs by:
Comprehensive research knowledge- we know where to find the data you need to convince investors (often we already have the required information in our broad market data library anyway)
Use of modern dictation software
Excellently trained team of savvy business plan analysts and a streamlined business plan creation process
Versatile Excel business plan financials to use according to location and business model
Stellar organization on all levels of performance- of course without cutting out personal support, via mail, telephone or video conference; we're always personally available if you have more questions.
Comparison Table: Quality Aspects Vs. Business Plan Costs
Thinking of writing your business plan yourself? Considering buying templates or purchasing business plan software? Wondering whether you might simply have your CPA write your business plan up for you? The following table is useful to you, so that you know which factors may play a role in the consideration of the various business plan sourcing options.
Go back up See Briefing  Calculate Offer
The BrainHive business plan consulting firm combines all the factors for a best price/best quality distinction as a professional business plan writing service. Due to our extensive databases, specialized know-how, many years of expertise, and offices in London and Munich, we are able to offer the best price-performance ratio for your business plan. Our focus on efficiency allows us to minimize business plan consulting fees. Because of our transparent service packages, you will always be on the safe side. Independently of the required extent, BrainHive will offer you a custom plan according to your requirements (you also have the option for letting us take care of your business plan financials as a separate service).
We know that there are business plan writers claiming they could write a sufficiently professional plan for less than US $300. Taking into account the large amount of work (see our guide " Contents of a Business Plan "), the necessary business expertise, and the multiple skills necessary to create excellent business plans, we discourage you from considering such extra cheap offers, since you will probably not receive something satisfactory and end up paying your business plan twice . With our workflow processes and tight calculations, we are already offering a price for our business plan writing service that is the minimum necessary for a good plan. Anything below usually will not be sufficient to convince authorities and investors.
Business Plan Writing Service: Procedure & Duration
1. Pleas send us your information containing the key characteristics of the prospective business model (business concept, capital needed, objective of the business plan, etc.).
2. We will provide our difficulty estimation according to our price table and send you our offer alongside our terms and conditions . After you placed your purchase order, you will receive a prepayment invoice. In most cases, you will now complete a special business plan questionnaire . For complex business plans (such as large market launches, or technical startups), it is advisable that you send us additional information (e.g. concept papers, product information, etc.).
3. We will create your business plan within 7-12 business days, depending on complexity and required information.
4. You will receive the complete drafts of the written part and the financial plan as a copy-protected PDF . Before further consultations and change requests will be realized, you will need to transfer us the remaining amount of your business plan assignment and will only then receive the open work file of the written part in MS-Word, as well as the financial plan in an Excel file. NOTE: If you ordered a MINI or ASSIST package and you require an open Excel financial plan, a license fee of US $117,- will be due, as our professionally programmed financial plan offers additional value by offering calculation options of different scenarios, which often cost several hundreds of dollars with other business plan consultants, if they disclose it at all. With all other business plan service packages, the Excel financials are included.
Checklist of Required Documents
We are pleased to know you're considering BrainHive as your business plan consultancy. To prepare your assignment better, learn which documents, information and documents we need from you, please refer to our FAQ or use the following business plan checklist. You are welcome to send a mail or call 0049 (0) 6192 7034153. We can also advise you by phone, if it is very urgent for you.
Business Plan Checklist - Business Plan Service
Our package deal in the business plan service is unique in the business plan consulting sphere. We offer quality expertise and a maximum of professionalism at prices which are quite unheard of. Contact us and experience the motivation with which we compete.
BrainHive Business Plan Writing Cost: Quality Policy Manual
The following are excerpts from our quality manual for BrainHive business plan writers. We would like to show these to you for you to better understand the way we work, how we assure quality and how much thought we invest into our process planning.
Comparing Business Plan Cost: On Volume
Let us begin by talking about the minimum volume of the written portion of the business plan that is expected for projects which are best classified by the size of their required capital. Why? Because the more investment is required, the more detail potential investors will usually ask.
Please note that the following specifications are net volume specifications. This means that these are the volumes without cover page, table of contents page, visual elements etc. We will roughly calculate each page to have about 300 words of text.
Service Package
- Below $300.000US: 13 pages REGULAR
- $300.000US to $500.000US: 15 pages REGULAR
- $500.000US to $800.000US: 17 pages COMPLEX
- $800.000US to $1.500.000US: 19 pages ENTERPRISE
- above $1.500.000US: 21+ pages ENTERPRISE
Usually 3 to 6 pages will be added through cover page, table of contents page, overview page and a varying number of visual elements in the forms of charts, diagrams, product illustrations, screenshots, 3D model animations etc.
On average, the written portion of business plans will amount to 18 to 25 pages. However, some plans can extend to 40+ pages. It all depends on the specifications of the business plan recipients. As mentioned, there is a tendency of course to force more elaborate and detailed plans, the higher the capital requirements for the enterprise. Sometimes though, clients will already have conducted talks with their investors and even small investments can require long plans. Therefore, mind your briefing, which will usually contain a notion as to the required gross volume. Remember that you will this way or that have the chance to expand your business plan during the correction / feedback loops if necessary. Therefore, especially on your first draft, be attentive to heed above volume guidelines set out for you, also since quality assurance analysts are paid by the page and clients rarely will reimburse us for extra business planning costs incurred through quality checks of overdelivered text volume.
Business Plan Cost Calculation: Standard Content vs. Special Content
The following are some different tables of contents for different business plan classes that we produce at BrainHive.
The standard table of contents serve you to both understand how we usually compile our business plans as well as see how diverse business plans can be to suit different client specifications. If you would try and look up standard table of contents for business plans in six different books you would get seven different answers. However, the wheel needs not to be inefficiently reinvented over and over.
Business plans serve one core purpose: Getting funded (which is another way of saying "convincing people"). Actual business planning is in 99% of cases at best only a secondary purpose, though sometimes clients will happily implement the well-meditated ideas and thoughts we put in our writing. Whatever is required for a specific enterprise to be fully reproduced to potential investors and creditors in terms of key characteristics, deciding key aspects and key success criteria structured into the traditional planning instrument of the business plan, that's what's going to be that which you have to worry about.
Sample Table of Content Tech Startup
Sample Table of Content Real Estate Development
1. EXECUTIVE SUMMARY p.3 1.1. PRODUCT / SERVICE RANGE p.4 1.2. OPERATIONAL PROCEDURES p.6 1.3. USP p.6 1.4. STRATEGY / VISION p.7
2. MARKET ANALYSIS p.8 2.1. COMPETITION p.15 2.2. TARGET GROUP p.17 2.3. RISKS p.19
3. SWOT ANALYSIS p.19
4. LOCATION p.20
5. PARTNER/S p.21
6. MARKETING p.24 6.1. PRICING POLICY p.24 6.2. COMMUNICATION POLICY p.24
7. THE MANAGER/DIRECTOR p.27
8. EMPLOYEES p.28
9. FINANCIAL PLAN p.29 9.1. GENERAL NOTES p.29 9.2. NOTES TO REVENUE/INCOME SOURCES p.29 9.3. CAPITAL p.31
Sample Table of Content COMPLEX Business Plan (International Trade)
How Business Plan Costs and Working with Business Plan Samples / Templates is connected
One reason why we are able to offer extremely good prices for our business plan services at an exceptionally high quality is that since we began writing business plans in 2008, we have kept up intense scrutiny in building our library of business plans that is currently equipped with some 500+ plans worth of diligently researched business intelligence from more than 80 industries.
This allows us to work more fluidly, having for every project one or more pacemaker business plans from which we can draw inspiration and each time write a plan that is a little bit better than the one before.
While some projects invite you to make generous use of generic text blocks to quickly compile your business plans, take extremely good care while doing so.
Think along these lines:
We have a responsibility to past clients which do not like to see their plans recycled in too great an extent
The more you recycle, the more you are at risk of pulling the skin of one project over the body of another project. There is a lot of potential for errors that can come from this
Every project is different and your focus should be on that what makes this particular enterprise different from another enterprise, and not on what makes it the same. Recycling will make you lazy.
Producing original business plans not only is a question of professionalism but also enrich our business plan library with fresh intelligence, increasing over time our potency as a consulting firm and making it in turn possible to convince more and more potent clients to chose us over our competitors.
The above said, the existence or nonexistence of a decent sample or template plan is priced into the budget of that particular plan to keep our prices competitive. Make good use of our library and your life easy for yourself. No harm is done to anyone nor our business integrity damaged (in terms of legal obligations / NDAs / terms and conditions) through this, and we must assume our competitors are doing it much more unscrupulously than us, too.
Not reinventing the wheel over and over means efficiency, through which we remain accessible and able to deliver world-class plans even to entrepreneurs who are not able to shell out thousands of dollars for their business plan before even knowing whether or not they will be able to successfully secure funding.
Business Plan Cost and Tonal Quality / Language
As a BrainHive analyst, you are expected to keep a professional, sober and serious tone at any moment of your business plan creation process.
Under no circumstances submit a business plan draft which contains street slang, flowery or fluffy phrasing, sloppy grammar or arbitrary repetitiveness/redundancy.
Especially when talking about the founder or indeed relating to any person or entity by name, be sure to keep it neutral, professional and friendly. This also goes for competitors and the way we talk about competitors, government bodies, market situations etc. Never aggressively, never in absolutes or dramatically negative.
Some of our clients have asked for corrections to make a business plan sound more enthusiastic. We always warn against talking in superlative terms or sound over-optimistic, because it can weaken the credibility of the business plan and make the business plan recipients assume inexperience. Of course we can write a super enthusiastic plan if the client explicitly wants this. Normally however, we like to keep it extra-sober.
On the other end of the spectrum, we of course will never write a plan which leaves a trace of doubt that the business venture could fail. Our business plans have the purpose to prove to potential investors and creditors that the business investment is a sound and safe one.
If a business venture is highly unlikely to succeed, we tell the client beforehand during the consulting stage of the project. If the client insists, we might still take them, do the best we can and set them on their merry path. Still better than if they go and approach a competitor, none of which to our knowledge are able to do any better than us, but many delivering indeed heavily flawed work (yes, we've seen competitor plans, and yes, some won't even pass for a joke, except a really, really bad one).
Business Plan: Our CI-Take on Formatting
The following are the basic formatting guidelines for BrainHive business plans. Our quality assurance analysts are instructed to take note of formatting negligence and you could be asked to correct & resubmit subpar drafts.
Font: Arial 10p
1,5 line spacing
No other paragraph/header margins or spacing
Normal dot bullets or dash bullets, indented with single tab. Steer clear of other icon bullets and place periods (.) on the end of sentences which are not in note form (Stichpunkt-Format)
Block formatting, no automatic syllable break
No automatic paragraph break
When embedding visual elements: Make sure there is enough white space, but not too much (usually one line will suffice).
Make sure there are neither fragments of business plan segments left at the end of the page (1-2 lines for example), nor that there are single line breaks at the head of the document. Both looks unprofessional.
You may use bold, italic or underlined words if it helps the readability and aesthetic formatting of the business plan, e.g. when transitioning into a bullets list.
Insert page number on the lower right footer if you're not already using a template.
When using punctuation, be sure to capitalize both after using colons (:) or dashes (-). Never ever use three points (...) except when shortening a citation and using this as a placeholder symbol.
For German/Spanish plans, where the gender of a person will lead to that word being written differently: If the gender is unknown, you are to please write what is traditionally the most probable gender. For the sake of readability, refrain from using /innen, *Innen, _Innen and such suffixes, except if instructed otherwise.
Numbers & Figures:
Divide 000s with either "." or "," according to the language of the plan.
Write currencies like this: [SYMBOL][NUMBER][SPEC IF APPLICABLE], e.g. $1,000 US or €300,-
Don't write out percentages when with number, e.g. "Market growth is at 11,9%"
Make sure your headers are formatted properly so that the table of contents compiles automatically and correctly.
You should have the automatic numbering enabled and functioning correctly, e.g. 3.3. Price Strategy. Don't let me catch you using manually inserted header numbering, which can lead to embarrassing errors if we need to expand the plan or make insertions.
Use center formatting.
All charts and diagrams should have both a title in bold type and a source/image caption in italics.
If possible, place/size them in a way that will not produce large gaps of blank white space in the business plan document.
On File Names, PDF-ing, Password-Protecting etc.
For German, name your file after the following formula:
Unternehmenskonzept-[FIRMENNAME]-[VERSIONSNUMMER]
For English, name them:
Business Plan-[COMPANY NAME]-[VERSION NUMBER]
As a normal business plan analyst, you are to not produce PDFs, watermarked or password-protected deliveries or indeed send us anything other than the open MS-Word document. Consultants/Quality assurance analysts who are in direct contact with the client will take care of that.
Including Pictures, Diagramms and Images at Still Accessible Business Plan Costs
Creating your business plan, note that everybody likes a little color in such a great big chunk of sober, serious business writing. You are expected to have at least three visual elements in your business plan. Depending on the volume, it can be a lot more still.
Be creative: Not only charts and diagrams that you come across during your market research are potential candidates for being copy pasted into the plan, web screenshots (for instance of maps, products etc.) and visual content pass on to you in the client briefing are likewise eligible for being reproduced in the business plan.
Relevancy is key – make sure whatever visual elements you put into the plan has a legitimate reason to be in that same exact spot. Do not use the visual element simply for the sake of having a visual element there. As much as it is sad to deliver a desolate, dry text desert, the damage caused by raised eyebrows of business plan recipients over out-of-line or arbitrary visuals is sadder still.
Professional Business Plan Writing Service: Working with Sources
If you are making specific numerical claims or citing someone in the market analysis or if you are featuring a diagram or chart, it is useful both for us as well as for the client if there is some kind of reference as to where you found that particular piece of data. Certain projects, especially when we are writing a business plan which is part of an academic assignment, will require you to expose your sources in a very detailed fashion according to the respective national citation guidelines valid for that client, which will be communicated to you in your briefing.
When processing a normal business plan assignment, it is not necessary for you to show the exact link of the page where you found the material and make an elaborate footnote with the Microsoft office footnote tool – however, of course we appreciate your extra effort. What you definitely have to do is mention the name of the medium where you found the figures , for instance a certain market research Institute, magazine or a white paper of some large consulting firm. Put it right there in the body content, embedded harmoniously in the head sentence of the paragraph in which you mention it. Switching sources or mixing statements from different sources, make sure it remains reasonably clear from which sources the respective statements are derived from.
Every chart or diagram should have a caption in which you are to also include the source of the diagram, we treat this both as a form of giving credit to the creators of the diagram (citation copyright law) as well as pre-answer to the client as to where we found the chart. While again you do not need to necessarily include the link, it is important to also show the date of the publication in question.
A Great Business Plan at Affordable Costs: Finding Market Data
The quality of a business plan lives to considerable extent off of its market analysis, and the market analysis lives off of concrete, reliable figures that give the reader an idea about the volume and the growth of the market in question. For most projects, you will have no difficulty to find ample market intelligence data floating around in the World Wide Web. Simply intelligently using Google you will already find a host of useful articles that you can sift through for relevant figures.
When things get tough, you can help yourself to a large number of websites which will usually carry exactly the kind of market data that you are looking for. These most often will be industry association websites, public institution websites/chamber of commerce websites, business intelligence magazines/newspapers, white paper libraries of banks, rating agencies, market research institutes and consulting firms as well as websites of competitors (annual reports of public companies for example).
When you are dealing with a particularly specific topic, sometimes you will need to become creative in the sense that you construct your market analysis deductively or inductively (remember you must always find a way to interpret the market data so that the reader of the business plan will be convinced that the business endeavor will be successful).
This might mean that for instance, talking about the business plan for a café in a certain small village location , you might look at a) the business development going on in the region or province and b) perhaps looking at map excerpts and c) using an article on spending habits in the country in question as well as d) import developments on coffee beans and e) the success of Starbucks in Germany while f) finding an absence of next-door competitors to rationalize that the café will have enough clients.
Simple stuff really, but it takes a little practice before you have the routine of pulling together a sufficient number of pieces of intelligence which might be useful for constructing your case that will leave investors feeling sure about their investment.
Efficient Business Plan Writing Service to Reduce Costs: About Clarification Communication
Once you get the briefing, you should as soon as possible review all the files that we sent you and decide if the material is complete enough for you to draft up the first business plan version. If things are unclear or the briefing material is incomplete (our lead-managing consultants only do a quick review on completeness and do not study in detail all the briefing material), you will need to collect all your questions and remarks about possibly missing briefing material in one email which should already be written and phrased well enough for us to pass on directly to the client without further touch-up.
Therefore, when compiling this email, make sure that you cover all the questions and that you write in the correct tone and free of typos to make workflows smooth and efficient.
Finalizing Quality Assurance: Avoiding Typos and Other Common Mistakes
When hiring new analysts, we most often struggle with mistakes born out of carelessness. Forgotten or confused letters (Buchstabendreher), arbitrary or missing commas or spaces, sloppy grammar/capitalization and the likes are not acceptable at BrainHive.
Our quality assurance analysts are responsible for improving, logically validating and visually checking business plans one last time before they are passed on into the hands of our clients. These expensive, experienced and well-trained analysts must not be regarded as a sort of elementary school teacher responsible for correcting avoidable mistakes.
Therefore business plan writing analysts are advised to write their plans in such a fashion that they will have one or even two days to sleep over their draft and execute a final, diligent draft correction before forwarding them to their responsible quality assurance / project-managing consultant. The time needed for this is priced into the budget for each plan, and again, I will have to call you up for a feedback session if you repeatedly forego diligent finalization of drafts.
One smart step to reduce the chance of submitting a draft which will cause face palms and subsequent respective feedback is to always spell-check your drafts with the MS-Office function (but do not slack off at manual proofreading even using spell-check). In the same spirit, you can also ensure to be on the safe side of things by looking up certain phrases on the Internet if you are unsure about spelling, especially when it comes to capitalization of questionable words (Germans: Aufpassen auf subjektivierte Adjektive und Verben!).
See Briefing  Calculate Offer
A Good Price for Business Plan Writing, Yet Full Service: Deadlines and Correction Loop Processes
There are some things in life, which are unfortunately not optional, such as taxation, or dying for example. That is why we call important delivery dates deadlines – never miss them.
At BrainHive, we pride ourselves so much with being faster than our competitors when it comes to delivering stellar business plans, that we have decided to make delivery time part of our set of the six BrainHive Business Plan Guarantees. If you miss your deadlines, you not only bring disharmony into our workflow processes, you also could jeopardize the full payment of the business plan. Not good.
Since many of our analysts are working remote (independently located), adherence to deadlines is of even greater importance to iron out time zone differences. Make sure you receive, check and read carefully your BrainHive email correspondence on week days. BrainHive never sleeps and I personally work on holidays and weekends more often than I would like. However, as a regular freelancing associate, you are of course not expected to work during off time.
If you can beat deadlines and deliver with a cushion of time remaining before delivery is due to the client, you help us to achieve fuller client satisfaction. But remember, quality is more important than rushing , except maybe if you are involved in an EXPRESS plan project.
You will usually receive as part of the briefing two sets of deadlines. One is the status report deadline, usually due within 3-4 week days and the other one is the final draft deadline, usually due within 9-10 week days after the briefing was delivered. The status is for us to check whether you're headed into the right direction, so you should have 1,000-1,500 words ready for us to look at. The final draft on the other hand is that what you want to give to the quality assurance analyst for evaluation and finalization before the plan is forwarded to the client.
BrainHive Business Planning- Excellent Business Plans at Low Costs
Quite a few things to keep in mind, right? Yep, and that's why we are both careful when selecting candidates to become business plan writing analysts and also have a lot of patience training you and giving useful feedback.
In Germany we have a proverb saying "masters don't fall from the sky"- and they don't. So while I'd definitely like you to pay close attention to the instructions which I myself as BrainHives's founder outlined for you in this manual, I also want you to have fun working for us and not worry so much about perfectionism at first. In the long run, do try and get better and better- Which is what life is all about after all and which I know you will, since we picked you because we believe in you .
Do your work well and you will not only make a fair amount of money but also find a certain personal satisfaction in completing these plans, as I did having written 370+ plans myself over the last couple of years. You learn a lot and you get to jump headfirst into ever-changing, current and (sometimes more, sometimes somewhat lesser so) exciting topics. And what's definitely always dazzling to think of is the idea that your work, if executed well, will impact someone's life tremendously, talking hundreds of thousands of dollars here, in some cases millions. And that's something not everyone can say of their work.
Therefore: Happy writing & stay curious. Our Clients rely on you!
What Our Clients Have to Say
Markus Delfs Inventor "...would anytime this provider." recommend
Anya Chistyakova Manager "...unmatched and speed." efficiency
Klaus Albrecht Merchant "...at any time and willingness to explain." easy accessibility
Rose Mae Turner Fashion Designer "...They did Job." a superb
Harald Wolf Merchant "...very fast, extremely high." quality of texts
Matthew Jiovanni Inventor "...service was penny." worth every
Tom Hilgardner Coach "...helpful advice my business." on how to grow
Jürgen Siebert Merchant "...high motivation, good knowledge." transparent processes,
Stefan Willautzkat Programmer "...everything great!" went
Bernd Brencher Merchant "...100% convinced BrainHive." of the value
Patrick Riehl Real Estate Agent "...simply results." brilliant
Holger Martens IT-Entrepreneur "...quickly understood of my industry." the challenges
Tom Richter Coach "...great to have to rely on." such competence
Reinhold Weber Factory owner "...honest, young people." diligent
Thomas Jung Tech-Startup "...at any given time that we are in good hands." we had the feeling
BrainHive: Worldwide #1 in Business Plan Pricing
Brainhive: essence of business planning, contact us today.
Joachim Jacob Görbert, Director
Reach us 24/7 via
US & International: +1 (844) 434 96 92
Europe & Germany: +49 (0) 6192-703 41 53
Contact Form
Fast & easy: Have us directly calculate an offer for your business plan.
Publications
Download Premium Publication
BrainHive is known through our publications in:
BrainHive Consulting is a registered vendor with Unidos, the intelligence and resource sourcing hub of the United Nations.
Frequently Asked Questions
- Information required?
- Documents required?
- Duration?
Here you will find answers for the most common questions concerning our business plan service.
Planning, Startups, Stories
Tim berry on business planning, starting and growing your business, and having a life in the meantime., business plan financials: starting costs.
It's really important to have an idea of what you need before you start. Continuing with my series on standard business plan financials , startups need to project starting costs. Starting costs set up a starting balance, which is necessary to plan cash flow. And the starting costs are critical to determining whether a startup can bootstrap or needs outside funding. For existing companies that already have financial results, projections start with the expected ending balance of the previous period. But for startups, it's about starting costs.
Starting costs are essentially the sum of two kinds of spending. You can estimate them both in two simple lists:
Startup expenses : These are expenses that happen before the beginning of the plan, before the first month of operations. For example, many new companies incur expenses for legal work, logo design, brochures, site selection and improvements, and signage. If there is a business location, then normally the startup pays rent for a month or more before opening. And if employees start receiving compensation before the opening, then those disbursements are also startup expenses.
Startup assets : Typical startup assets are cash (the money in the bank when the company starts), business or plant equipment, office furniture, vehicles, and starting inventory for stores or manufacturers.
A Simple Starting Costs Example
I've used a bicycle store as an example in several posts that are part of this series of standard business plan financials. Here's a visual in spreadsheet form, of sample starting costs for a hypothetical bicycle store.
Notice that the lists for estimating starting costs, on the left in the illustration above, are matched to another list of starting funding, on the right side of the illustration. Books have to balance, so the initial estimates need to include not just the money you spend, but also where it comes from. In the case above, Garrett had to find $124,500, and you can see that he financed it with Accounts Payable, debt, and investment in various categories.
Another Simple Starting Costs Example
Here is another simple example: the starting costs worksheet that Magda developed for the restaurant I used for a sample sales forecast . Magda's list includes rent and payroll, the same as in her monthly spending, but here they are included in starting costs because these expenses happen before the launch.
I included rent and payroll because they point out the importance in timing. The difference between these as startup expenses and running expenses is timing, and nothing else. Magda could have chosen to plan startup expenses as a running worksheet on expenses, starting a few months before launch, as in the illustration below. The launch in this case is early January, so the expenses for October through December are startup expenses. I prefer the separate lists, because I like the way the two lists create an estimate of starting costs. But that's an option.
The LivePlan Alternative
If you're a LivePlan user, the LivePlan interface assumes this method and has a more intuitive interface than the spreadsheet version I'm showing in this post. For LivePlan, you start your plan when you start spending, regardless of launch date. So the spending you do for rent and salaries and such, before launch, is part of the flow, as above. Also, LivePlan has its own guided way of helping you figure out what assets you need, how much they cost, and how you are going to finance starting costs, to set up your balance. And the LivePlan cash flow estimator will help you decide how much cash you need, so you don't have to follow the spreadsheet method here (below).
How to Estimate Your Starting Costs
Obviously the goal with starting costs isn't just to track them, but to estimate them ahead of time so you have a better idea, before you start a new business, of what the financial costs might be. Breaking the items down into a practical list makes the educated guess a lot easier. Ideally, you know the business you want to start, you are already familiar with the industry, so you can do a useful estimate for most of the startup costs from your own experience. If you don't have enough firsthand knowledge, then you should be talking to people who do. For others, such as insurance, legal costs, or graphic design for logos, call some providers or brokers, and talk to partners; educate those guesses.
Starting Cash is the Hardest and Most Important
How much cash do you need in the bank, as you launch? That's usually the toughest starting cost question. It's also prone to misinformation, such as those alleged rules of thumb you can find everywhere, saying you need to have a year's worth of expenses, or six months' worth, before you start. It's not that simple. For most businesses, the startup cash isn't a matter of what's ideal, or what some expert says is the rule of thumb – it's how much money you have, can get, and are willing to risk.
The best way is to do a Projected Cash Flow while leaving the supposed starting cash balance at zero, which shows how much (at least in theory, according to assumptions) the startup really needs in cash to support the business as it grows, before it reaches a monthly cash flow break-even point. Magda did that to determine the $12,000 needed as starting cash for her restaurant. Note how, in the illustration here, the lowest point in cash is slightly less than $12,000:
That low point comes, theoretically, in the third month of the business, March. The low point is $11,609. Obviously that's just an educated guess, but it's based on assumptions for sales forecast, expense budget, and important cash flow factors including sales on account and purchasing inventory. So it's better than a stab in the dark, or some rule of thumb. Just as an example, the total spending with the estimates shown here, the theoretical "year's worth of spending," is $182,000 (which you don't see on the illustration, by the way, but take my word for it). The total for the first six months is $93,000. If Magda sticks to those old formulas, she can't start the business. She is able to raise enough money, between loans and her savings, to put $12,000 into the starting cash balance. So that's what she does. Then she launches and continues to have her monthly reviews, and watch the performance of all key indicators very carefully.
Leave a Reply Cancel reply
Your email address will not be published. Required fields are marked *
Save my name, email, and website in this browser for the next time I comment.
Flash Sale. 40% Off the #1 rated business plan builder

Home Blog Business Plan How Much Do Business Plan Writing Services Cost?
How Much Do Business Plan Writing Services Cost?
Home » How Much Do Business Plan Writing Services Cost?
Recent Posts
Maximizing Success with a Professional Business Plan Writer October 16, 2023
Mastering Success: The Role of a Business Plan Writer at Go Business Plans October 16, 2023
The Art of Crafting a Winning Business Plan: Go Business Plans Leads the Way October 16, 2023
Unlocking Growth: The Power of a Comprehensive Business Plan October 16, 2023
Your Business Plan Writer: A Partner in Success October 16, 2023
There's no content to show here yet.
Ready To Get Started?
Our team of business consultants can provide you with one-on-one consulting and strategic advisory to launch or grow your business.
SCHEDULE A CONSULTATION
Maximizing Success with a Professional Business Plan Writer
Mastering Success: The Role of a Business Plan Writer at Go Business Plans
The Art of Crafting a Winning Business Plan: Go Business Plans Leads the Way
Unlocking Growth: The Power of a Comprehensive Business Plan
Your Business Plan Writer: A Partner in Success
Business Plan
Business Plan Writer
Client Press
Uncategorized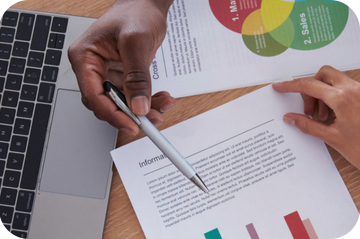 The expense of a business plan varies greatly depending on which kind of plan you need. Some plans could be as straightforward as a executive summary and also a one-page financial worksheet, while some can be well more than 50 pages and contain many years of financial projections. Decide what type of business plan your company needs so as to help ascertain the cost of this strategy.
Hiring a Business Plan Writing Service It's possible to hire a business plan writing service to write your business plan. More complex plans can range into the high thousands, based upon the firm, the amount of staff members operating on the strategy along with the range of the plan. Costs typically start at $1,500 for more simple projects.
Hiring A Traditional Consulting Company Using a traditional consulting company to write your business plan might make more sense when you are looking to raise a larger amount with your business plan. A lengthy plan with five years of financial projections might still cost a few thousand dollars, however, the total price can be much higher depending on the scope of work and the amount of consulting required. Some traditional consultants charge by the hour and let the customer decide how many hours client can budget for the work. For larger corporate jobs, expect to find costs ranging $25,000 to $50,000.
Our approach at GoBusinessPlans is to custom scope each engagement based on the the specific requirements of each client. Our business plan writing services typically cost between $2,000 and $10,000 depending on the work that needs to be completed.
Writing It Yourself The least expensive way to acquire a business plan usually is to compose it yourself. Purchasing the software to speed up this procedure ranges from $50 to $500, and free resources on the Web can offer both templates and suggestions. The U.S. Small Business Administration offers guides, outlines and blogs, and the SBA's Business Strategy Tool provides step-by-step assistance in building your plan. For companies with very low startup capital, this can be the ideal option.
Combining Services Another option for businesses looking for a business plan option is potentially doing some of the initial leg work and then working with a business plan company to finalize the business plan.  A business plan can cost less if you do the research and make a draft on your own, and then introduce it to a company or consultant for review and completion. For instance, you could complete the written part of the company plan and have somebody else help with the financials. This is sometimes a good option for entrepreneurs that will articulate their business idea clearly but may need help putting together financial projections that are realistic. Review choices are offered for those who need an expert eye to check at their plan before proceeding.
Service Area
Our Clients
Frequently Asks Questions
Services Overview



Business Plan Consultants

Immigration



Fully Customized Business Plans – No Templates
Schedule free consultation.
Our business plain team is here to help
Shedule Consulation
Our business plan team is here to help
View sample
Check example of our work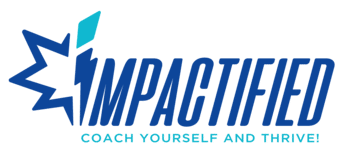 Does your business plan need a push?
Writting a business plan can be a springboard exercise for your business, and it's not as difficult as people think. All it takes is a bit of method, and some efficient tools. The good news our free articles and paid course have you covered!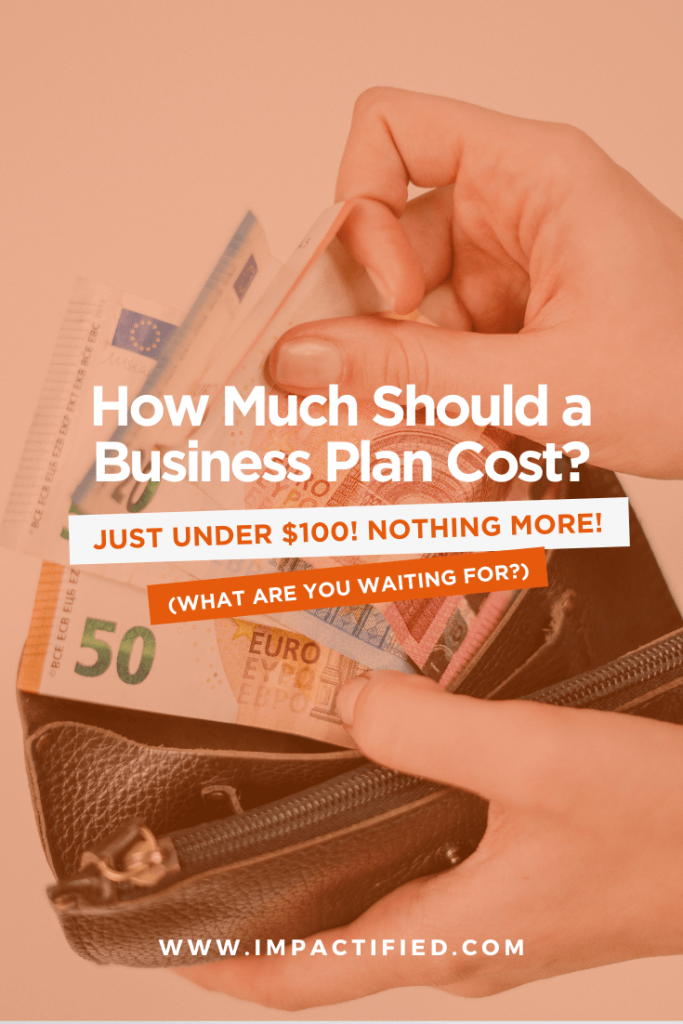 Resources on Business Plan Writing :
An article of the Accelerated MBA written by: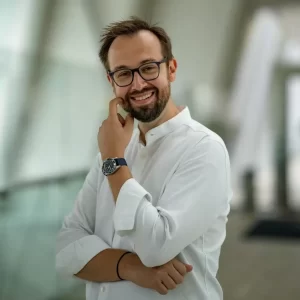 Antoine Martin (Ph.D) | Business coach
Is this article relevant? Share it & help someone!
In this article:
How much does a business plan cost just under $100.
'How much does a business plan cost?' is a typical question. Every entrepreneur and business owner asks about it sooner or later, which is not surprising because business planning is one of those things you can't really escape when you run a business.
So, how much does it cost to write a business plan? A lot. Is it worth the investment? Not really.
Long story short, the average cost of a business plan tends to be high if you rely on someone external to do the job for you. Professional business plan writers cost a significant amount of money because the exercise is time-consuming, hence a typical business plan cost estimate reaching five to ten thousand dollars isn't exceptional. Still, is the expense necessary? No, it's not.
We dedicated an article to  business plan consultants and their efficiency for your business , so we won't dig into this question right here. However, we'll look at cost-effectiveness, and we'll give you tips to try and lower your bill… under a hundred dollars! Oh yeah.
Before we do that, though, let us put this article into its larger context. At  Impactified , we are often asked for help when it comes to business plans, so we have compiled a list of  free resources on how to write a business plan that people will want to read .
These resources will give you tips as to what's expected from you by investors and financiers. They will show you what outline you should absolutely follow. And they will provide you with  a free business plan template and mini-course  you'll be able to use immediately to get started immediately!
We give about eighty percent of our content for free on this blog. Still, if you wanted to get started fast with two hours of video tutorials and a writing tool with designer-made templates, then we've also created  The Business Plan Builder module  to give you everything you need for under a hundred dollars!
Back to business plan costs – we are now going to look at a few things:
How much does a business plan cost if you ask someone else to write it for you?
How much does a business plan cost if you work on it yourself?
Three good reasons to keep your business plan's cost as low as possible.
Three tips to keep your business plan cost down!
Are you ready to get going? Perfect, keep reading!
How much does a business plan cost if I ask someone else to write it for me?
As we've said in the introduction, it's typical to see a business plan cost between five and ten thousand dollars for a small business. Of course, they would cost a lot more for larger companies, especially if large consulting firms got involved in the equation.
Nothing is surprising there if you think about it.
Think about it!
How to charge for a business plan?
Time? Expertise?
Writing this type of document involves a lot of market research ( because market analysis takes time). And it also takes a lot of strategic thinking.
In addition, coming up with a financial business plan (i.e. a financial strategy with reasonable financial projections) also takes work… you see the point.
Overall, the exercise tends to be time-consuming, and time is money, so the average business plan cost is high when a professional writer is involved. Of course, more affordable business plan writing services might offer better terms, but since price is value then chances are that a lower price will mean less research work, or beyond average writing skills – and you don't want that either.
Beyond time-related matters though, the point is that business plan writers cost a lot of money because the value created by a business plan is usually very high. It's a strategic key to unlocking funding, after all. Hence some business plan writing services cost money proportionately to the value they provide. It's as simple as that.
Wait… but why do I need a business plan in the first place?
Good question – thanks for asking! Regardless of its cost, the reality is that a business plan can be a genuine asset for your business – for several reasons.
Again, we explored that discussion in a dedicated article that looks at  what a business plan is for  and how it can support your business, so we won't get into the details here.
Still, the big idea is that working on a business plan involves a vital business planning exercise. That planning exercise, in turn, gives you a huge opportunity to take some operational perspective on your business.
Going through the intellectual process gives you an opportunity to think about your market, and it pushes you to consider what demand you are matching. Like, for real, because what investors want to know is whether or not your business proposal is answering a demand.u
The exercise also gives you a way to think about your business like an investor or banker would (for, depending on your needs, a low investment, a small business loan, etc.). And that helps with building an adapted pitch that gets people on board.
Okay, but I can do all that by myself, right?
Yes, of course! That's why we're here, aren't we?
Our perspective on business plan-writing is very clear: you should be writing your business plan yourself. That's it, period.
Now, of course, when we say "yourself", you can obviously be a little creative.
If your business is a small business and you don't have a big team around you, then you'll have to do the job yourself. But perhaps you'll have friends around willing to help you brainstorm, so you don't have to do everything alone?
Or perhaps your business is not that small, and someone on your team has an eye on your finances. In that case, you could let that person manage the thinking phase and brainstorm together to add more perspective on what's possible or not.
Either way,  brainstorming with one of our business coaches  is also a possibility. They won't be doing the business plan for you, but they'll have the right questions and concepts in mind to challenge you and get you to sharpen your storytelling.
For instance…
For instance, do you have a profitable business idea? Do you make money already? If not, when will you start making money? Do you have low startup costs, or do you need some significant funding to get things going?
Is your business facing significant competition? Is it aligned with current small business trends, or is it different?
You get the point – the idea is not to simply have a cool business name with cool business ideas, sexy business cards, and revolutionary products that have a chance to sell.
You want to take the exercise as a chance to start planning business developments for good.
How much does a business plan cost if I work on it myself?
Having said that, how much would a business plan cost if you were to work on it yourself? Simple:  about a hundred dollars .
Of course, you would have to spend some time on the exercise. There's no doubt about that. But, still, the money investment that should come out of your pocket doesn't need to be higher than a hundred dollars.
At the end of the day, business plans need to follow a specific template and code accepted (and expected) by the business community. Hence  knowing about business plan outlines and formatting  is all you need.
Some sell that type of knowledge for a fortune, but why pay that much when you can avoid such a cost?
Let us be clear here – the point is not to write a low cost business plan that will look cheap and dull just to cut the costs! No! The point is to catch the concept and expectations and produce the proper document based on the right thinking. And that's a lot easier than you think!
Three good reasons to keep your business plan cost as low as possible.
There are also a few reasons  not  to spend a fortune on business plan costs. Too often, in fact, small business owners and entrepreneurs make the wrong decisions and end up paying their plans way beyond the cheque they have to sign.
You don't want to waste your time on theoretical fluff.
First, and as we've said before, working on a business plan takes time because the exercise involves a lot of strategic thinking.
(Read also:  How Long Does it Take to Write a Business Plan? ).
Yet, the final document you'll obtain will be – at best – a snapshot, at a given moment, of what you are planning on doing over the following years. So, NOT spending too much time on the exercise is beyond wise.
You could do tons of things with 'ifs' but ultimately, just 'ifs' won't do anything for your business.
The point, said differently, is to consider options and develop a direction you'll be able to follow. It should  not  be a matter of spending months on a document to the detriment of your actual business. Can you see the difference?
They want you to have a business with a plan (beyond just a business plan).
Second, you'll want to keep your business plan cost down because your readers (investors, bankers, partners) are not interested in just a pdf document.
As we often say, they don't give a damn about a pdf (excuse our French). However, they want to see that you have a business and a plan to get that business to its next step within a reasonable amount of time. Usually two, three, or five years.
So? The more you spend on setting a theory plan, the more expensive it becomes without much of a reason. Too bad!
You want to make the most of the insights you can get.
The third reason why you'll want to keep your business plan cost down is that, ultimately, you want to make the most of the insights you'll obtain, without spending ages on that, because trying and testing is a lot more critical than guestimating.
Have you ever heard of the 'lean' type of mindset? In short, instead of spending a million on a great idea, spend a little and test, then adapt and test again until you obtain something that matches demand.
That makes sense, right?
It does! And the same goes for your own business plan.
The point of your business plan is not to come up with some B.S guesstimates. Instead, it is to tell a story about your business and use that story to get people on board with you.
Limiting the time you spend drafting your document keeps your business plan cost down and forces you to think sharp and develop insights you can use now. Try!
Before we wrap things up – we also wanted to give you three tips to keep your business plan cost down and save money: follow the recommended rules, use some existing tools (especially for the financial tables), and – again – do it yourself!
Follow the recommended rules!
As we've said before, a business plan usually follows a series of rules to match some clear expectations. So, if you want to save some work time and keep your business plan cost down, follow the rules!
In particular, follow the  typical business plan outline and formatting everyone expects you to follow . Otherwise, you'll burn yourself.
Also, keep in mind that  a business plan should be short . There's no need to write a novel here. Just build something around a limited amount of pages with a clear executive summary, provide suitable tables and focus on building a story investors will want to read, listen and talk about.
Be careful about one page business plans , however. They imply a lot more work than people think and could have a disastrous effect on your business if not handled properly.
Business plan writers cost a fortune: do it yourself!
As we've said before, business plan writers cost a lot of money and business plan consulting professionals are not relevant unless your business is already big. Therefore, the best way to keep your business plan cost down is to work on it yourself.
First, you'll save a little fortune in writers fees. But, perhaps, more importantly, you'll save some time because whoever writes things up for you will need time to understand what you do. So you will have to be available a lot.
Second, you probably won't be able to defend a plan that you have not written yourself because the logic behind it won't be yours. People will grill you and your consulting company won't be there to pitch everything marketing and finance for you – don't take that kind of risk!
Use some existing tools!
Last but not least, the best way to save on your business plan cost is to use some existing tools instead of trying to come up with something clever on your own.
The right tools will show you which outline to follow and help you make a business plan look sexy with little to no effort . So why would you do it differently?
Don't try to reinvent the wheel. The exercise is time-consuming and inefficient!
Shameless plug here, but  The Impactified Business Plan Builder  was designed to give you everything you need to make your business plan look sexy: video tutorials to understand the logic, a writing framework to make sure you answer all the questions that need to be answered, automated tables, so you don't have to figure the numbers by yourself, and a designer-made template, so you don't have to do that either…
How to keep your business plan cost down?
Business plan writing services cost a fortune: do it yourself!
Use some existing tools instead of reinventing the wheel!
Ready to create your business plan under $100? Meet the Business Plan Builder!
To wrap things up: the question "how much does a business plan cost?" calls for a relatively simple answer: a lot!
Business plan writing services cost a fortune because the exercise takes time and creates a lot of value for a business. Hence, the average cost of a business plan done by a professional would reach somewhere between five and ten thousand dollars for a small business.
Having said that, the cost of writing a complete business plan can remain very moderate, and you can get some excellent results with tools under $100 if you are willing to play the smart card!
Time to take action! If you are looking for a push to get started with everything we've discussed in this article, the  Impactified  Business Plan package was built for you! It's built around over 2 hours of explanatory videos and comes with everything you'll need to:
Figure out what you need to figure out – powerful, uh?
Understand the business plan code!
Write a low cost business plan – with just the right amount of words and pages!
Build your financial estimates – with our automated tables software!
Thanks to our designer-made templates, create a visually appealing documents (a comprehensive business plan and a pitch deck) people will want to read, thanks to our designer-made templates!
If you want to stop wasting your time, this is THE most simple business plan tool, and you can't afford to miss it! Don't miss it!
Psss! Share this Article!
Topics related to How Much Does a Business Plan Cost? Just Under $100!:
How much does it cost to write a business plan?
How much does it cost to make a business plan?
How much do business plans cost?
Cost to write a business plan
Need help with building & scaling your business?
At Impactified , we are on a mission to make you build, grow, and scale businesses you can be proud of, and we do that by making our business coaching expertise available to you, in person and through kick-ass self-coaching modules. You will love the experience either way, the only question is, what makes the most sense to you?
More Insights on Business Plan Writing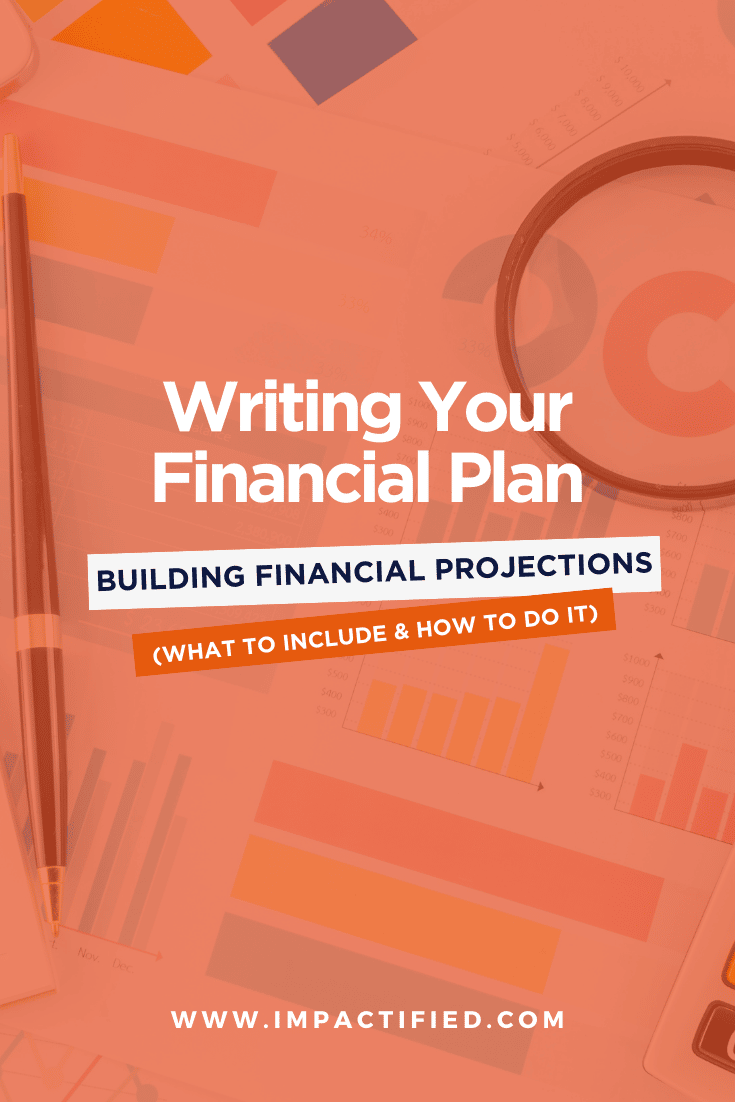 Financial Projections: How to write the financial plan in business plan
Hey coach! I'm writing a business plan and I'm wondering how to build the financial projections part of the document. What's the importance of financial projections exactly – I mean, isn't it absolute BS? How do I write the financial plan in business plan, and even more importantly, how can I make sense of all those messy tables? Can you help me understand this? Thanks in advance!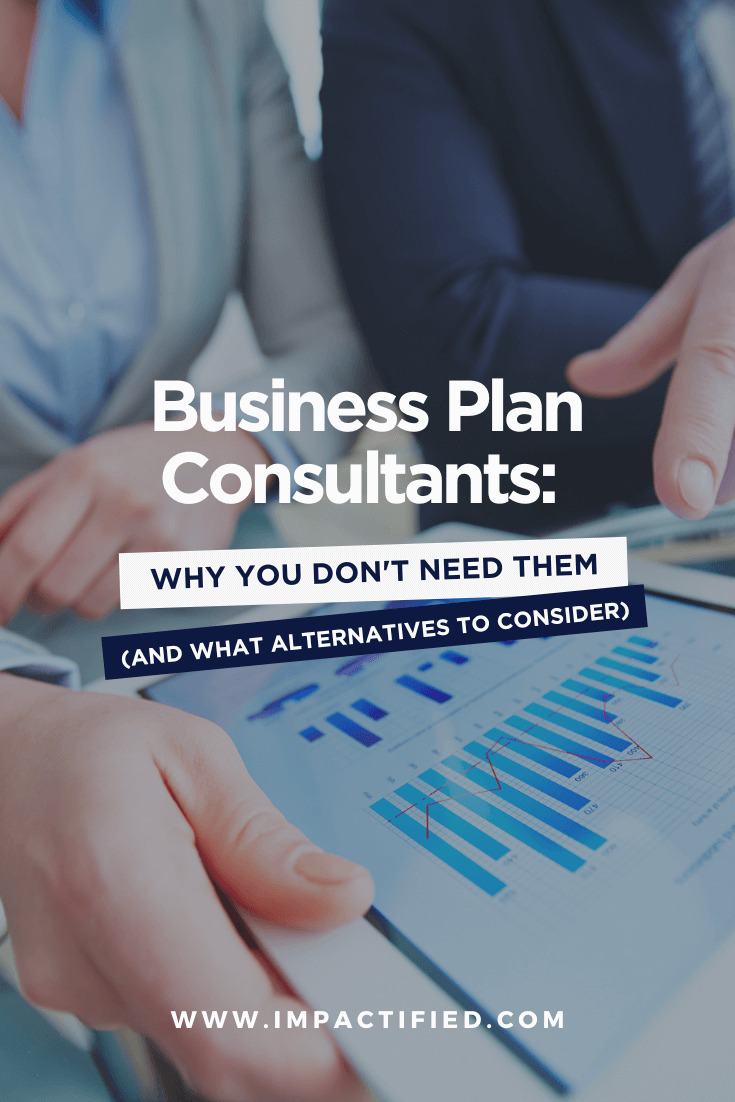 Do I Need a Business Plan Consultant? No, You Don't!
Hey there Coach! I'm a small business owner and I need to find some support with my business plan. People suggested that I find a business plan consultant near me, but that's a big cost and I'm not too sure about what to expect from that. What's your opinion about business plan consultants in general? Is there any alternative you would highly recommend? Thanks!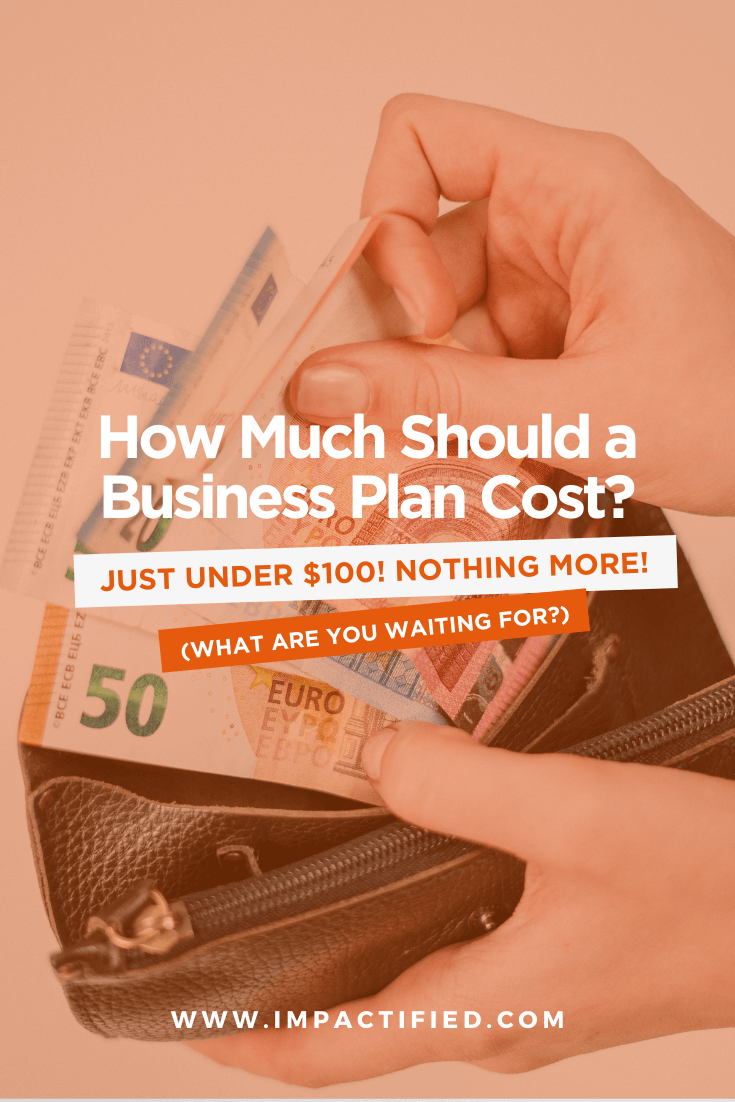 Hey coach! I was wondering – how much does a business plan cost? I need one, and I'm thinking about having it written for me, so I'd love your insights. Also, I've heard business plan writers cost a lot of money, so I'm interested if you have tips for writing a low-cost business plan! Thanks!
The #1 Self-Coaching Toolbox for Entrepreneurs
Building & scaling a business is tough, so we've built easy-to-use tools & self-coaching programs you can leverage anytime to make your business rock. The rest is up to you!
Building, growing, scaling and exiting a business is a challenge (and a difficult task!), but the good news is that you are not alone. One, our team of seasoned business coaches is here to help, in person and online! Two, our digital self-coaching tools also have you covered if you'd rather work on your own! The only thing you have to do is act, what are you waiting for?
Get Started
Coach Yourself!
Book a Coach!
Pitch Your Biz!
Read our Entrepreneurs' blog!
Business Coaching
Why Hire a Business Coach?
Entrepreneur Training
Our Brochures
Team performance Survey
The FREE Coaching Newsletter
Impactified News
Get in touch
© 2019-Present - All Rights Reserved - Impactified.com