English Language Arts
Graphic Organizers
Social Studies
Teacher Printables
Foreign Language
Home > Teacher Printables > Respect
Respect is having some form of regard for another person's feelings and wishes. As we get older the definition skews a bite towards admiration for another person based on their talents or accomplishments. Respect and what it really means differs a bit for each individual. Our personal experiences make us have varying levels and extremes for it. We first must learn to respect ourselves before we can begin to do the same for others. The concept of respect is hard to point out, but it is easy to point out when someone is being disrespectful. It is something that seems impossible to teach children. One of the best ways to project the concept of respect to youngsters is to consistently model that behavior for them. Always remember that you cannot teach it to anyone by being disrespectful to them. If a child is being disrespectful it best to remain calm and exert patients as much as possible. This also results in a calming affect and helps you stay in control of the situation. When needed use ultra-kind, but firm discipline to teach.
These worksheets will help students explore situations that they will experience on a daily basis. Students will need to make a judgement call on the equity of the scenario. Is everyone being treated well or is there a sense of disrespect or lack of oversight in decision making on the part of one of the parties involved? They will be given exposure to a wide range of circumstances that will have mixed consequences. This will also help students learn how to infer the expected outcome based on how people are treated. We will begin with simple identification activities and then progress on wards to writing full descriptions of the situational outcomes that students will foresee as a result. I find it easy to project a sense of mutual respect if you set up class rules that everyone, including teachers must follow.
Get Free Worksheets In Your Inbox!
Printable respect worksheets, click the buttons to print each worksheet and answer key..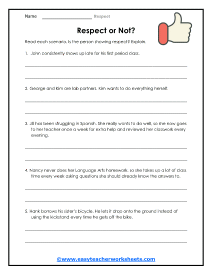 Respect or Not?
Read each scenario. Is the person being considerate? Explain.

Treating Others with Respect
To treat others with well means to treat them with honor and dignity. Respecting others is one of the ways that you maintain good relationships.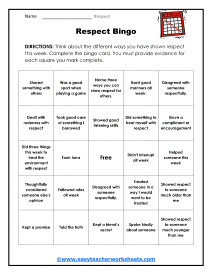 Respect Bingo
Think about the different ways you have shown consideration for others this week. Complete the bingo card. You must provide evidence for each square you mark complete.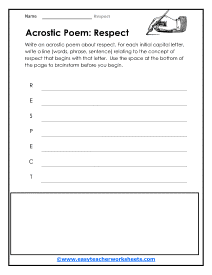 Acrostic Poem
Write an acrostic poem about respect. For each initial capital letter, write a line (words, phrase, sentence) relating to the concept that begins with that letter.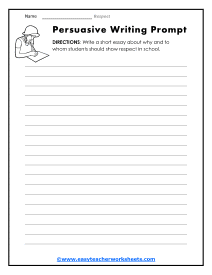 Persuasive Writing Prompt
Write a short essay about why and to whom students should show respect in school.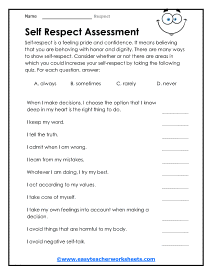 Self Respect Assessment
Self-respect is a feeling pride and confidence. It means believing that you are behaving with honor and dignity. There are many ways to demonstrate this towards others.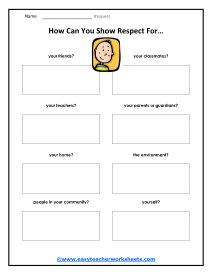 How Can You Show Respect For...
Plot out all of the scenarios.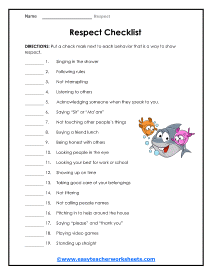 Respect Checklist
Put a check mark next to each behavior that is a way to show respect.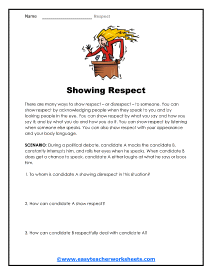 Showing Respect
There are many ways to show thoughtfulness to someone. You can demonstrate it by acknowledging people when they speak to you and by looking people in the eye. What you say and how you say it matters; and by what you do and how you do it.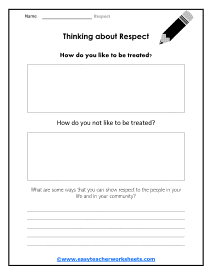 Thinking about Others
What are some ways that you can show respect to the people in your life and in your community?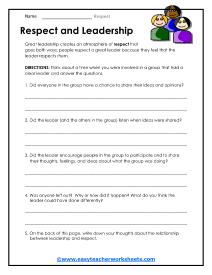 Great leadership creates an atmosphere of respect that goes both ways; people respect a great leader because they feel that they receive the same consideration.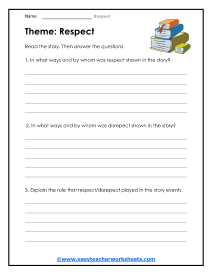 Theme: Respect
In what ways and by whom were you treated well shown in the story?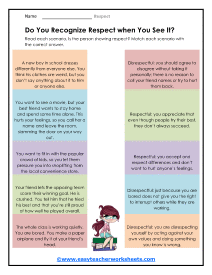 Do You Recognize Respect When You See It?
Read each scenario. Is the person being thoughtful of others? Match each scenario with the correct answer.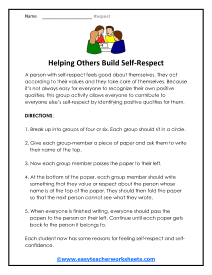 Helping Others Build Self-Respect
A person with self-respect feels good about themselves. They act according to their values and they take care of themselves. Because it's not always easy for everyone to recognize their own positive qualities, this group activity allows everyone to contribute to everyone else's self-respect by identifying positive qualities for them.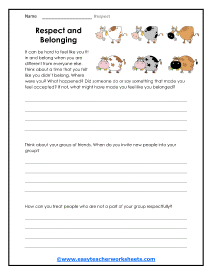 When I Belong
It can be hard to feel like you fit in and belong when you are different from everyone else. Think about a time that you felt like you didn't belong. Where were you?
Worksheetplace.com For Great Educators
Social and Emotional Learning
Character Education
Respect teaching ideas and worksheets. Teach children respect with these printables. The pillar respect teaching unit for grades 3-7. Help your students become more respectful with these SEL digital learning activities for 2nd - 7th grades. Respect can be taught and nurtured, use these free activities with individuals, small group or the whole classroom. See the teaching ideas and worksheets for the following traits: Caring | Citizenship | Courage | Cooperation | Empathy | Fairness | Gratitude | Honesty | Integrity | Kindness | Optimism | Persistence | Respect | Responsibility | Teamwork | Trustworthiness
All worksheets are created by experienced and qualified teachers. Send your suggestions or comments .
Grade Levels
Search Site
Language Arts Topics
Respect Worksheets
Over the years, the concept of respect has really degraded a great deal. When I was a child, the thought of having respect for someone meant that you had a high level of administration for them almost to the point of being envious of them. Today, respect has lowered to where it comes across as being just a decent human being to others. This collection of respect worksheets helps children identify how to portray a sense of respect to others. Model a behavior is always a great way to encourage children to do the right thing. This is a very difficult concept to share with someone because it is one of those things where you cannot say what it looks like, but you can definitely pinpoint it when you see a complete lack of it. Helping students understand that relationships are important to their lives and the lives of those that they care about.
Respect Worksheets To Print:
In the Classroom - To treat others with respect means to treat them with honor and dignity.
Showing Respect - Study each picture. Are the people in each picture showing respect? Why or why not?
How to Show Respect - Put a check mark next to each behavior that is a way to show respect.
R-E-S-P-E-C-T - Read each scenario. Then write down how you would respond to the scenario, demonstrating the character quality of respect.
What is Respect? - Match each scenario below with an answer that makes sense. Write the letter of the answer on the line beneath the scenario.
What Is It? - How do you define respect? This is one that will stump you. It is easier to demonstrate than it is to explain.
My Three People - List three people that you respect. How do you show each one that you respect them?
Do You Show Respect in School? - How do you show respect for your teacher, custodians, classmates, and bus driver.
Go-rilla Around - Are there certain occasions when it is particularly important to show respect?
How Can You Show Respect For - Work off of the pictures you are given here. There may be multiple interpretations of what is occurring in these images.
Showing Respect - Study the boy in the picture. It is his first day at a new school. Do you think that he is being respectful? Why or why not?
How to Show It - How do the others view your actions? Looking at situations from other people's perspective is a skill that takes a good level of maturity.
Think About It! - Think about the story you have just read. Then answer the questions. Make certain to examine this from the mindset of the people that are involved.
Thought Clouds - What are some ways you can show respect for this that and the other. Write up some dialogue for these clouds, just like a comic strip.
Self Respect - Self-respect means treating yourself with dignity and honor. It is hard to give to others, what you do not have internally.
How to Encourage Student Respect?
A positive and respectful academic environment automatically encourages better education facilities and boosts both the teacher's as well as student's morale towards learning. However, maintaining a positive environment in an academic institute, especially the one with very young students, is very daunting. Children should be taught from the first day to respect and regard their teachers as well as each other. The students must be encouraged at every point to display an attitude of respect and care for everyone. Some of the ideal ways to encourage students in this regard are as follows:
Treat Students Equally and with Respect
Students are always sensitive to disrespect and biased treatment due to several reasons by their teachers. As a teacher, you must treat every child equally. The students who get better grades should not be overtly praised. Rather, the students who are weaker in their studies should also be taken care of. Do not insult the students openly, rather talk to them in private about what you find is wrong in them. Only by displaying an attitude of respect towards the students, you can expect them to respect you back.
Students are Less Likely to Respect a Strict Teacher
Being strict as a teacher for no reason will only make a student respect you in front of you. If you are rude to students without any reason, there is a 100% chance of them disliking you even if they cannot display their emotions openly. Always try to minimize the strictness as much as you can. Rebuking, ignoring, and disrespecting the students will never encourage them to respect you ever.
Appreciate Their Respectful Gestures
Children love appreciation especially when it comes from a teacher in front of the class. If a student shows you even the smallest gesture of respect, try to acknowledge it and thank the student in front of others so that more students follow the act.
Teachers: Upgrade Now
Print all 25,000+ worksheets
All grade levels and topics
Save endless hours of your time...
Answers to everything too!
Get FREE English Worksheets In Your Email
How We Are Aligned To The Common Core
Educator Resources
Privacy Policy
Newsletters
© English Worksheets Land . All rights reserved.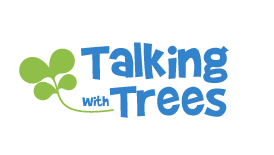 Respect Worksheets and Teaching Resources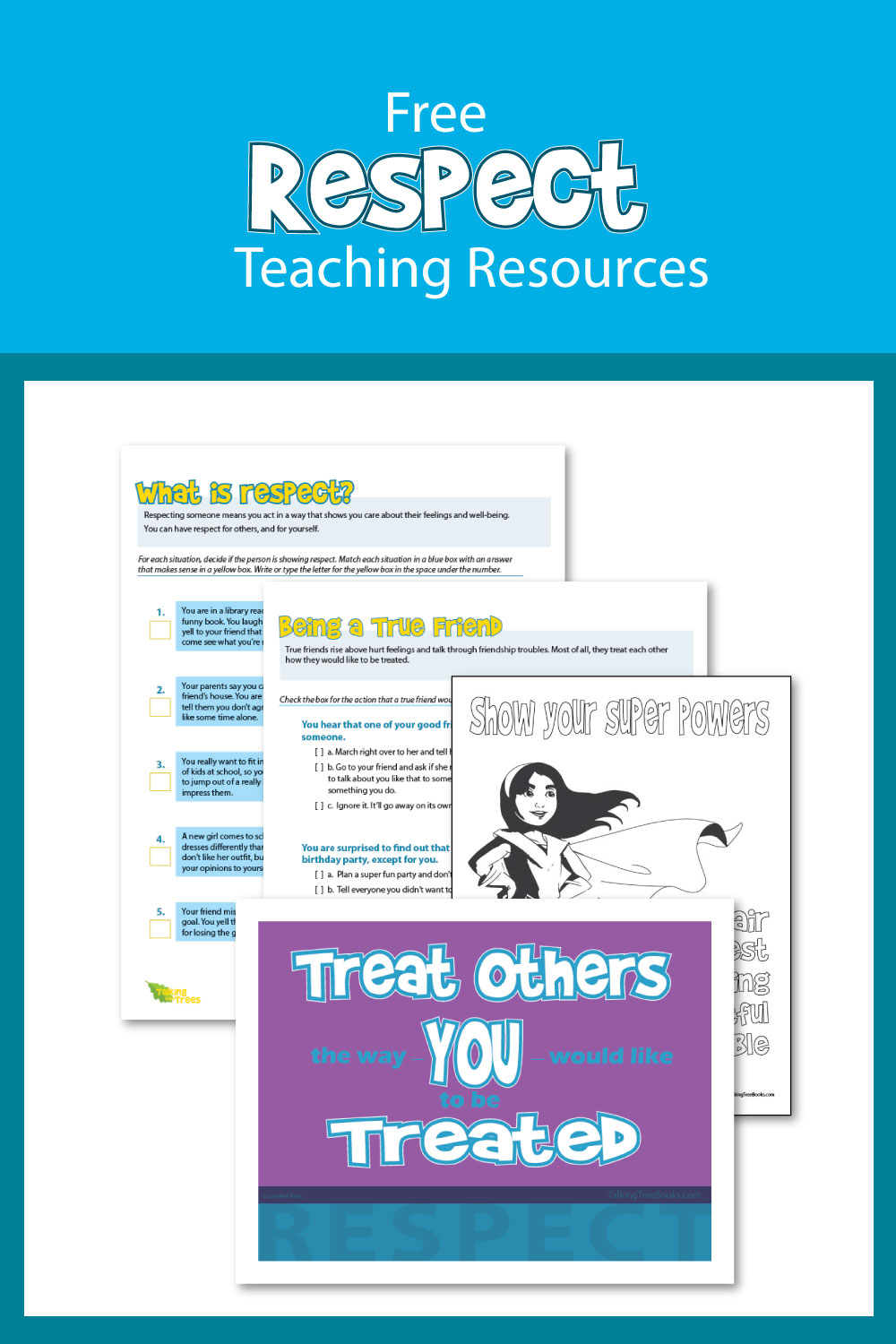 Respect Teaching
Respect is a basic building block of all social emotional learning. Once children understand that respect is about caring how they impact others, they can develop social skills around courtesy, having positive relationships, being part of a team and other essential skills for success. These free respect worksheets and teaching resources make it easy to teach kids about showing respect for others and having respect for themselves. Each respect worksheet can be used independently, or use some of the respect resources together for a complete lesson in respect.
Free and Ready for Remote Learning
Our PDF worksheets are free to print or share for non-commercial use. Talking with Trees respect worksheets are available as downloadable PDFs that can be printed, or post them to your Google classroom or other Learning Management System. Built-in fillable fields enable children to type in their answers online.
Respect Resources by Type:
Presentations
Lesson Plans
Coloring Pages
Definitions
Songs / Videos
Respect Worksheets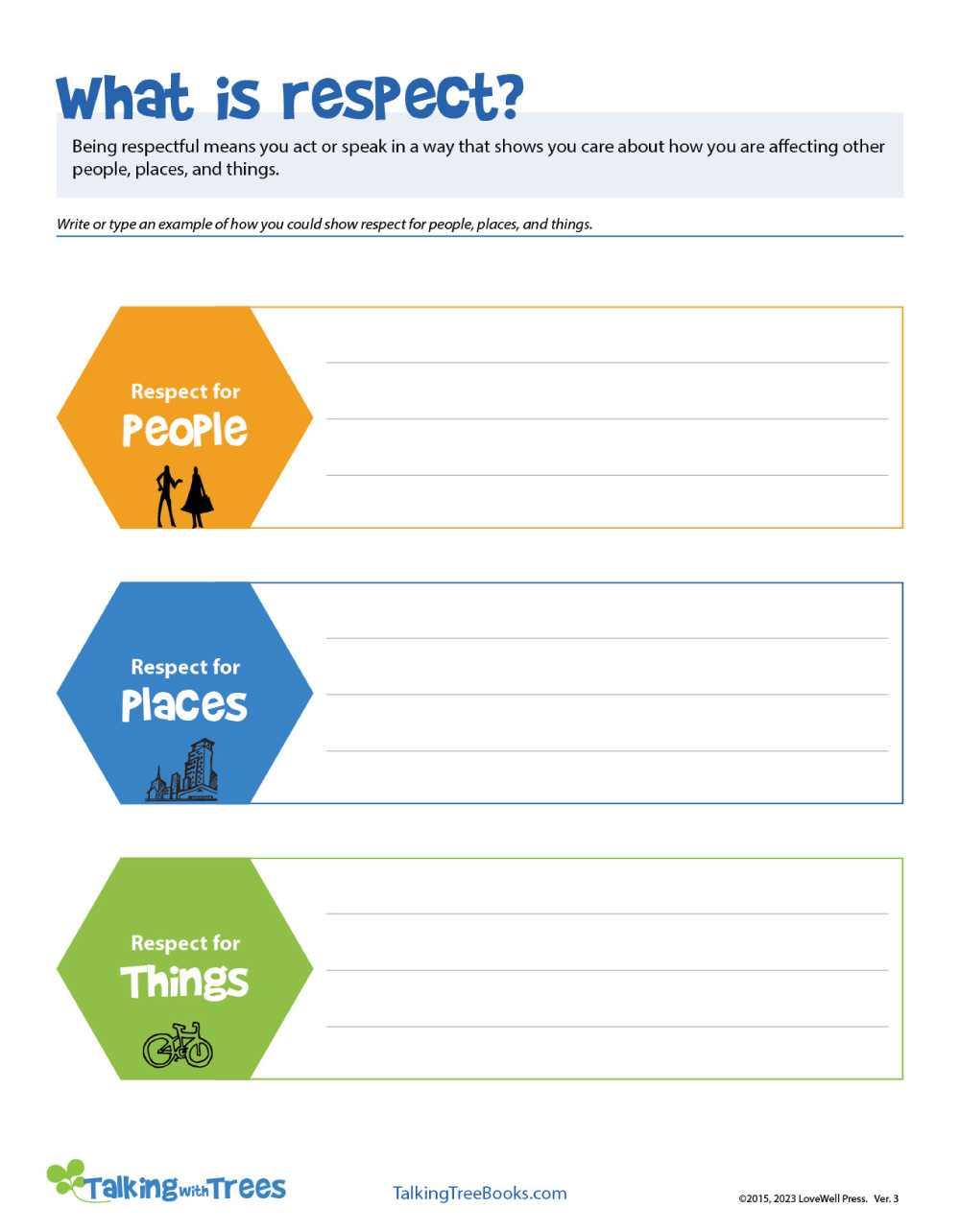 Showing Respect
A worksheet on showing respect for people, places and things.
What is Respect
Respect worksheet with scenarios that are respectful or direspectful.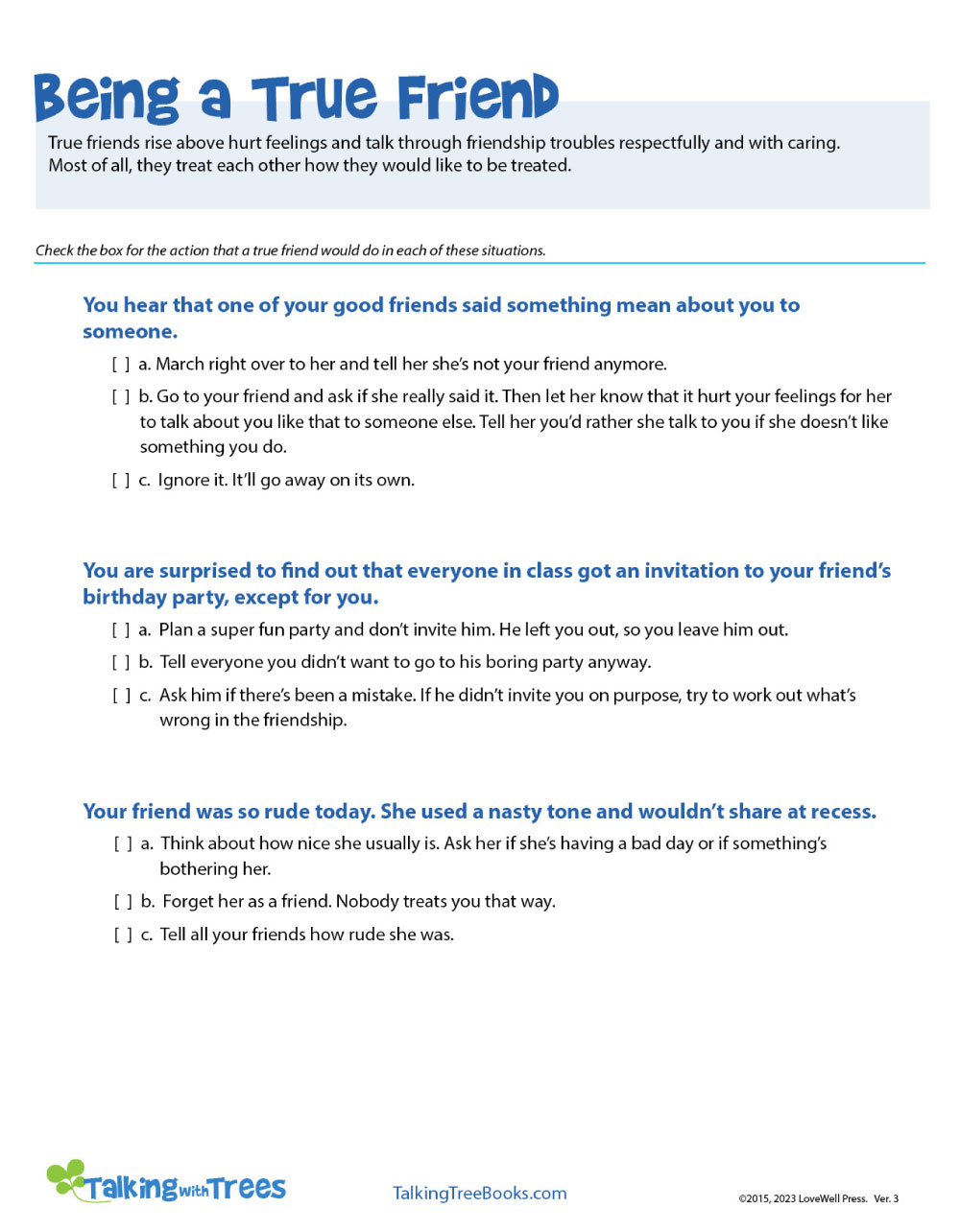 Being a True Friend
A worksheet on treating friends with respect, even when feelings are hurt.
Respect Presentations
Presentation on how to show respect for people, places, things.
Presentation
Respect Lesson Plans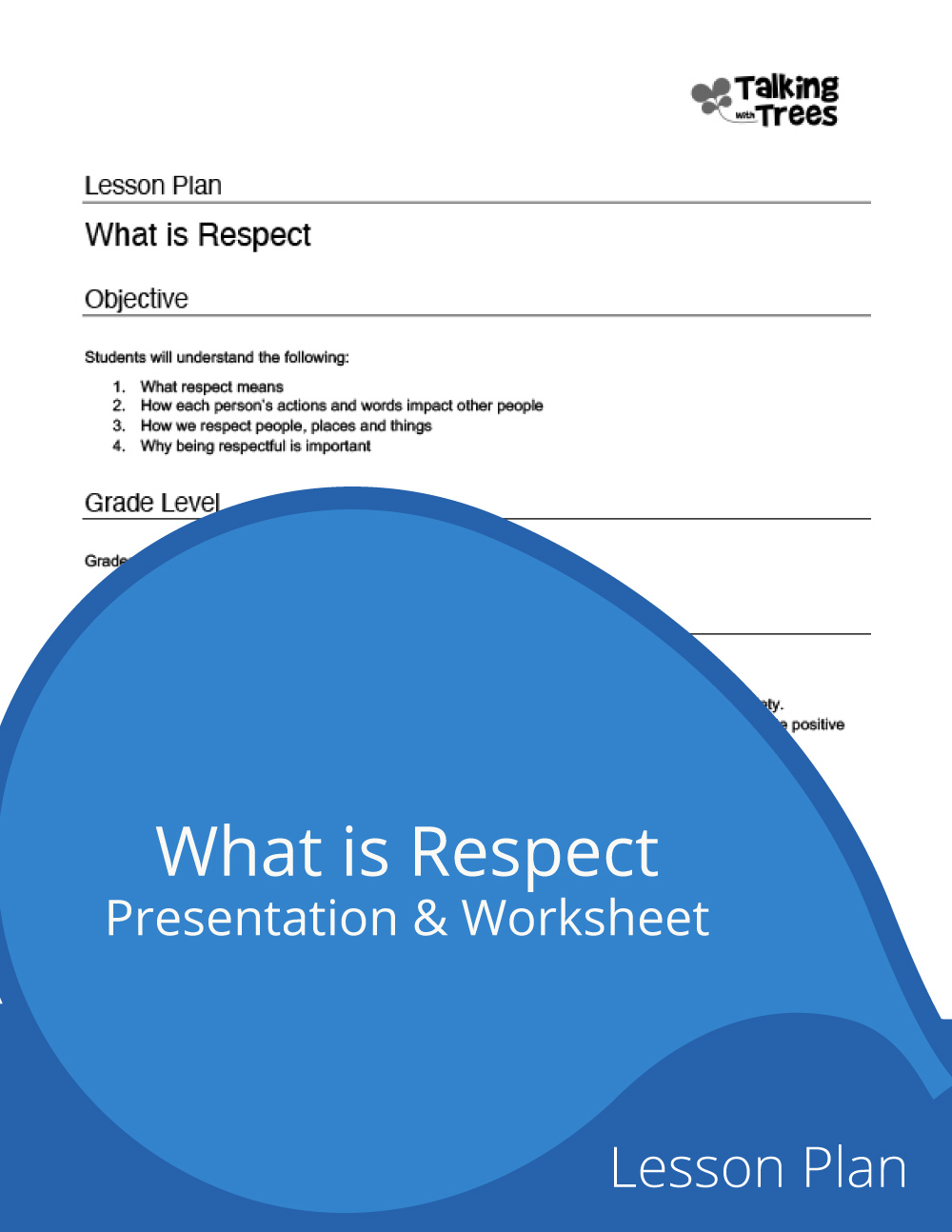 What is Respect Presentation
Lesson plan using presentation about how to be respectful.
Lesson Plan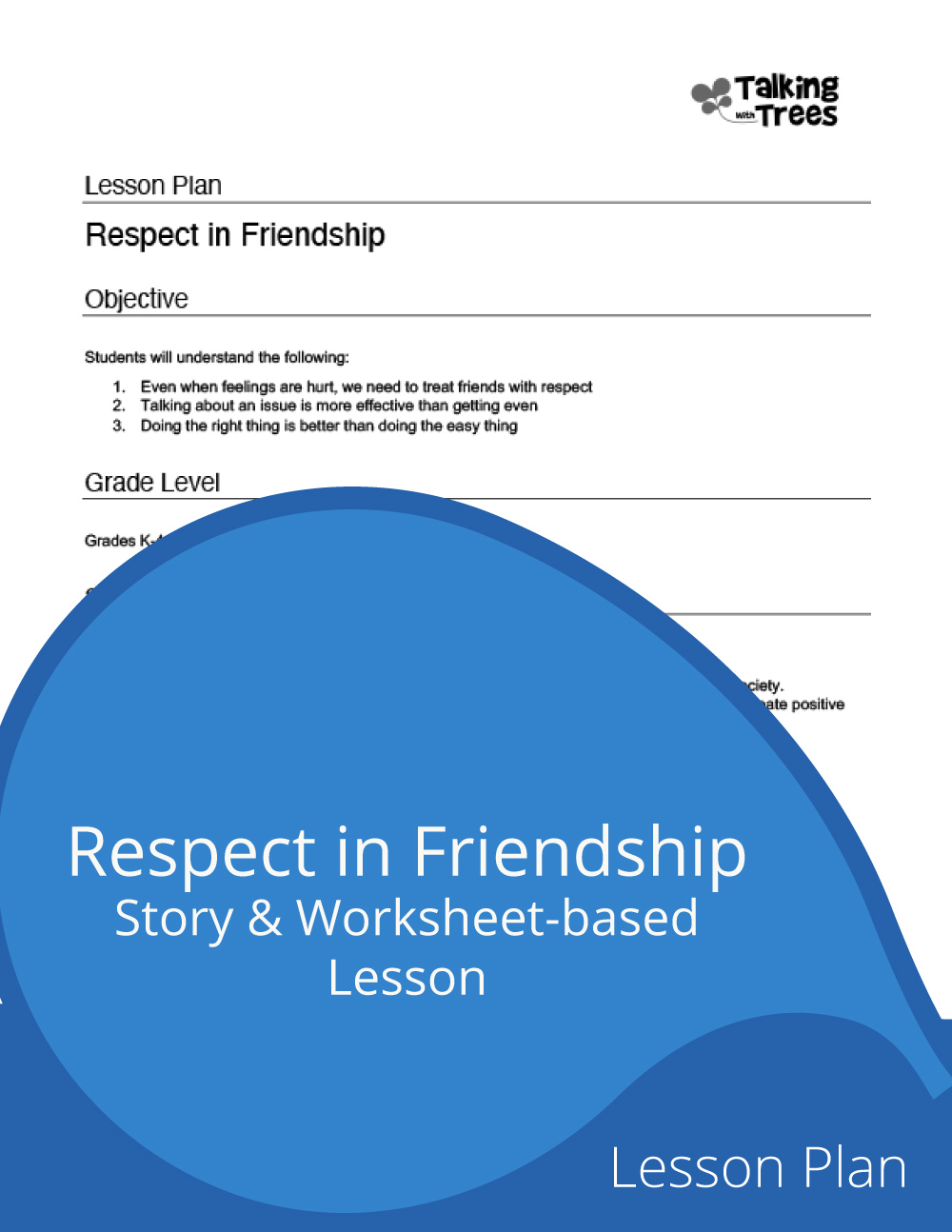 Respect in Friendship
Lesson plan using a story about friends showing respect and caring, even when their feelings are hurt.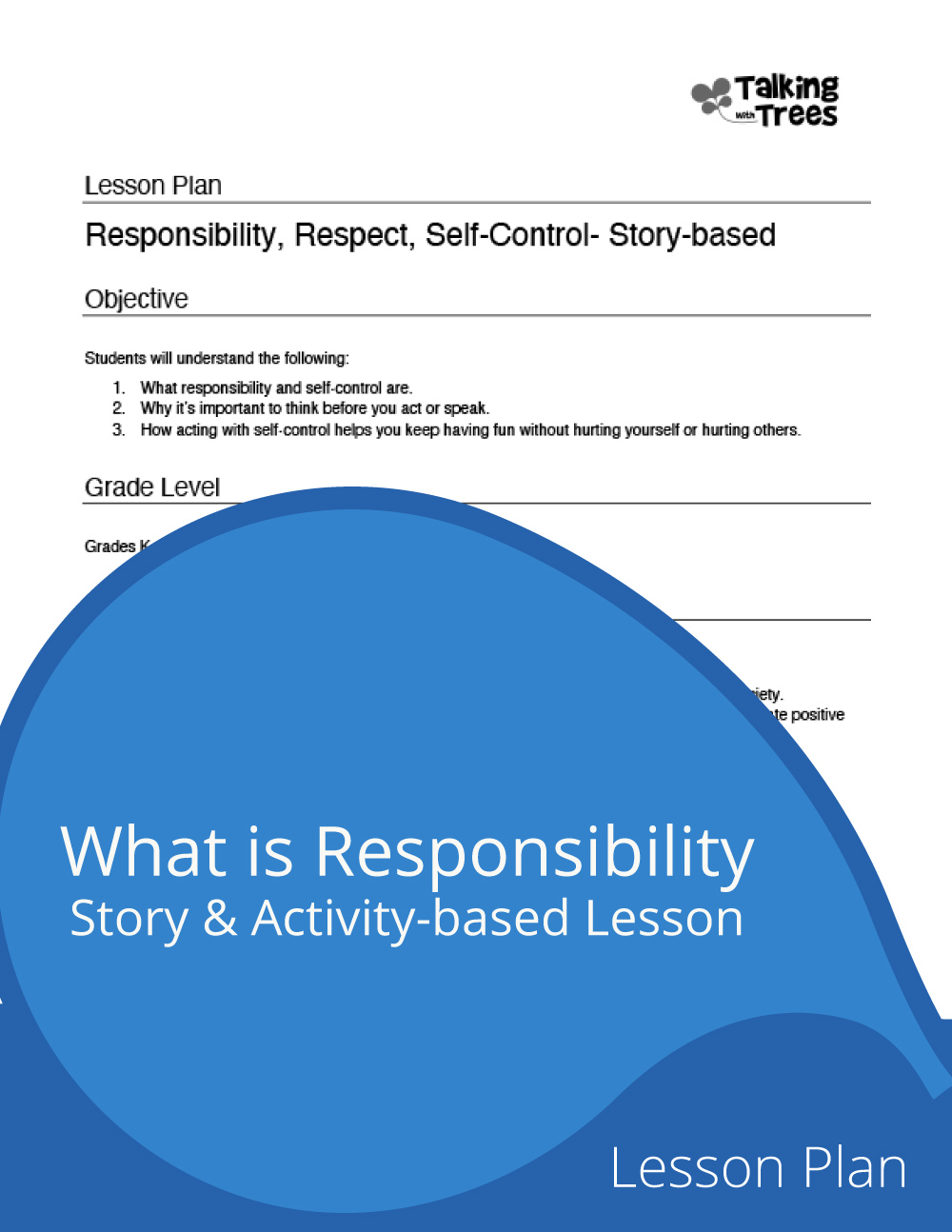 Respect- What if?
This respect lesson plan teaches children to ask "what if?" before they act or speak so they can choose to act with care for others.
Respect Coloring Pages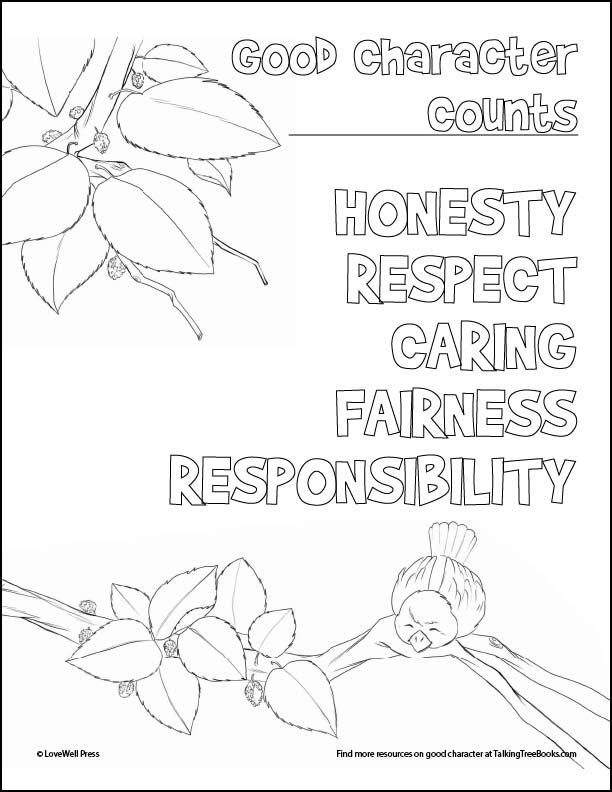 Character Counts
Color in examples of good character traits, including respect.
Coloring Page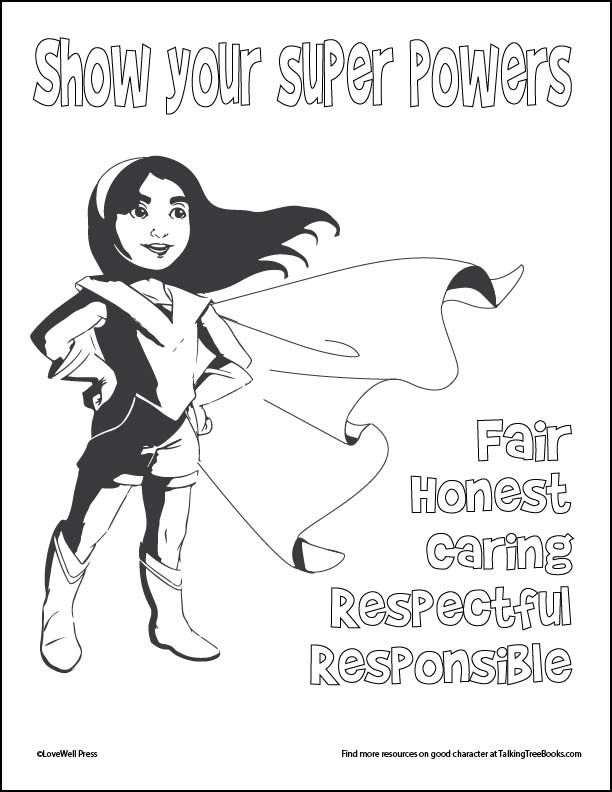 Super Powers
Fun coloring page reminding kids that being respectful is its own type of super power.
Color in this poster that reminds children to think before they speak or act so they can choose to be respecful.
Respect Quotes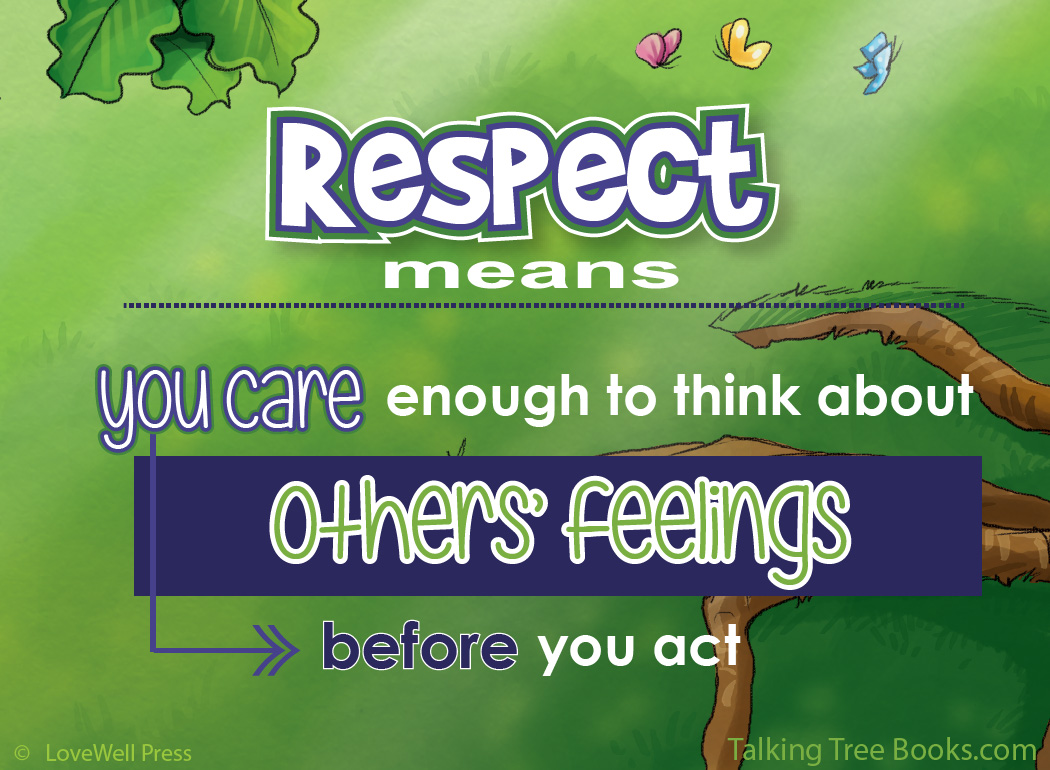 Respect means...
Shareable quote image that explains what respect is, in terms kids can understand.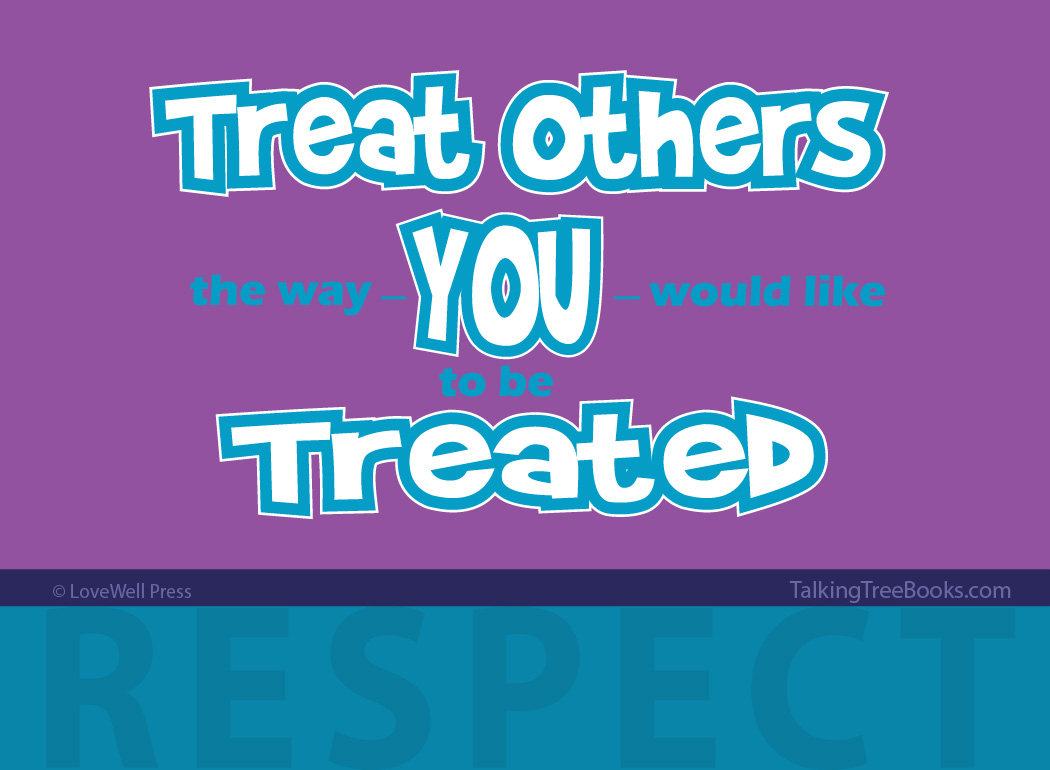 Treat others...
Shareable quote image reminds children to treat others as they would like to be treated.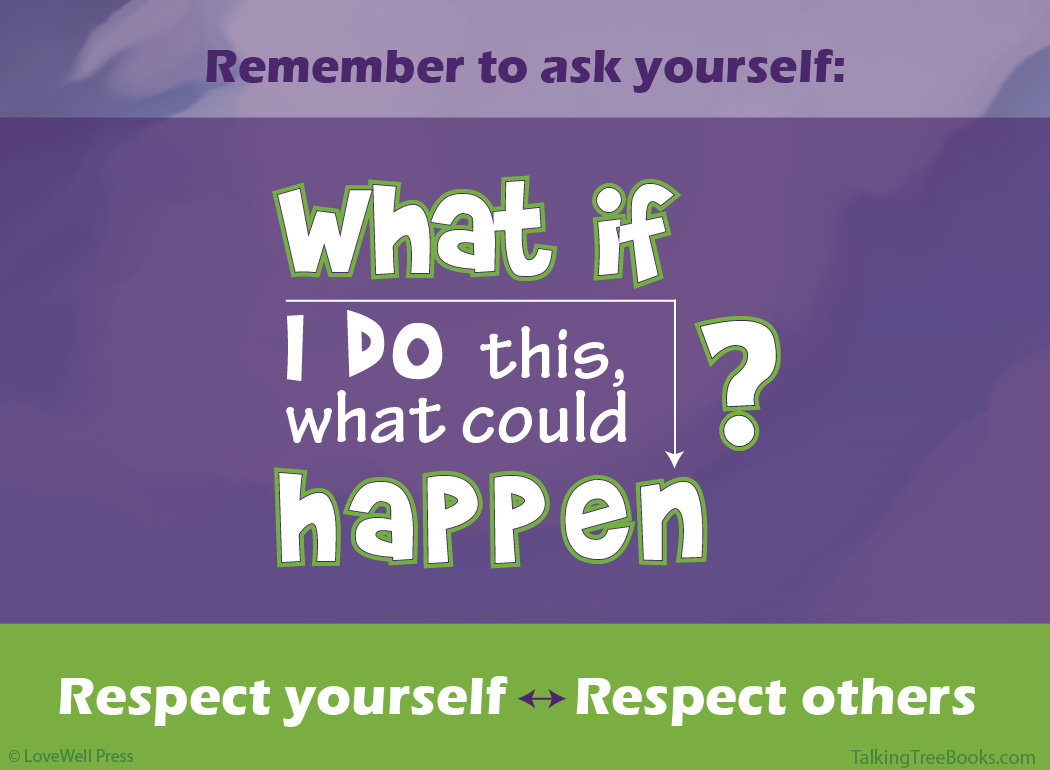 Shareable quote image about showing respect by thinking about how your actions will impact others.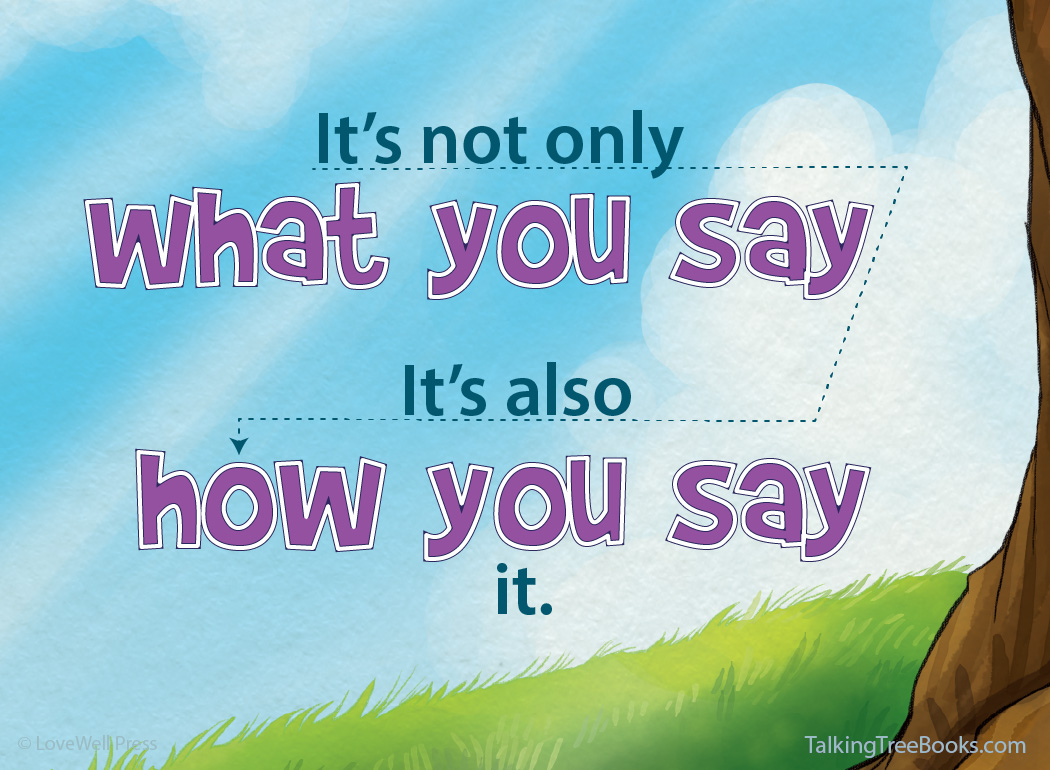 Speak with Respect
Shareable quote image about speaking with respect.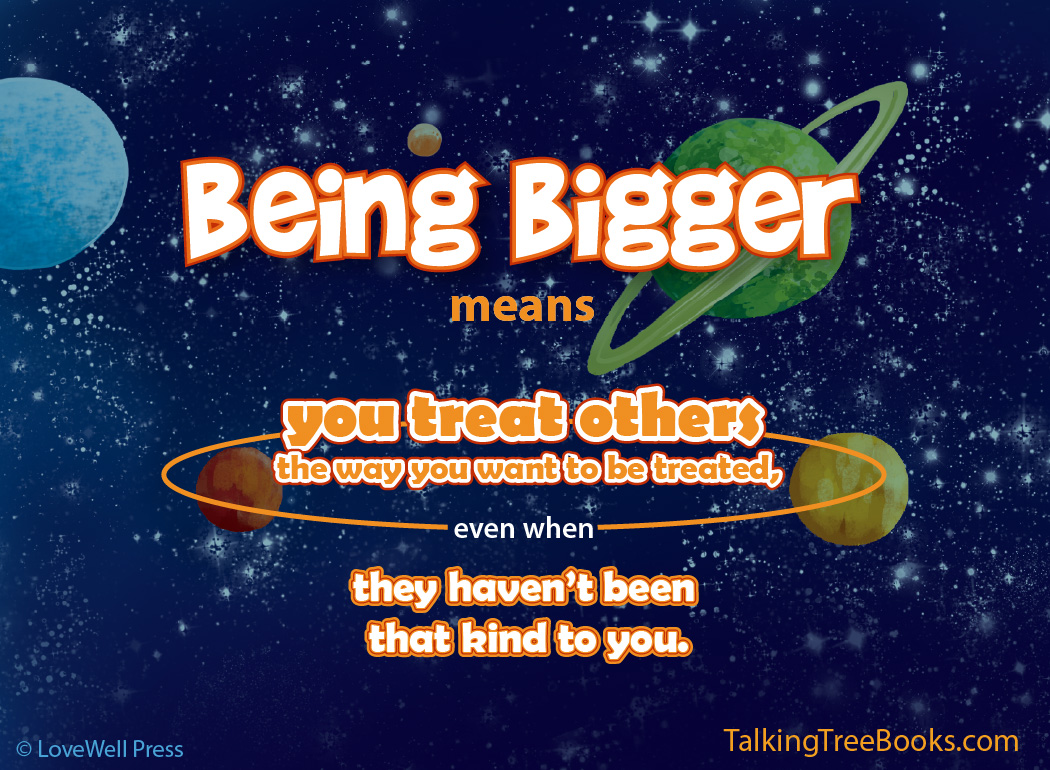 Shareable quote image about being respectful even in the face of adversity.
Respect Posters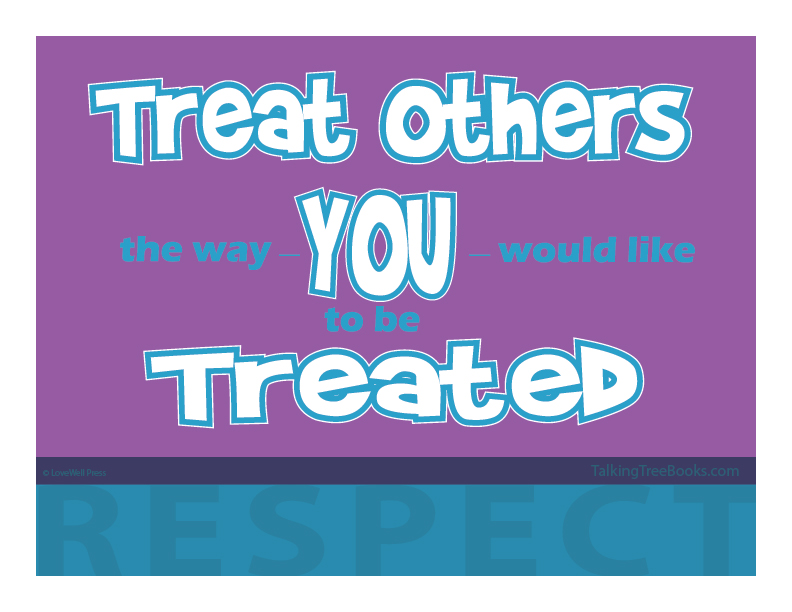 Treat others with Respect
Download and print this poster that reminds kids to treat others with the respect they would like in return.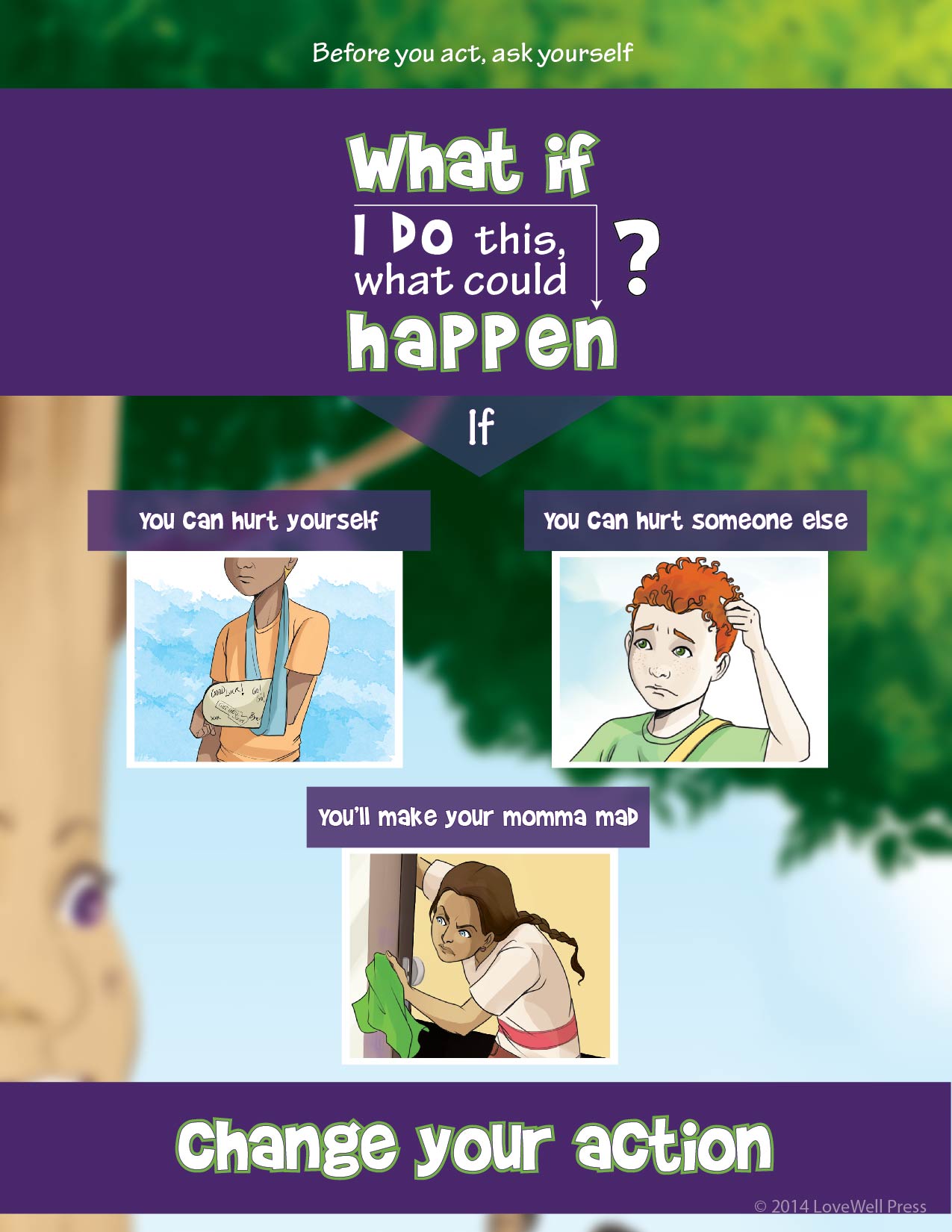 Download and print this poster to help children remember to think before they act so they can be more respectful.
Respect Books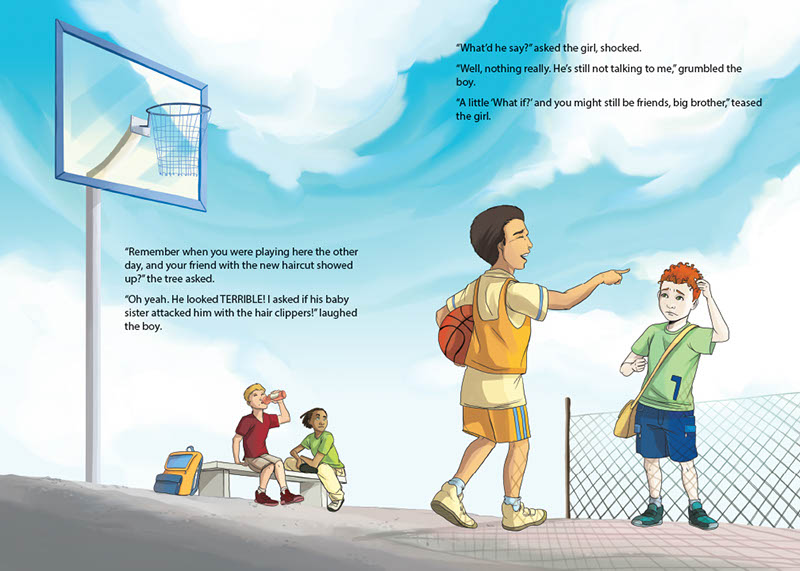 Two siblings keep finding themselves in trouble because they don't think before they act or speak. Read along as they learn to ask "What if?" and consider whether their words and actions will be respectful.
What If Book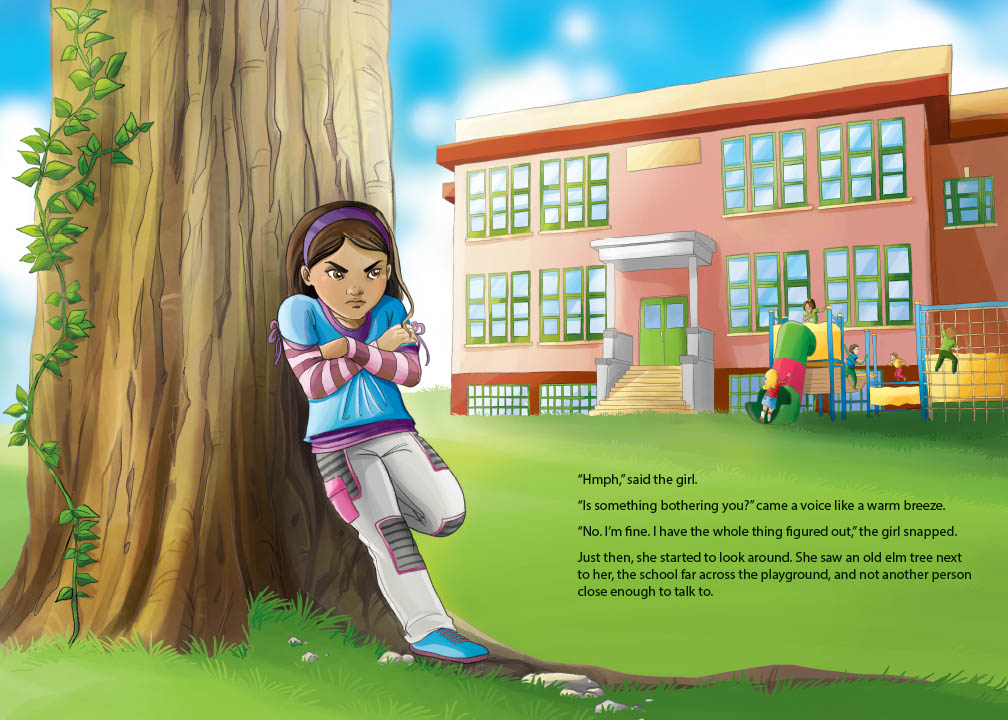 When a young girl has hurt feelings, the only thing she can think to do is to be mean to her friend. See how she learns to be bigger than her hurt feelings, treat her friend with respect, and save her friendship.
Be Bigger Book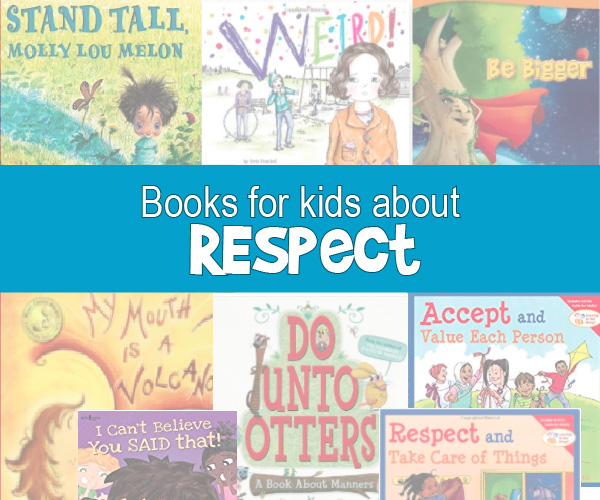 Best of the Web
Explore our curated collection of some of the best picture books about respect for children.
Respect Definition
Respect Defintion
Definition of what Respect is and examples of treating people with respect, all in terms children can understand.
Respect Songs / Videos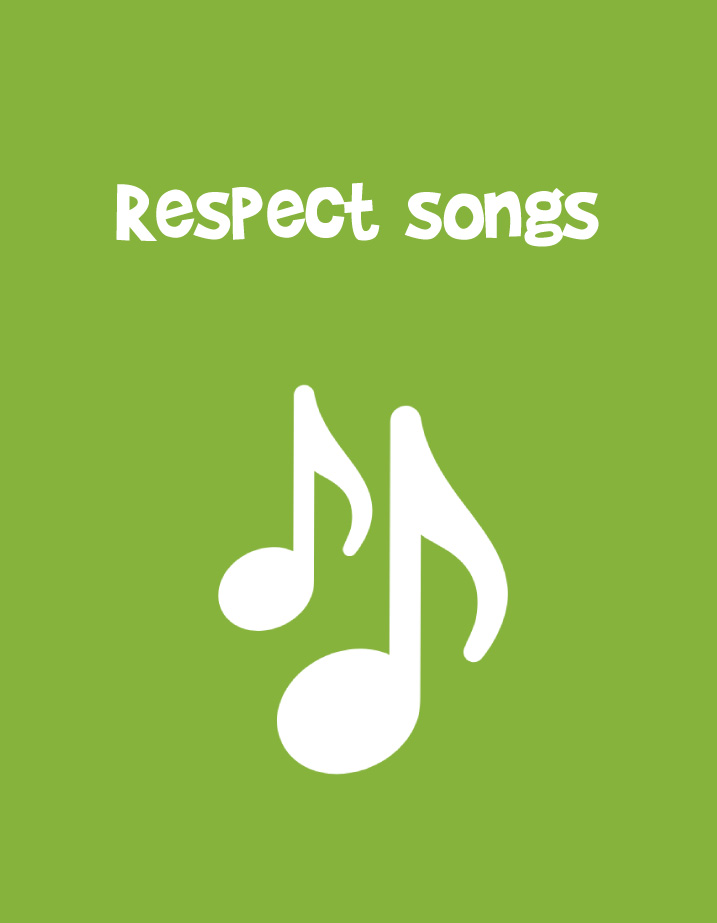 Songs About Respect
Explore our curated collection of some of the best songs about respect from YouTube content creators.
Songs- Social Skills
Songs- Character Ed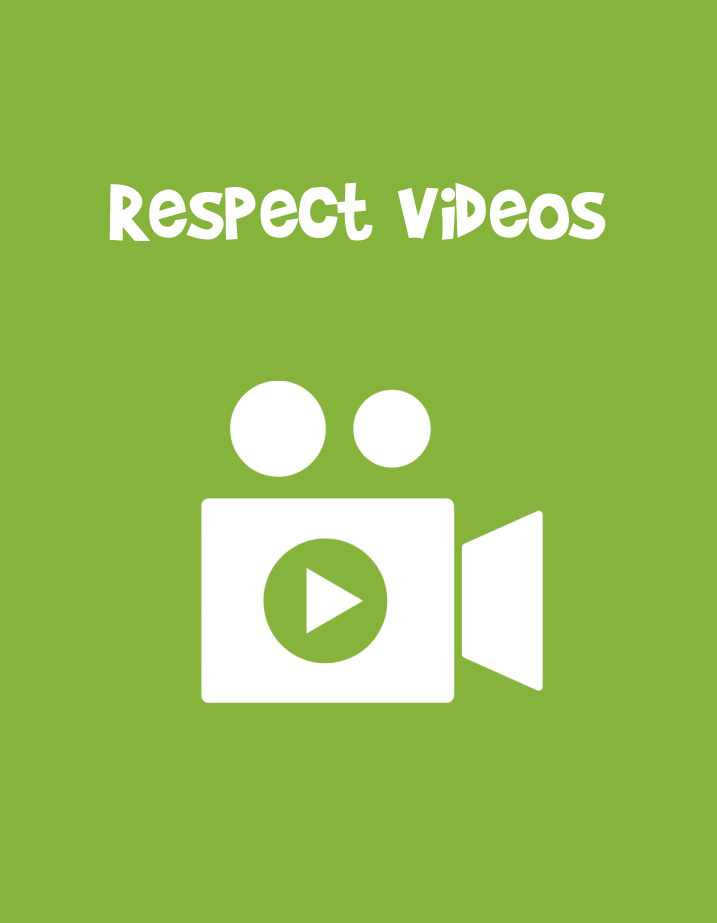 Videos About Respect
Find videos about what respect is, being respectful. Videos from YouTube content creators.
Videos- Social Skills
Videos- Character Ed
You may also like: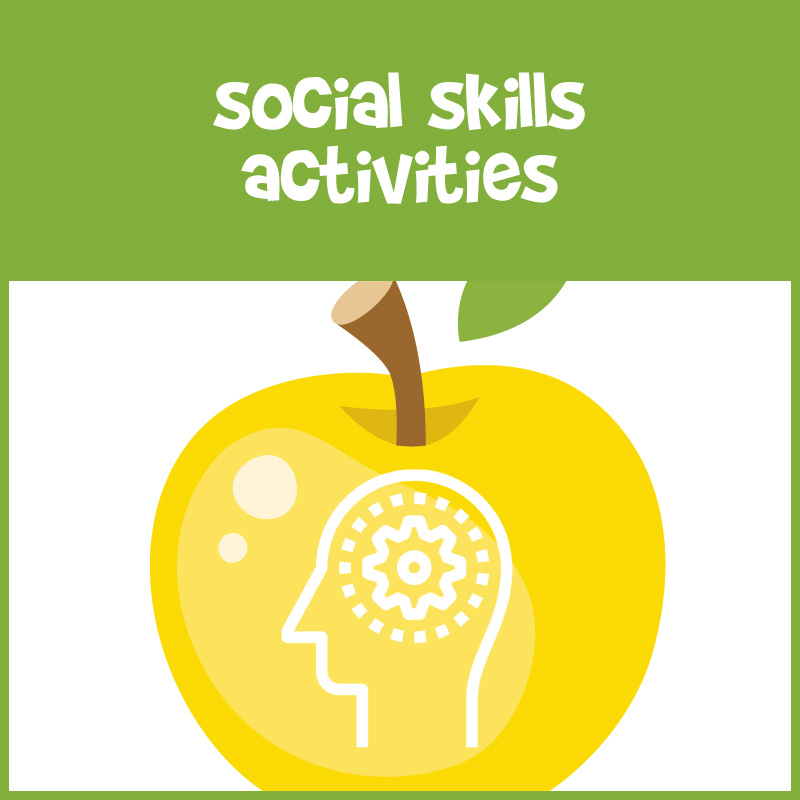 respect worksheet
All Formats
Resource types, all resource types, respect worksheet.
Rating Count
Price (Ascending)
Price (Descending)
Most Recent
RESPECT Activities, Lessons & Worksheets - Character Ed - Be Respectful
Respect Cut And Paste Activities: Worksheets For Character Education Lessons
Respect Worksheet Set of 12 | Digital & PDF | Character Counts
Middle School PBIS Respect Lesson Plan with Printable Worksheets
Character Education or Misbehavior Guided Reflection Worksheet : Respect
Respect Bundle | Worksheets , Games, Activities | Character Counts
Respect Activity and Worksheet
School Counseling Worksheet Bundle | Respect , Responsibility, Conflict Resolutio
RESPECT Word Search Puzzle Activity Vocabulary Worksheet With Secret Message
EMERGENCY SUB PLAN: Respect Agreement Theatre Lesson and Worksheet
Respect for Teachers Worksheet
Social Awareness, Empathy, & Respect | Activities & Worksheets for SEL Skills
Seven Sacred Teachings - Respect Lesson (with video clips), Worksheet & Puzzle)
PBS Social Skills Program/Plan Respecting Others With Worksheets etc
Social Skills Worksheet | Respect | Free!
Respect Self-Reflection Questionnaire Worksheet | Digital & PDF | FREEBIE
No Preparation Empathy Kindness Caring Respect SEL LESSON + WORKSHEET w 6 Videos
Respect Worksheets & Activities | Social Emotional Learning
**Free** SEL- Respect Worksheet
Respect Worksheet , Respect Feelings,
RESPECT WORKSHEETS - Social Emotional Learning, Teaching Respect through Empathy
Respect Integrated Unit - Worksheets and Interactive Activities
Respect : Middle School Student Worksheets Bundle
Respect Sort Cut&Paste Activities, Worksheets , games
We're hiring
Help & FAQ
Privacy policy
Student privacy
Terms of service
Tell us what you think

By signing up, you agree to our privacy policy .
Sign Up for our FREE Newsletter!
Lesson Plans
Lesson Templates
Certificates
Find Grants
Fundraising
Search for Resources
You are here
Respect worksheet.
Students learn about respecting others.
Copyright © 2001 - 2016 TeacherPlanet.com ®. All rights reserved. Privacy Statement and Disclaimer Notice
Sign up for our free weekly newsletter and receive
top education news, lesson ideas, teaching tips, and more!
No thanks, I don't need to stay current on what works in education!