HRM Assignment on recruitment and hiring and selection process
its include all interview questions and its answers and recruitment meaning and definition and steps of selection process
Recommended
More Related Content
What's hot.
What's hot ( 20 )
Similar to HRM Assignment on recruitment and hiring and selection process
Similar to HRM Assignment on recruitment and hiring and selection process ( 20 )
More from mariajan8
More from mariajan8 ( 9 )
Recently uploaded
Recently uploaded ( 20 )
1. ASSIGNMENT NO: 2 Subject: Human Resource Management Submitted to: Mam Arooj Fatima Submitted by: Maria Naeem (02) University Roll no: 551302 Topic: Recruitment & Internal Sources & Selection Department: Computer Science 4th Semester Govt Islamia Post Graduate College for Women Eid Gah Road Faisalabad
2. QUESTION NO:1 What do you mean by recruitment? Explain the internal sources of recruitment? ANSWER: RECRUITMENT Meaning: Recruitment means to estimate the available vacancies and to make suitable arrangements for their selection and appointment. Recruitment is understood as the process of searching for and obtaining applicants for the jobs, from among whom the right people can be selected. A formal definition states, "It is the process of finding and attracting capable applicants for the employment. The process begins when new recruits are sought and ends when their applicants are submitted. The result is a pool of applicants from which new employees are selected". In this, the
3. available vacancies are given wide publicity and suitable candidates are encouraged to submit applications so as to have a pool of eligible candidates for scientific selection. In recruitment, information is collected from interested candidates. For this different source such as newspaper advertisement, employment exchanges, internal promotion, etc. are used. In the recruitment, a pool of eligible and interested candidates is created for selection of most suitable candidates. Recruitment represents the first contact that a company makes with potential employees. Definition: According to EDWIN FLIPPO, "Recruitment is the process of searching for prospective employees and stimulating them to apply for jobs in the organization."
4. 1) INTERNAL RECRUITMENT: Internal recruitment seeks applicants for positions from within the company. The various internal sources include: Promotions and Transfers: Promotion is an effective means using job posting and personnel records. Job posting requires notifying vacant positions by posting notices, circulating publications or announcing at staff meetings and inviting employees to apply. Personnel records help discover employees who are doing jobs below their educational qualifications or skill levels. Promotions has many advantages like it is good public relations, builds morale, encourages competent individual show are ambitious, improves the probability of good selection since information on the individual's performance is readily available, is cheaper than going outside to recruit, those chosen internally are familiar with the organization thus reducing the orientation time and energy and also acts as a
5. training device for developing middle-level and top-level managers. Employee referrals Employees can develop good prospects for their families and friends by acquainting them with the advantages of a job with the company, furnishing them with introduction and encouraging them to apply. This is a very effective means as many qualified people can be reached at a very low cost to the company. The other advantages are that the employees would bring only those referrals that they feel would be able to fit in the organization based on their own experience. In this way, the organization can also fulfill social obligations and create goodwill. Former Employees: These include retired employees who are willing to work on a part-time basis individuals who left work and are willing to
6. come back for higher compensations. Even retrenched employees are taken up once again. The advantage here is that the people are already known to the organization and there is no need to find out their past performance and character. Dependents of deceased employees: Usually, banks follow this policy. If an employee dies, his / her spouse or son or daughter is recruited in their place. This is usually an effective way to fulfill social obligation and create goodwill. Recalls: When management faces a problem, which can be solved only by a manager who has proceeded on long leave, it may de decided to recall that persons after the problem is solved, his leave maybe extended. Retirements: At times, management may not find suitable candidates in place of the one who had retired, after meritorious service. Under the circumstances, management may decide to call retired managers with new extension.
7. Advantages of Internal Sources of Recruitment  Selecting and transferring existing employees is a simpler process.  The managers are aware of the talents and abilities of already existing employees.  Internal recruitment serves as a tool to boost the morale of employees as internal hiring creates job and promotion opportunities for existing employees.  Internal hiring promotes a feeling of loyalty amongst the employees.  Existing employees are already aware of the company's working methods and don't take a long time to adjust to new positions. However, there is a potential drawback to the internal recruitment process. It can lead to stagnation in the company's workforce. No introduction of new employees or fresh ideas. Often employees who are not suitable for a higher position are given promotions just because they have
8. been at the organization for a long time, not because of their skills and qualifications. Characteristics of Internal Sources of Recruitment  Quick process.  Cheaper than the external recruitment process.  Works as a tool of motivation for the staff.  The company's choice is limited to existing employees of the company.  Hiring fresh employees is a lost prospect. Disadvantages of internal sources of recruitment  Internal sources of recruitment reduce the scope of finding skilled and more efficient people.  The introduction of new methods and strategies may not always possible with this approach.
9.  Losing more efficient persons from the external environment becomes a competitive advantage to the competitors.  This approach is not suitable for all the organizations QUESTION NO: 2 You, as a HR manager of a large Retail Organization have been asked to select five marketing executives (fresher's) for your showroom. List down the steps you would follow in selecting these executives. ANSWER If I am a HR manager of a large Retail Organization has been asked to select five marketing executives (fresher) for my showroom .i should follow these steps in selecting these executives. Firstly, I asked them some important questions like these: In your previous position as a retail store manager,
10. did you have an underperforming employee? How did you handle the situation? What strategies do you use to motivate staff members? How do you train and develop staff members? How do you delegate tasks? What steps do you take to ensure task completion? What steps have you taken to establish good communication with your team? What key metrics do you use to inform strategy? What store-specific strategies have you developed and implemented? What is your customer service philosophy? How have you addressed shrink in your store? Describe a recent incident where you had to handle an angry customer How have you resolved a conflict situation between staff members?
11. How have you managed an underperforming staff member? Tell me about a time you had to discipline a staff member for poor behavior Describe a mistake you recently made and how you handled it Tell me about a tough decision you had to make recently at work, what steps did you take? What have been your greatest achievements as a store manager? How would your team describe you as a manager? What do you consider to be your strengths and weaknesses as a store manager? Why do you want this job? What are the most important priorities when starting this position? What are the current objectives for the store? What are the main challenges I will face in this position?
12. How would doing an excellent job be defined? What are the current challenges the company faces? What type of training and support can I expect to receive? What is the best thing about working for this company? Have you made mistakes in your previous position as a retail store manager? How did you handle it? In your opinions, what are some of the best personality traits in a retail store manager? What are some strategies you use to keep your employees motivated? What examples have you implemented in the past? How might your experiences as a retail store manager distinguish you from other applicants for this position?
13. Secondly, I tell them solutions to how to they can improve yours mistakes: I should tell them how you can handle the underperforming employee situation. I should tell them how you can handle yours mistakes that you made in your previous position as a retail store manager. I should tell them if they do not know: what are some of the best personality traits in a retail store manager? I should tell them strategies you use to keep your employees motivated? I should tell them how might your experiences as a retail store manager distinguish you from other applicants for this position? Key steps to successful motivation include:  spend time with each employee to find out their needs and what motivates them
14.  individualize the motivation strategy in line with what works for each person Key steps to effective training include:  take the time to assess skill and knowledge needs for each staff member  tailor the training and coaching to meet individual needs A criterion for effective delegation includes:  targeting tasks and assignments to appropriate staff members  making proper use of each individual's strengths and skills This store manager interview question is used to evaluate that you have the proper procedures in place to monitor your team and tasks. In your interview answer focus on:  establishing follow up times and methods  reviewing and confirming progress  getting feedback from staff members
15. QUESTION NO:3 The Production Department of your company has supplied a requisition for four Production Executives. Suggest the steps you will follow in selecting these executives. ANSWER: SELECTION: Selection process is a decision making process. This step consists of a number of activities. A candidate who fails to qualify for a particular step is not eligible for appearing for the subsequent step. Employee selection is the process of putting right men on the right job. It is a procedure of matching organizational requirements with the skills and qualifications of people. Effective selection can be done only where there is effective matching. By selecting best candidate for the required job, the organization will get quality performance of employees. Moreover, organization will face less absenteeism and employee turnover problems. By
16. selecting right candidate for the required job, organization will also save time and money. Proper screening of candidates takes place during selection procedure. All the potential candidates who apply for the given job are tested. SELECTION PROCESS: Selection is a long process, commencing from the preliminary interview of the applicants and ending with the contract of employment. 1. Preliminary test 2. Selection test 3. Employment interview 4. Reference and background 5. Analysis 6. Selection decision 7. Physical examination 8. Job offer 9. Employment contract
17. Step-1 PRELIMINARY INTERVIEW: The applicants received from job seekers would be subject to scrutiny applicants. This is usually followed by a preliminary interview the purpose of which is more or less the same as scrutiny of application, that is, eliminate of unqualified applicants. Scrutiny enables the HR specialists to eliminate unqualified jobseekers based on the information supplied in their application forms. Preliminary interview, on the other hand, helps reject misfits for reason, which did not appear in the application forms. so as to eliminate unqualified Step-2 SELECTION TEST: Job seekers who pass the screening and the preliminary interview are called for tests. Different types of tests may be administered, depending on the job and the company. Generally, tests are used to determine the applicant's ability, aptitude and personality.
18. The following are the type of tests taken: 1. Ability test 2. Aptitude test 3. Intelligence test 4. Interest test 5. Personality test 6. Projective test 7. General knowledge test 8. Perception test 9. Graphology test 10. Polygraph test 11. Medical test Step-3 INTERVIEW: The next step in the selection process is an interview. Interview is formal, in depth conversation conducted to evaluate the applicant's acceptability. It is considered to be excellent selection device. It is face-to-face exchange of view, ideas and opinion between the candidates and interviewers. Basically, interview is nothing but an oral examination of
19. candidates. Interview can be adapted to unskilled, skilled, managerial and profession employees. Types of interview: - Interviews can be of different types. There interviews employed by the companies. Following are the various types of interview:- 1. Informal interview 2. Formal interview 3. Non directive interview 4. Depth interview 5. Stress interview 6. Group interview 7. Panel interview 8. Sequential interview 9. Structured interview 10. Unstructured interview 11. Mixed interview 12. Telephonic interview
20. Step-4 REFERENCE CHECK: Many employers request names, addresses, and telephone numbers of references for the purpose of verifying information and perhaps, gaining additional background information on an applicant. Although listed on the application form, references are not usually checked until an applicant has successfully reached the fourth stage of a sequential selection process. When the labor market is very tight, organizations sometimes hire applicants before checking references. Step-5 SELECTION DECISION: After obtaining information through the preceding steps, selection decision- the most critical of all the steps- must be made. The other stages in the selection process have be ensued to narrow the number of the candidates. The final decision has to be made the pool of individuals who pas the tests,
21. interviews and reference checks. The view of the line manager will be generally considered in the final selection because it he/she who is responsible for the performance of the new employee. The HR manager plays a crucial role in the final selection. STEP 6: PHYSICAL EXAMINATION: After the selection decision and before the job offer is made, the candidate is required to undergo a physical fitness test. A job offer is, often, contingent upon the candidate being declared fit after the physical examination. The results of the medical fitness test are recorded in a statement and are preserved in the personnel records. There are several objectives behind a physical test. Obviously, one reason for a physical test is to detect if the individual carries any infectious disease. Secondly, the test assists in determining whether an applicant is physically fit to perform the work. Thirdly, the physical examination information can
22. be used to determine if there are certain physical capabilities, which differentiate successful and less successful employees. Finally, such an examination will protect the employer from workers compensation claims that are not valid because the injuries or illness were present when the employee was hired. STEP 7: JOB OFFER: The next step in the selection process is job offer to those applicants who have crossed all the previous hurdles. Job offer is made through a letter of appointed. Such a letter generally contains a date by which the appointee must report on duty. The appointee must be given reasonable time for reporting. Those is particularly necessary when he or she is already in employment, in which case the appointee is required to obtain a relieving certificate from the previous employer. The company may also
23. want the individual to delay the date of reporting on duty. If the new employee's first job upon joining the company is to go on company until perhaps a week before such training begins. STEP 8: CONTRACT OF EMPLOYMENT: There is also a need for preparing a contract of employment. The basic information that should be included in a written contract of employment will vary according to the level of the job, but the following checklist sets out the typical headings: 1. Job title 2. Duties, including a parse such as "The employee will perform such duties and will be responsible to such a person, as the company may from time to time direct". 3. Date when continuous employment starts and the basis for calculating service.
24. 4. Rate of pay, allowance, overtime and shift rates, method of payments. 5. Hours of work including lunch break and overtime and shift arrangements. 6. Holiday arrangements: 7. Paid holidays per year. 8. Public holidays. 9. Special terms relating to rights to patent s and designs, confidential information and restraints on trade after termination of employment. The drawback with the contracts is that it is almost to enforce them. A determined employee is bound to leave the organization, contract or no contract. STEP 9 CONCLUDING THE SELECTION PROCESS: Contrary to popular perception, the selection process will not end with executing the employment
25. contract. There is another step – amore sensitive one reassuring those candidates who have not selected, not because of any serious deficiencies in their personality, but because their profile did not match the requirement of the organization. They must be told that those who were selected were done purely on relative merit. STEP 10 EVALUATION OF SELECTION PROGRAMME: The broad test of the effectiveness of the selection process is the quality of the personnel hired. An organization must have competent and committed personnel.
Academia.edu no longer supports Internet Explorer.
To browse Academia.edu and the wider internet faster and more securely, please take a few seconds to upgrade your browser .
Enter the email address you signed up with and we'll email you a reset link.
Final Assignment Human Resource Management: Recruitment and Selection Process in Port Tanjung Pelepas
Related Papers
angels group
RELATED TOPICS
We're Hiring!
Help Center
Find new research papers in:
Health Sciences
Earth Sciences
Cognitive Science
Mathematics
Computer Science
Academia ©2023

Want to create or adapt books like this? Learn more about how Pressbooks supports open publishing practices.
4.1 The Recruitment Process
Learning objectives.
Discuss the need for forecasting human resource needs and techniques for forecasting.
Be able to explain the steps to an effective recruitment strategy.
Be able to develop a job analysis and job description.
The recruitment process is an important part of human resource management (HRM). It isn't done without proper strategic planning. Recruitment is defined as a process that provides the organization with a pool of qualified job candidates from which to choose. Before companies recruit, they must implement proper staffing plans and forecasting to determine how many people they will need. The basis of the forecast will be the annual budget of the organization and the short- to long-term plans of the organization—for example, the possibility of expansion. In addition to this, the organizational life cycle will be a factor. Organization life cycle is discussed in Chapter 2 "Developing and Implementing Strategic HRM Plans" . Forecasting is based on both internal and external factors. Internal factors include the following:
Budget constraints
Expected or trend of employee separations
Production levels
Sales increases or decreases
Global expansion plans
External factors might include the following:
Changes in technology
Changes in laws
Unemployment rates
Shifts in population
Shifts in urban, suburban, and rural areas
Competition
Once the forecasting data are gathered and analyzed, the HR professional can see where gaps exist and then begin to recruit individuals with the right skills, education, and backgrounds. This section will discuss this step in HR planning.
Recruitment Strategy
Although it might seem easy, recruitment of the right talent, at the right place and at the right time, takes skill and practice, but more importantly, it takes strategic planning. In Chapter 2 "Developing and Implementing Strategic HRM Plans" , development of staffing plans is discussed. An understanding of the labor market and the factors determining the relevant aspects of the labor market is key to being strategic about your recruiting processes.
Based on this information, when a job opening occurs, the HRM professional should be ready to fill that position. Here are the aspects of developing a recruitment strategy:
Refer to a staffing plan. This is discussed in Chapter 2 "Developing and Implementing Strategic HRM Plans" .
Confirm the job analysis is correct through questionnaires.
Write the job description and job specifications.
Have a bidding system to recruit and review internal candidate qualifications for possible promotions.
Determine the best recruitment strategies for the position.
Implement a recruiting strategy.
The first step in the recruitment process is acknowledgment of a job opening. At this time, the manager and/or the HRM look at the job description for the job opening (assuming it isn't a new job). We discuss how to write a job analysis and job description in Section 4.1.2 "Job Analysis and Job Descriptions" .
Assuming the job analysis and job description are ready, an organization may decide to look at internal candidates' qualifications first. Internal candidates are people who are already working for the company. If an internal candidate meets the qualifications, this person might be encouraged to apply for the job, and the job opening may not be published. Many organizations have formal job posting procedures and bidding systems in place for internal candidates. For example, job postings may be sent to a listserv or other avenue so all employees have access to them. However, the advantage of publishing open positions to everyone in and outside the company is to ensure the organization is diverse. Diversity is discussed in Chapter 3 "Diversity and Multiculturalism" . We discuss more about internal and external candidates and bidding systems in Chapter 5 "Selection" .
Then the best recruiting strategies for the type of position are determined. For example, for a high-level executive position, it may be decided to hire an outside head-hunting firm. For an entry-level position, advertising on social networking websites might be the best strategy. Most organizations will use a variety of methods to obtain the best results. We discuss specific strategies in Section 4.3 "Recruitment Strategies" .
Another consideration is how the recruiting process will be managed under constraining circumstances such as a short deadline or a low number of applications. In addition, establishing a protocol for how applications and résumés will be processed will save time later. For example, some HRM professionals may use software such as Microsoft Excel to communicate the time line of the hiring process to key managers.
Once these tasks are accomplished, the hope is that you will have a diverse group of people to interview (called the selection process). Before this is done, though, it is important to have information to ensure the right people are recruited. This is where the job analysis and job description come in. We discuss this in Section 4.1.2 "Job Analysis and Job Descriptions" .
Job Analysis and Job Descriptions
The job analysis is a formal system developed to determine what tasks people actually perform in their jobs. The purpose of a job analysis is to ensure creation of the right fit between the job and the employee and to determine how employee performance will be assessed. A major part of the job analysis includes research, which may mean reviewing job responsibilities of current employees, researching job descriptions for similar jobs with competitors, and analyzing any new responsibilities that need to be accomplished by the person with the position. According to research by Hackman and Oldham (Hackman & Oldham, 1976), a job diagnostic survey should be used to diagnose job characteristics prior to any redesign of a job. This is discussed in Chapter 7 "Retention and Motivation" .
To start writing a job analysis, data need to be gathered and analyzed, keeping in mind Hackman and Oldham's model. Figure 4.1 "Process for Writing the Job Analysis" shows the process of writing a job analysis. Please note, though, that a job analysis is different from a job design. Job design refers to how a job can be modified or changed to be more effective—for example, changing tasks as new technology becomes available. We discuss job design in Chapter 7 "Retention and Motivation" and Chapter 11 "Employee Assessment" .
Figure 4.1 Process for Writing the Job Analysis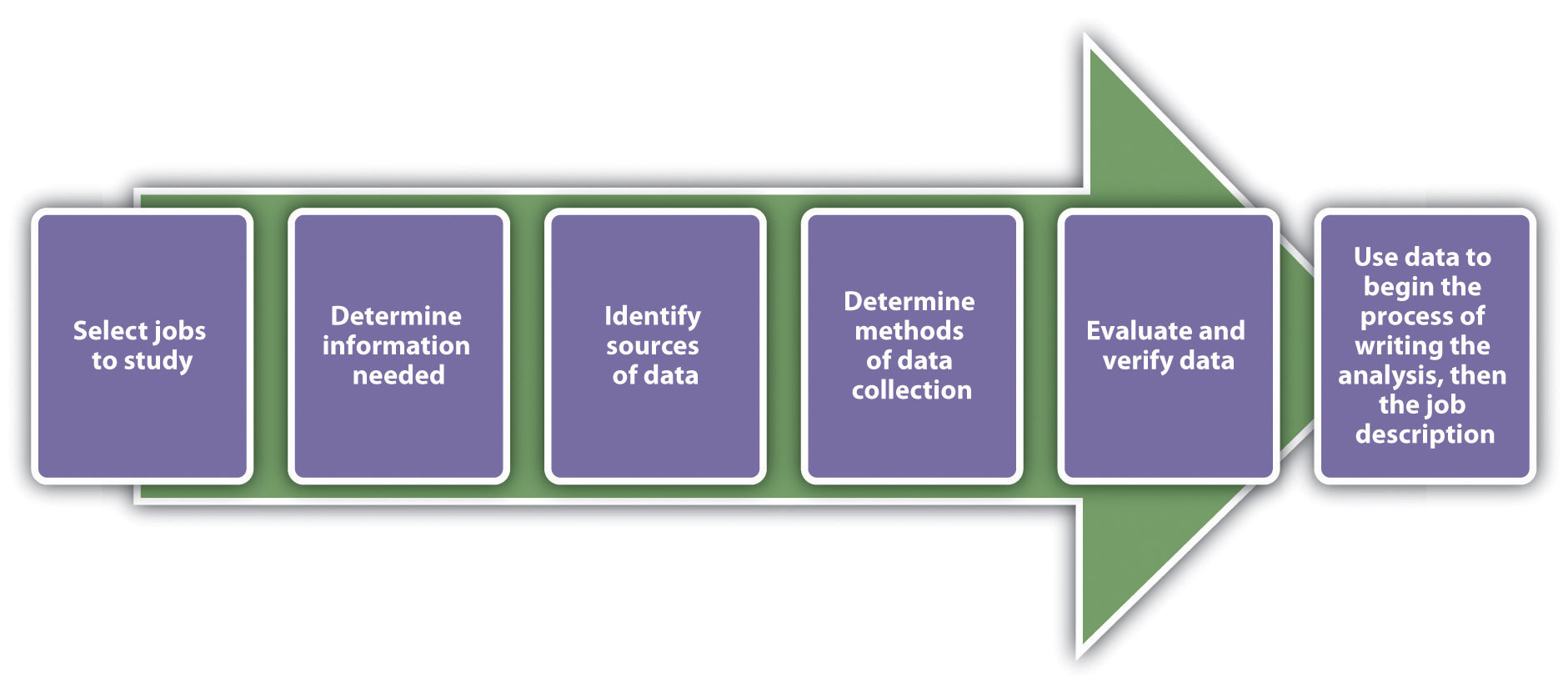 The information gathered from the job analysis is used to develop both the job description and the job specifications. A job description is a list of tasks, duties, and responsibilities of a job. Job specifications , on the other hand, discuss the skills and abilities the person must have to perform the job. The two are tied together, as job descriptions are usually written to include job specifications. A job analysis must be performed first, and then based on that data, we can successfully write the job description and job specifications. Think of the analysis as "everything an employee is required and expected to do."
Figure 4.2 Sample Job Analysis Questionnaire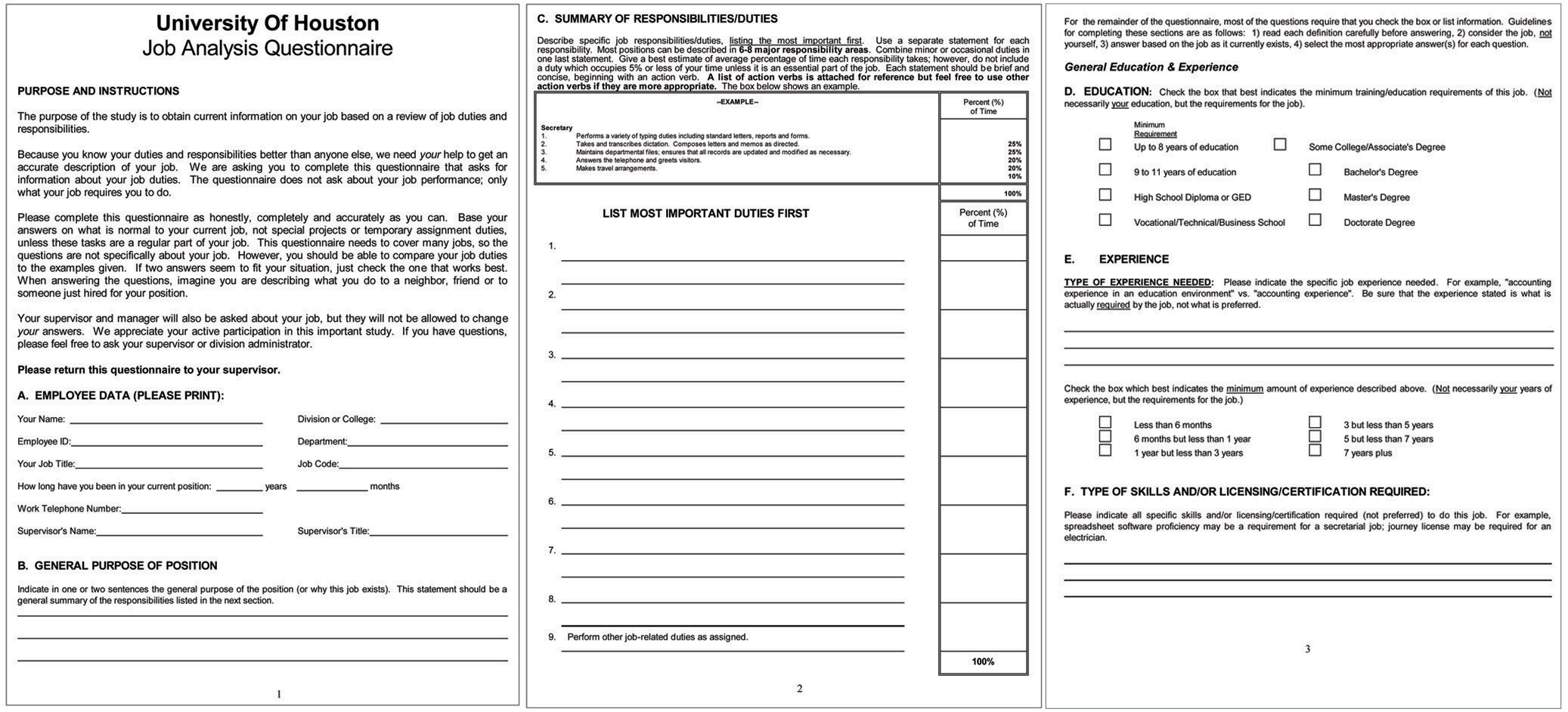 This questionnaire shows how an HR professional might gather data for a job analysis. Questionnaires can be completed on paper or online.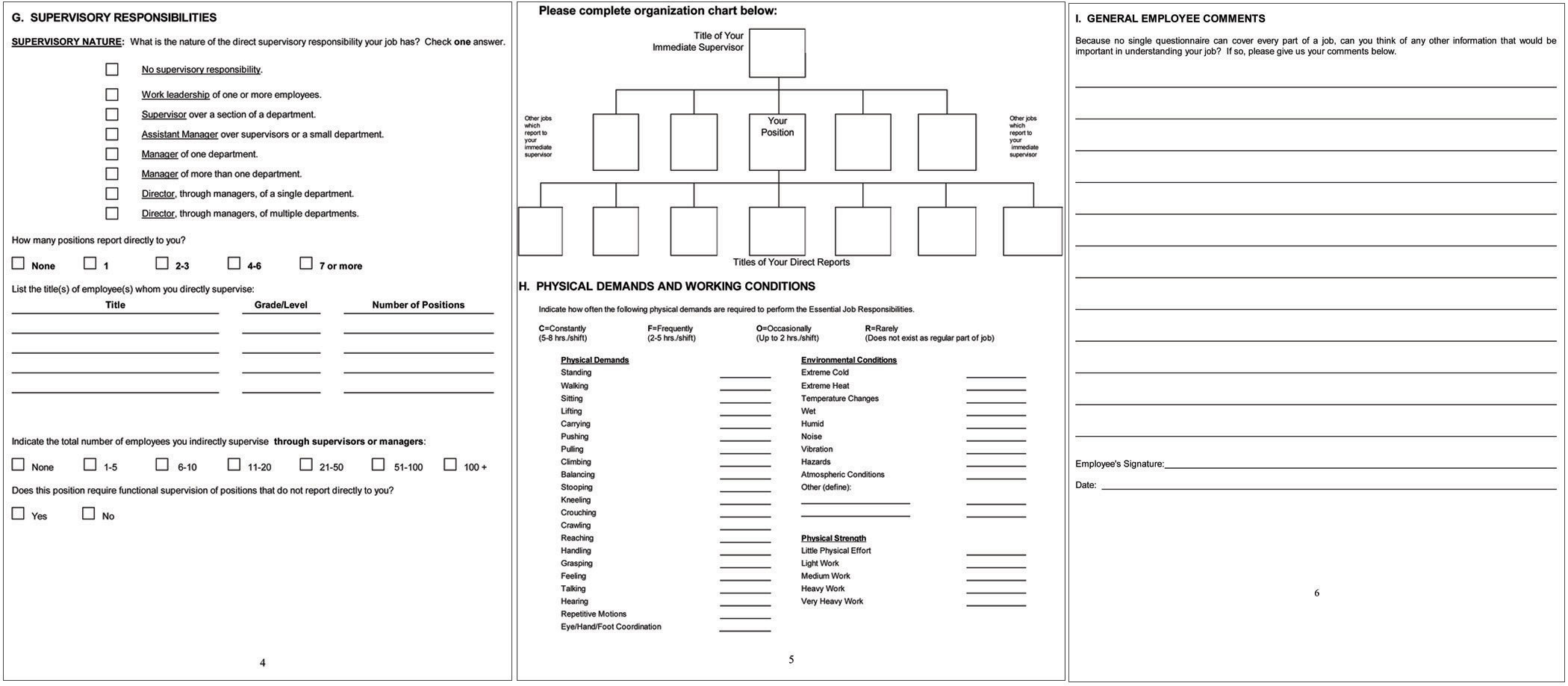 Two types of job analyses can be performed: a task-based analysis and a competency- or skills-based analysis. A task-based analysis focuses on the duties of the job, as opposed to a competency-based analysis, which focuses on the specific knowledge and abilities an employee must have to perform the job. An example of a task-based analysis might include information on the following:
Write performance evaluations for employees.
Prepare reports.
Answer incoming phone calls.
Assist customers with product questions.
Cold-call three customers a day.
With task job analysis, the specific tasks are listed and it is clear. With competency based, it is less clear and more objective. However, competency-based analysis might be more appropriate for specific, high-level positions. For example, a competency-based analysis might include the following:
Able to utilize data analysis tools
Able to work within teams
You can clearly see the difference between the two. The focus of task-based analyses is the job duties required, while the focus of competency-based analyses is on how a person can apply their skills to perform the job. One is not better than the other but is simply used for different purposes and different types of jobs. For example, a task-based analysis might be used for a receptionist, while a competency-based analysis might be used for a vice president of sales position. Consider the legal implications, however, of which job analysis is used. Because a competency-based job analysis is more subjective, it might be more difficult to tell whether someone has met the criteria.
Once you have decided if a competency-based or task-based analysis is more appropriate for the job, you can prepare to write the job analysis. Of course, this isn't something that should be done alone. Feedback from managers should be taken into consideration to make this task useful in all levels of the organization. Organization is a key component to preparing for your job analysis. For example, will you perform an analysis on all jobs in the organization or just focus on one department? Once you have determined how you will conduct the analysis, a tool to conduct the analysis should be chosen. Most organizations use questionnaires (online or hard copy) to determine the duties of each job title. Some organizations will use face-to-face interviews to perform this task, depending on time constraints and the size of the organization. A job analysis questionnaire usually includes the following types of questions, obviously depending on the type of industry:
Employee information such as job title, how long in position, education level, how many years of experience in the industry
Key tasks and responsibilities
Decision making and problem solving: this section asks employees to list situations in which problems needed to be solved and the types of decisions made or solutions provided.
Level of contact with colleagues, managers, outside vendors, and customers
Physical demands of the job, such as the amount of heavy lifting or ability to see, hear, or walk
Personal abilities required to do the job—that is, personal characteristics needed to perform well in this position
Specific skills required to do the job—for example, the ability to run a particular computer program
Certifications to perform the job
Once all employees (or the ones you have identified) have completed the questionnaire, you can organize the data, which is helpful in creating job descriptions. If there is more than one person completing a questionnaire for one job title, the data should be combined to create one job analysis for one job title. There are a number of software packages available to help human resources perform this task, such as AutoGOJA.
Once the job analysis has been completed, it is time to write the job description and specifications, using the data you collected. Job descriptions should always include the following components:
Job functions (the tasks the employee performs)
Knowledge, skills, and abilities (what an employee is expected to know and be able to do, as well as personal attributes)
Education and experience required
Physical requirements of the job (ability to lift, see, or hear, for example)
Figure 4.3 Sample Job Description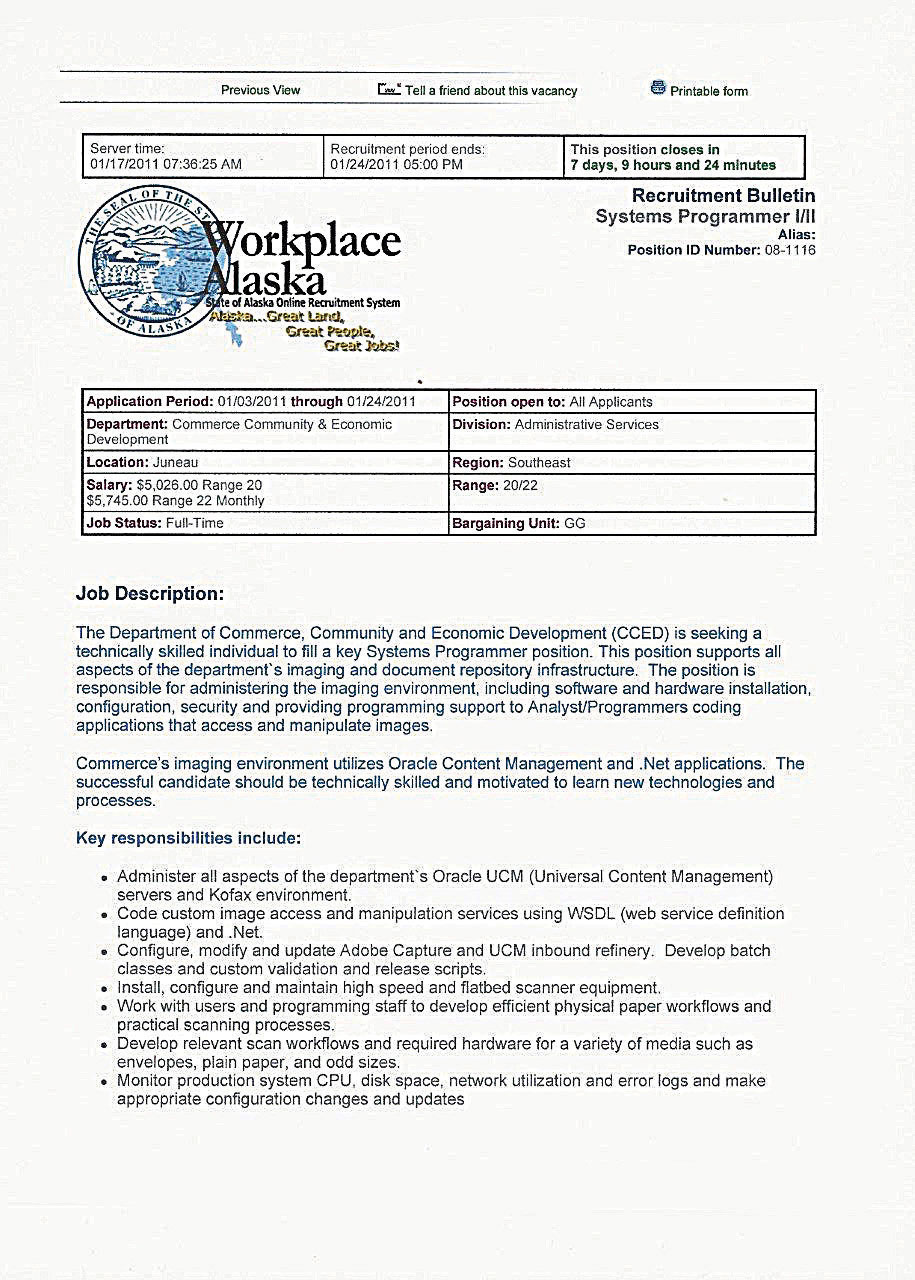 Notice how the job description includes the job function; knowledge, skills, and abilities required to do the job; education and experience required; and the physical requirements of the job.
Once the job description has been written, obtaining approval from the hiring manager is the next step. Then the HR professional can begin to recruit for the position. Before we discuss specific recruitment strategies, we should address the law and how it relates to hiring. This is the topic of Section 4.2 "The Law and Recruitment" .
Tips to Writing a Good Job Description
Be sure to include the pertinent information:
Duties and responsibilities
terms of employment
qualifications needed
Think of the job description as a snapshot of the job.
Communicate clearly and concisely.
Make sure the job description is interesting to the right candidate applying for the job.
Avoid acronyms.
Don't try to fit all job aspects into the job description.
Proofread the job description.
Writing a Job Description
(click to see video)
A short video on how to write an effective job description, with examples.
Human Resource Recall
Does your current job or past job have a job description? Did it closely match the tasks you actually performed?
Key Takeaways
The recruitment process provides the organization with a pool of qualified applicants.
Some companies choose to hire internal candidates —that is, candidates who are already working for the organization. However, diversity is a consideration here as well.
A job analysis is a systematic approach to determine what a person actually does in his or her job. This process might involve a questionnaire to all employees. Based on this analysis, an accurate job description and job specifications can be written. A job description lists the components of the job, while job specifications list the requirements to perform the job.
Do an Internet search for "job description." Review three different job descriptions and then answer the following questions for each of the jobs:
What are the job specifications?
Are the physical demands mentioned?
Is the job description task based or competency based?
How might you change this job description to obtain more qualified candidates?
Why do the five steps of the recruitment process require input from other parts of the organization? How might you handle a situation in which the employees or management are reluctant to complete a job analysis?
Hackman J. R. and Greg R. Oldham, "Motivation through the Design of Work: Test of a Theory," Organizational Behavior and Human Performance 16, no. 2 (August 1976): 250–79.
Human Resource Management Copyright © 2016 by University of Minnesota is licensed under a Creative Commons Attribution-NonCommercial-ShareAlike 4.0 International License , except where otherwise noted.
Recruitment And Selection Assignment Help
Recruitment and Selection
A business is not just about a business model, it is a comprehensive project of different elements like finance, workers, supervision etc. If finance works as the lifeline for the business, the employees and workers work as the driving power of the business. Thus the staffing process is as important as the financial management process.
Staffing refers to the process of estimating manpower requirement, recruiting them, selecting them and appointing them to work. It basically means placing the right man at the right position for the right job.
"If you pick the right people and give them the opportunity to spread their wings—and put compensation as a carrier behind it—you almost don't have to manage them."
Staffing consists of four stages:
Estimating manpower requirement : This means estimating or evaluating that how many people are required in the business to fill the job vacancy. It is the basic step which influences the whole staffing process. Any minor error in this regard will cause a huge cost to the business. The business can neither afford under-staffing nor over-staffing.
Recruitment : recruitment means establishing the contact between the employers and applicants. It means the supply of information to the applicants who wish to undertake the job. Without recruitment nothing can be taken forward as the procedure is staffing will start only when there is application from the candidates.
Selection : Selection means selecting the best candidates from the applicants who are eligible to get the job and have enough skills to work for the company. The selection process is a very sensitive process where the decisions are taken after lot of deliberations, discussions and verifications.
Orientation and Appointment : After the selection the candidates are provided with the offer letter and called up for orientation. Orientation means making the employee know about the job profile, functions and making them acquainted with the business environment. Afterwards they are directed to work as per their work assignments.
Wish to take help in understanding Staffing Process? Visit assignmenthelp.net now. We can also help you in preparing for the interviews. Visit now.
The most vital elements of the staffing process are Recruitment and Selection. Let's have a look at them in deep.
Recruitment And Selection Assignment Help By Online Tutoring and Guided Sessions from AssignmentHelp.Net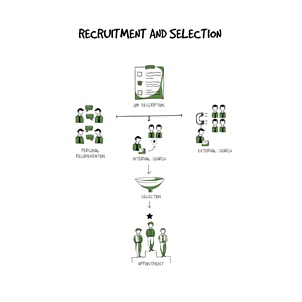 Recruitment and Selection Process:
The Recruitment process is the process of sensitizing the people wishing to apply for the job about the vacancies available in the job. This calls for the applicants to apply for the vacancies through a prescribed process. After this the selection process takes place where the applications are scrutinized, shortlisted, interviewed and the final decision is taken.
Generally, the Recruitment and selection process consists of the following:
(i) Identification of Job Vacancy : This means that the job vacancies are to be recognized in the business so as to know how many number of people are required to be hired. The different departments of business report about the vacancy they have in their respective departments and the qualifications they require in the personnel.
(ii) Enlisting the types of jobs : After the ascertainment of the vacancy of the job in the business it is assessed that what kind of employee is required to be hired. It is to be checked whether the full time employment is required or part time employment will work. The tenure of the job needs to be known as if it is a permanent job or temporary job.
(iii) Advertising the Job : It means communicating the requirement of job to the people. The job is advertised through various means like newspaper ads, TV Commercials, Online job portals or pamphlets. This calls the pursuant to apply for the job.
(iv) Filling up of job application forms : This means that the job application form has to be filled by the job applicant with proper information and resume. There must not be any forgery in the authenticity of the information.
(v) Scrutiny of Applications : Once the applicants are done applying, the applications are scrutinized by the HR department. The candidates who appear eligible and capable of the job are shortlisted and promoted to the next level of the selection process.
(vi) Written Test : The shortlisted candidates are then called up for a written test. These tests are to check the knowledge of the applicants in their respective fields. It ensures whether they have appropriate and effective knowledge. This can be checked only through the written test which covers all the technical, psychological and general knowledge of the applicant. If the selectors are satisfied with the knowledge of the applicant, they are promoted to next level of selection process.
(vii) Personal Interview : In the personal interview the personality and attitude of the applicant towards his peer crew and towards the job is tested. It is checked if he is capable enough to be undertaken for the job and if he will be compatible in the work environment of the company. Many of his personal traits get recognized using the interview like his fluency, demeanor and dedication towards the work.
(viii) Reference Check : The references of the selected candidates are also checked. The candidate's information's authenticity by contacting the references the candidate provided. The past detail of the candidate is checked. The information is collected from all the previous employers he has worked under. Only after proper scrutiny of the candidate, if the recruiters are convinced about the profile the selection decision is taken.
(ix) Final Selection Decision : The final selection decision is taken after taking into consideration every aspect. Either the application of the applicant is rejected or it is selected. If the application gets selected, the applicant is given the offer letter and on it acceptance the further formalities of the job are discussed.
(x) Placement : On completion of all the formalities, the applicant is given the placement and hence is known as an employee. The orientation and the job work follows the placement. The worker is hired and compensated for his work as per the terms of the agreement signed.
Sources of Recruitment:
There are 2 sources of doing Recruitment:
Internal Source : The internal source of recruitment means when the requirement of personnel in the business is met by recruiting the person available in the existing business. It is just like taking the person from one department to another. It does not require much cost.
External Source : The external source of recruitment means when the requirement of personnel is met in the business by conducting the general procedure of recruitment and selection i.e. advertising, application, scrutiny, test, interview and placement. It requires a lot of cost.
There are two kinds of candidates looking for the job:
Active Candidates : The candidates who are actively looking for new jobs are called Active Candidates. This does not necessarily mean that the candidate is unemployed. These are the candidates who are not satisfied with their previous jobs due to the employer, quality of work, less responsibility or salary.
Passive Candidates : The candidates who are employed and are not looking for the job. These are the people who while doing a job stick to it and don't change. A business requires such candidates who when working with one person do not look for another job. This proves to be an asset for the business.
Wish to learn more about the Recruitment and Selection Process? What are you waiting for? Log on to assignmenthelp.net now and get all your problems solved. We know how important it is for you to score good. We help you in formation of best assignments to get good marks. You can just upload your assignments online and set the deadline. We will deliver your assignment before the deadline. You can also chat with our executives who are available online and will help in tackling an issue you have. In case you have queries or doubts related to your subject the you can take online coaching as well from the best teachers we have who have professional experience in their respective fields. We guarantee the solution to all your problems. We are available 24*7 for you. What distinct us from others is our dedicated and good work. We will provide best services and you will be 100% satisfied with our services.
We can also help you in preparing for the interviews for getting into selection process and clearing it.
So what are you waiting for Visit assignmenthelp.net now and avail best experiences.
Email Based Assignment Help in Human Resource Management - Recruitment And Selection
Following are some of the topics in human resource management - recruitment and selection in which we provide help:.
Job Analysis
Job Descriptions
Job Specifications
Sources of Job Information
Forecasting
Recruiting Human Resources
Internal versus External Recruiting
Lead the Market Pay Strategies
Drafting a Recruitment Policy
Contract-out the work
Selecting the Employment Package
Attracting the Applicants
Internal Candidates
Recruitment Advertising
Cable and Wireless recruit on Internet
Steps in selection Process
Short listing
Selection Testing
Interviewing the Candidates
Choosing the Successful Candidates
Obtaining References
Offering the Position
Human Resource Assignment Help | Human Resource Management Homework Help | Online Tutoring | Dissertations Help | Business Homework Help
Free Question Answers
Terms of Use
Refund Policy
Assignmenthelp Services
The Recruitment Process
Recruitment Process is a form of business process  where an employer transfers all or part of its recruitment processes to an external service provider.Recruitment is the process of hiring talented employees for certain jobs by motivating them to apply for those jobs which are available in organization.
Job Description :
A job description includes a detailed list of job duties, the educational and professional background the employee needs to have and an outline of the compensation for the position. This outline becomes the guide that the company uses to move forward in the recruitment process.
Gathering Candidates :
A company acquires resumes and employment candidate credentials from several sources. Some of those sources include networking with candidates out of the office or at job fairs, resumes that are sent in as a result of public job postings, candidates from employment agencies and referrals from existing employees.
The initial interview is conducted by human resources professional, the employer or the supervising department head and is a screening interview. It is used to clarify any information on the resume that may have been unclear, verify the candidate's professional and educational background and ask the candidate basic questions designed to determine if she meets the criteria necessary for moving into the final stage of recruiting.The candidate is read a brief summary of the job description and is then asked if she feels confident that she can perform the job duties.
Interview :
The actual interview process varies from company to company. Some companies do two sets of interviews where the first is conducted by the departmental manager and the second is conducted by a member of the executive team. Other interview possibilities are a panel interview with members of the department, a series of interviews with various departmental managers to get their input on the candidate's credentials and a panel interview with other candidates to see how each candidate reacts to being put in a pressure situation.
Employee Improvement Programs
Employee selection process, advantages of human resource planning, needs analysis, college re-union, report on bangladesh development bank limited, water resource management, r136a1 – a massive wolf–rayet star, tephrochronology, apology letter format for ending partnership, latest post, sleep deprivation, cosmic calendar, veterinary medicine, the second-highest-energy cosmic ray ever detected by a telescope array, the photonics team creates high-performance ultrafast lasers the size of a fingertip, new percussion method for detecting pipeline elbow erosion.
Ask a question to Desklib · AI bot
Assignment on HR Recruitment and selection
Added on   2021-05-31
Found this document preview useful?
Human resource management for service industry: doc lg ..., role of the human resource (hr) manager assignment lg ..., recruitment and selection in human resource management lg ..., introduction to business studies lg ..., recruitment and selection: job description and person specification for assistant tutor for student experience at university of northampton lg ..., report on case scenario of middle sized hotel lg ....