90s jazz design: cups, controversy, and nostalgia
From paper cups to pop culture — the surprisingly dramatic story of the 90s jazz design.
Cups don't usually make history — but the 90s jazz cup just hit different.
You saw it in the hands of the field trip mom serving you a cup of warm Kool Aid. It showed up at a slumber party, in the guest bathroom rinse cup dispenser. And there it was again, casually held by a character on your favorite sitcom. 
Some designs made history by gracing billboards, runways, or magazines. Their legacies were built on the reputations of famous designers. These ideas were meant to stand out and leave their mark on the world. 
The jazz design was never supposed to do any of those things. It wasn't created with the goal of making history. But, somehow, a paper cup design became iconic. 
So, where did those teal and purple crayon scribbles come from? How did they end up on disposable cups? And why — decades later — has the 90s jazz cup design become a symbol of the era? 
To find the answers, we'll need a dash of history, a heaping helping of internet beef, and a whole lot of nostalgia.
It started with a simple cup design
Those now-famous teal and purple scribbles were introduced in 1992 as a disposable cup design by the Sweetheart Cup Company . 
After working with external design agencies, Sweetheart Cup Company realized the agencies didn't understand the printing process — their designs were too complicated to reliably print onto cups. So, the company announced an internal design contest with the goal of finding a design that would print well and appeal to the masses. 
The winning design — then simply called "jazz" — used only two colors and was intentionally messy. This allowed the printers to move quickly without worrying about the crispness of the image or whether or not the crayon-like squiggles aligned. 
By 2002, the jazz design was Sweetheart Cup Company's top-grossing design of all time. And when the Solo Cup Company bought out Sweetheart in 2004 — they continued to use the design. Because of the buyout, the jazz design is sometimes known as "Solo Jazz." 
The jazz cup epitomized 90s culture
Originally, the 90s jazz scribbles were meant to be aesthetically pleasing in a neutral way — a straightforward design for paper cups, plates, and bowls. But both the design style and the design itself have become beloved representations of the 90s. 
While the actual inspiration is unclear — more on that later — the jazz cup design clearly matches the 90s design aesthetic with its vibrant color combinations and graffiti-like scribbles. Both aspects are characteristic of 90s maximalism , which embraces absurdity, loud color schemes, and conflicting patterns and textures. 
The jazz cup design fits right in with 90s pop culture. Just look at the opening credits for popular TV shows from the era, like Saved by the Bell , Fresh Prince , and Hangin' with Mr. Cooper . All of them feature funky and slightly chaotic animations full of zig zags and clashing patterns. 
Eclectic shapes, neon colors, and busy illustrations were quintessential aspects of 90s web , fashion, and graphic design. Clearly, the jazz cup was a product of its time.
But while everyone has their own taste in TV shows, clothes, and websites, most people aren't picky about the disposable cups they use. Thanks to the wide distribution of the cup, this simple design became a shared experience for anyone who grew up in the 90s.
Nostalgia & internet drama put the jazz design back into the spotlight
Although Gina Ekiss, formerly of the Sweetheart Cup Company, is credited as the creator of the 90s jazz design — that credit is not uncontested. 
A couple decades after the jazz cup was released, a question on Reddit about the graphic designer behind it sparked controversy. Designer Stephanie Miller responded, claiming she created the original design in the late '80s while working for Imperial Bondware — a Sweetheart Cup Company competitor. 
Both Stephanie and Gina claim that they created the design for an internal contest at their respective companies. However, Stephanie is adamant that her design came first and speculates that it was stolen , brought to Sweetheart Cup Company, and traced or adapted by Gina. 
All this controversy led to internet sleuthing and caught the attention of a few investigative journalists. Unfortunately, since the design changed hands from Sweetheart Cup Company to Solo Cup Company and then again to Dart Container Corporation in 2012, the history is murky. Dart Container Corporation explained that most historical information has been lost, but their best assumption is that Gina is the original creator. 
Journalist Thomas Gounley wasn't satisfied with that answer, so he tracked down Gina , who retired in Aurora, Missouri. Gina confirmed that she created the design while working at Sweetheart Cup Company and showed Thomas her original charcoal drawings of the famous squiggles. Most people took this as proof and the internet embraced Gina as the jazz cup creator. 
But Stephanie holds strong with her story , adding that the original design was created with paint, not charcoal — pointing to a teal-crusted paintbrush she still has to back up her claim.  
So…who actually created it? We're not here to take sides. And 90s jazz fans seem to care a lot more about the nostalgia that the design sparks than whoever made it. Not only does "Solo Jazz Pattern" hold "Confirmed Meme" status (an actual thing), it also shows up in more than 500 Etsy listings . Decades after its creation, the teal and purple squiggles still show up on stickers, clothes, and even modern websites . 
At this point, it's impossible to separate the actual design from the hazy history, internet beef, and childhood memories. The 90s jazz design isn't revered because it's the perfect design, it's cherished because it's the perfect representation of the 90s kids' shared experience. 
You never know which creations will earn a spot in design history
Gina, Stephanie, and the people of the internet might not agree on the details, but we can all agree on one thing — no one expected a teal and purple doodle on a paper cup to be a hot topic of conversation decades after its creation. 
‍ Design trends and pop culture are unpredictable. And that's what makes them so exciting. You never know when a napkin doodle — or maybe a charcoal drawing or swipe of a paint brush — might make history.
Build completely custom, production-ready websites — or ultra-high-fidelity prototypes — without writing a line of code. Only with Webflow.
Subscribe to the Blog
Get the best, coolest, and latest in design and no-code delivered to your inbox each week.
Join the conversation
Related articles.
14 iconic websites that show off classic 90s web design
What is the Pop Art Movement? Everything you need to know
10 color meanings: the psychology of using different colors
How zines influenced mainstream design — and how to join the conversation
Threads is a lesson in internet nostalgia
Why we're due for a Dadaism comeback
Let's explore the hallmarks of the 90s website design aesthetic through these 14 iconic 90s websites.
Learn how you can reference popular culture to make your website pop.
Color is one of the most powerful tools in your design toolkit. Learn how to harness the power of color symbolism by exploring different color meanings.
Learn about zines, their impact on design, and how you can create your own.
What marketers can learn from the meteoric rise — and quick fall — of Threads
Honestly, it's time.
Get started for free
Try Webflow for as long as you like with our free Starter plan. Purchase a paid Site plan to publish, host, and unlock additional features.
Transforming the design process at
Interactions
Localization
Figma to Webflow Labs
DevLink Labs
Feature index
Accessibility
Webflow vs WordPress
Webflow vs Squarespace
Webflow vs Shopify
Webflow vs Contentful
Webflow vs Sitecore
Careers We're Hiring
Merch store
Accessibility statement
Terms of Service
Privacy policy
Cookie policy
Cookie preferences
Freelancers and agencies
Marketplace
Libraries Beta
Hire an Expert
Made in Webflow
Become an Expert
Become a Template Designer
Become an Affiliate
The Internet is Freaking Out Over Finding the Designer of '90s 'Jazz' Cup
Gina Ekiss, of Aurora, Missouri, designed the original artwork with charcoal.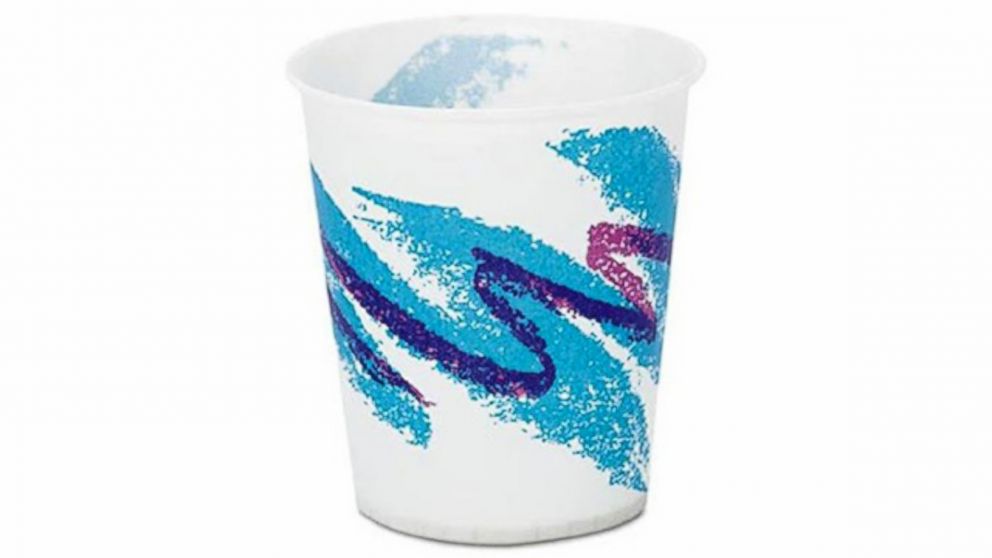 — -- Remember those jazzy wax paper cups with their awesome teal and purple squiggle design?
They were so commonplace — whether at the movie theater, dentist's office, ice cream shop or roller rink — that they are likely part of everyone's subconscious.
But 23 years after the cups were introduced, we can appreciate this gnarly nostalgic design for what it is: pure throwback perfection.
The retro design, appropriately called "Jazz," has been immortalized on tons of fun merchandise from T-shirts to sneakers, bicycle helmets and nail art, to name just a few. The creative genius behind the snazzy neon-colored logo, however, remained a mystery for the most part — until now.
Meet Gina Ekiss, the original artist of the masterful design who now lives a quiet life with her family in Aurora, Missouri.
"I'm just still pretty stunned about the whole deal," Ekiss, 50, told ABC News of her shocking new celebrity status online. "I'm thrilled that it's still popular."
It took the serious sleuthing of one local Missouri reporter, Thomas Gounley of the Springfield News-Leader , to track Ekiss down after stumbling across a Reddit page hoping to locate the "graphic designer who made the 'jazzy 90s' image that appeared on millions of paper cups."
"My family and everybody just kind of grew up with the fact that I did it," she explained of her masterful design. "I did a lot of designs but this one particular seems to have some staying power and now it's got its own life online."
Ekiss worked at the Sweetheart Cup Company in Springfield, Missouri, from 1987 to 2002, before the company was bought by Solo and moved their art department to Baltimore. In the first few years she was with the Sweetheart Cup Company, they held a contest to come up with a new design for the mass-produced cups.
"They hired several other outside firms to come up with the designs but didn't like any of the outside stuff they were receiving," she recalled. "We had approximately 30 artists here in Springfield and we said, 'Why can't we submit some designs?'"
She created three or four designs for the contest and "Jazz" is the one the corporate headquarters ended up choosing.
The original artwork was actually drawn with charcoal, Ekiss explained.
"I've still got the original at home," she said. "I think I probably just had some on hand at my desk and was just messing around and I liked what came out."
One of the parameters for the contest was that the design could only be one or two colors because they were going to be run at a fast speed on the presses.
"I just did turquoise, or teal, because that's one of my favorite colors," said Ekiss. "I wanted another overlapping color that would work well together. I just liked the purple with it and everybody seemed pleased with that."
Top Stories

At 14 he slaughtered the woman who raised him and at 21, he walked free. What now?
Former US ambassador arrested in Florida, accused of serving as Cuban agent, source
Pentagon: US warship, multiple commercial ships have come under attack in the Red Sea
Police raid Moscow gay bars after Supreme Court LGBTQ+ ruling

British military reports an explosion off the coast of Yemen in the key Bab el-Mandeb Strait
ABC News Live
24/7 coverage of breaking news and live events
99% Invisible Newsletter 100% Fascinating
Article by kurt kohlstedt, jazz cups: the snazzy paper tableware pattern that encapsulates early 90s design, kurt kohlstedt.
Imagine a plastic cup and one particular red-wrapped variant will likely come to mind, designed in the 1970s by Robert Leo Hulseman, son of the Solo Cup Company's founder. In the realm of paper cups, there is a parallel icon — the dynamic "Jazz" pattern is also a classic, but its history and the artist behind it were largely a mystery until recently.
Today, the very 1990s-style teal-and-purple Jazz design can be found on t-shirts, sandals, bumper stickers and other fan-made merchandise. Originally, though, it was applied by the Sweetheart Cup Company to a series of plates, bowls and cups. Sweetheart has since been acquired by Solo, which in turn was acquired by the Dart Container Corporation, adding layers of complexity to the search for the pattern's origins.
Unsatisfied with the incomplete story, Springfield News-Leader reporter Thomas Gounley began to dig deeper, searching for Gina himself. After failing to find any direct references to her in local news archives, Gounley made a lucky find on Twitter: someone claiming to be the designer's daughter. From there, he traveled to nearby Aurora to talk with the woman who had, as it turned out, designed the pattern.
Gina Ekiss began working at Sweetheart's art department in 1987 along with a few dozen other artists. As Ekiss recalls, the company wasn't thrilled with initial external submissions for a new pattern design, so they turned to their own in-house creatives. There weren't many limitations, she recalls, but "they needed something that if it misregistered slightly, it wasn't going to matter." The design also had to work for a variety of customer types — it was to be sold in stores, used in hospitals and so forth — so it needed a level of generic and universal appeal. She started with charcoal on vellum, then scanned the results.
"I was reluctant to let the computer have too much control," Ekiss recalls. "I think part of the reason that I came up with a looser design is because I still wanted to feel like my actual hand went into producing it." Once scanned, color was added and the design was dubbed Jazz. A bold blend of bright colors and brush strokes, the design encapsulates much of what the 90s have since became known for aesthetically.
Gina Ekiss' son is in college studying design. He sees some injustice in his mother's story http://t.co/KkIxfn96xJ pic.twitter.com/pYgDtonV04 — Thomas Gounley (@tgounley) July 5, 2015
There were no big bonuses or royalties or celebrations — Ekiss was simply a staff designer who continued to work for a salary at Sweetheart until the early 2000s. When she left the company, Gounley writes that Gina "was told by Sweetheart that Jazz was the company's top-grossing stock design in history, dating all the way back to the Lily Tulip days," before Sweetheart was Sweetheart (or Solo or Dart).
To this day, Ekiss keeps a few Jazz-adorned objects around and still sees them when she's out and about. The design is anachronistic or nostalgic, depending on one's perspective, but either way, it is persistent. Dart, meanwhile, has considered discontinuing its use from time to time, but Jazz's popularity keeps it in circulation, winding across plates and wrapping around an uncountable number of cups.
Episode 154
Add to Queue Remove from Queue
Leave a Comment
Share on Twitter
Share on Facebook
Share on Tumblr
Share via Email
Leave a Reply Cancel reply
Your email address will not be published. Required fields are marked *
More in Visuals
Vexillology revisited: fixing the worst civic flag designs in america, lane ends, merge right: 10 (more) redesign ideas for the w4-2 road sign, episode 109, urban ghosts: remnant stories of building demolition & graffiti, all categories, support the show.
Your donations are vital to keeping us independent and strong!
Contributions are used for:
Paying our exceptional staff
Paying outside contributors
Travel costs for more ambitious stories
Weekly Pakistani buffet
Newsletter Signup
Hey there beautiful nerd! Sign up to for the 99PI newsletter to get our 1/week email with:
Excerpts and links to latest episodes and articles
Periodic, exclusive updates on 99PI goings-on
Drag and drop to reorder. Your playlist is stored within your cookies, clearing your browser data may remove your playlist.
Nothing here yet! Feel free to browse the archives to add episodes.
What's Hot
You know that waxy turquoise and purple cup that's so '90s meet its genius designer.

Asian-American Affairs Reporter, HuffPost
You may not know its name, but we know you've seen the classic squiggly design that's most recognizable from paper cups.
Yeah, you know what we're talking about -- that purple and turquoise pattern that hits you with giant pangs of nostalgia. The "Jazz" design began showing up on paper cups about 23 years ago . Recently, an AMA request came in from a Reddit user who wanted to know who the designer was. That pushed reporter Thomas Gounley of Missouri's Springfield News-Leader to do some digging.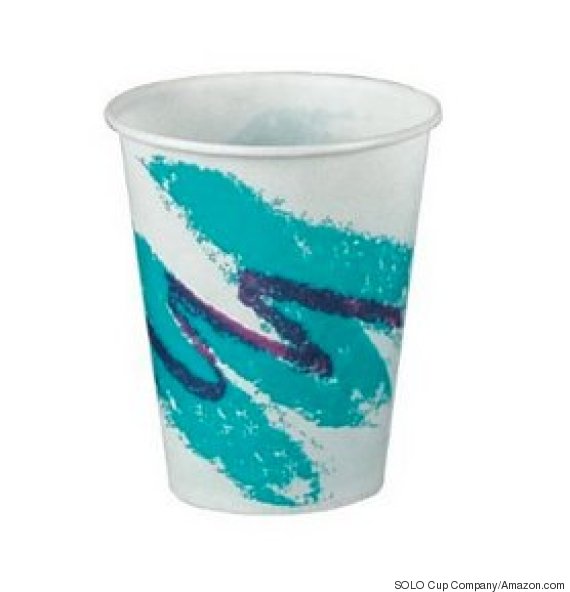 After much investigation, Gounley was successful and last week he discovered that 50-year-old Gina Ekiss , who lives in Aurora, Mississippi, is the iconic design's creator, according to his piece in the News-Leader. Ekiss, who's now a custom frame shop manager at a Hobby Lobby, was met with Internet acclaim as the discovery spread across social media outlets.
"I'm just still pretty stunned about the whole deal," Ekiss told ABC News in reaction to her Internet stardom. "I'm thrilled that it's still popular."
The path to finding Ekiss wasn't an easy one. The reporter only knew the designer's first name as well as the fact that she had worked for the Sweetheart Cup Company, which was later bought by Solo Cup Company. He eventually found a tweet from a person claiming to be the creator's daughter, according to his article. After looking through public records and coming across Ekiss' name and address, Gounley drove to her house and confirmed his suspicions.
Turns out, Ekiss had created Jazz as part of an internal cup design contest at the Sweetheart Cup Company in 1989 , after outside design firms had came up with unsatisfying results. Ekiss said that Jazz was among three or four different designs she had submitted, and its colors are just ones she felt meshed well.
"I just did turquoise, or teal, because that's one of my favorite colors," she told ABC News . "I wanted another overlapping color that would work well together. I just liked the purple with it and everybody seemed pleased with that."
The 50-year-old still keeps a few products with the Jazz design in her house, and says it's " insane " that her artwork has become such a memorable part of '90s culture.
Phew! We can all breathe easy now that this pressing mystery's finally been solved.
Support HuffPost
The stakes have never been higher.
At HuffPost, we believe that everyone needs high-quality journalism, but we understand that not everyone can afford to pay for expensive news subscriptions. That is why we are committed to providing deeply reported, carefully fact-checked news that is freely accessible to everyone.
Our News, Politics and Culture teams invest time and care working on hard-hitting investigations and researched analyses, along with quick but robust daily takes. Our Life, Health and Shopping desks provide you with well-researched, expert-vetted information you need to live your best life, while HuffPost Personal, Voices and Opinion center real stories from real people.
Help keep news free for everyone by giving us as little as $1. Your contribution will go a long way.
As the 2024 presidential race heats up, the very foundations of our democracy are at stake. A vibrant democracy is impossible without well-informed citizens. This is why HuffPost's journalism is free for everyone, not just those who can afford expensive paywalls.
We cannot do this without your help. Support our newsroom by contributing as little as $1 a month.
As the 2024 presidential race heats up, the very foundations of our democracy are at stake. At HuffPost, we believe that a vibrant democracy is impossible without well-informed citizens. This is why we keep our journalism free for everyone, even as most other newsrooms have retreated behind expensive paywalls.
Our newsroom continues to bring you hard-hitting investigations, well-researched analysis and timely takes on one of the most consequential elections in recent history. Reporting on the current political climate is a responsibility we do not take lightly — and we need your help.
Support our newsroom by contributing as little as $1 a month.
Before You Go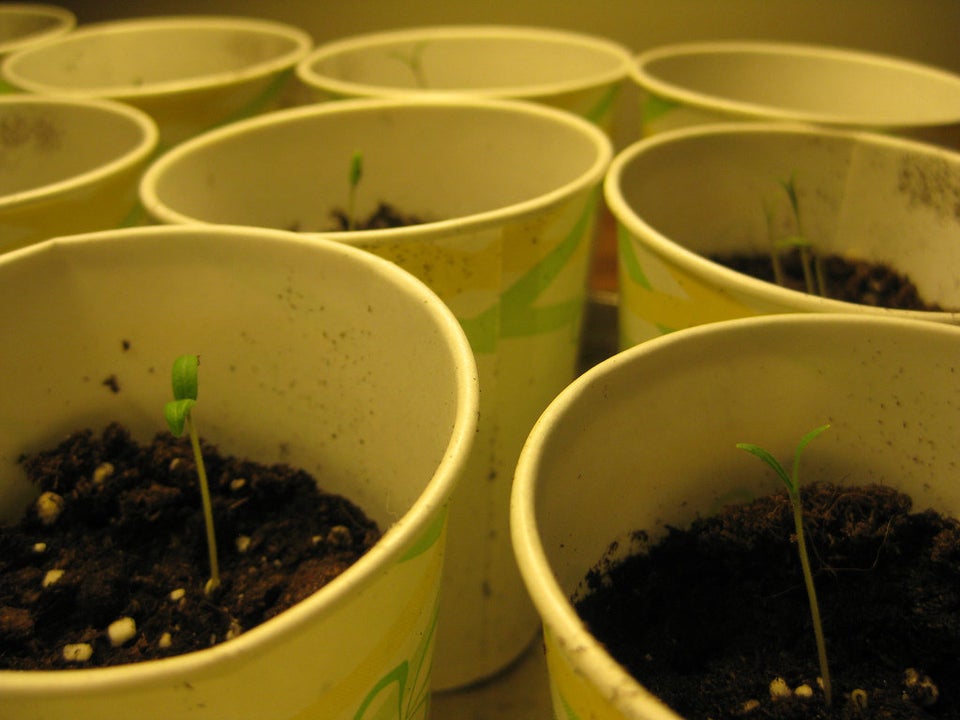 9 Ways To Reuse Paper Cups

Kimberly Yam
Do you have info to share with HuffPost reporters? Here's how.
Popular in the Community
From our partner, gift guides, more in good news.
How the Internet Tracked Down the Designer of the Beloved Jazz Paper Cup
Meet Gina, the woman behind the iconic paper cup pattern

Helen Thompson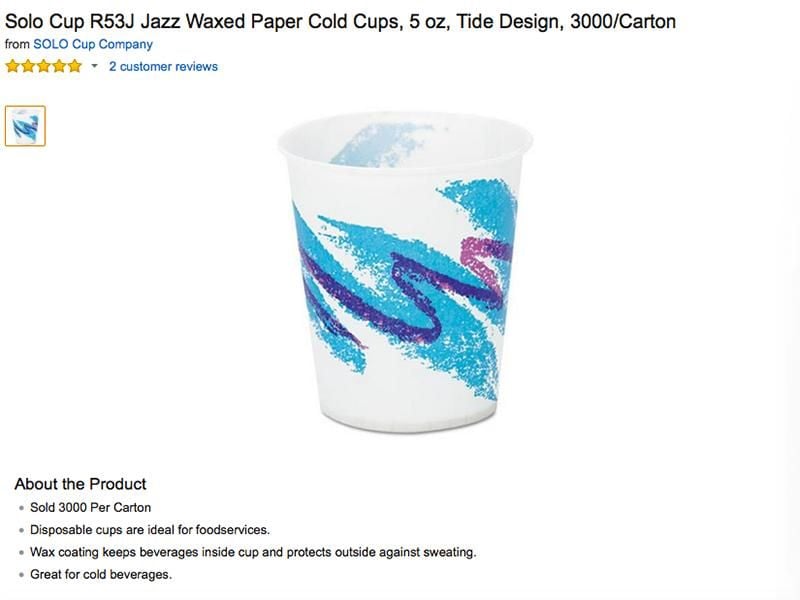 This iconic teal and purple design has been gracing the sides of paper cups since the 1990s, as designer Khoi Vinh explains on his blog Subtraction.com . And since its introduction, it has been bulding a steady team of fans. Today, the  pattern shows up on  cars, t-shirts and pillow cases of enthusiasts. But for a long time, nobody knew the origins of the design.  
Three weeks ago,  one fan turned to fellow Reddit users  to track down what Google could not. The hivemind came through, to some extent: Gina, once a designer at the Sweetheart Cup Company in Springfield in the 1980s and 1990s, had dreamed up the teal and purple brushstrokes of Jazz. 
Curious to find out more about Gina, Thomas Gounley for the  News-Leader  in Springfield, Missouri​ kept digging . After many calls and emails, he stumbled upon a Tweet claiming the Gina in question was the user's mother. After messaging the user with no response, he turned to the phone book and tracked Gina to Aurora, Missouri, a few towns over from Springfield. Finally, he found himself at Gina's doorstep. "She wasn't expecting me to just show up, but invited me in," Gounley writes.
Jazz had been her submission to a 1989 internal company design contest for a new stock image. It appeared on paper plates and cups beginning in the early 1990s. Ekiss left the company in 2002 when the art department transferred to Baltimore. When she left, "she was told by Sweetheart that Jazz was the company's top-grossing stock design in history," Gounley writes.
Today, it's hard to find the Jazz cup in the wild. The company doesn't make them anymore, and wants to redesign them to be more modern should they release them again. "It just doesn't really fit out there anymore," a representative from the company that now owns the facility where the cups were made told Gounley. But to fans of the Jazz cup, Gina's design is perfect as is. 
Get the latest stories in your inbox every weekday.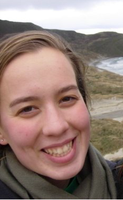 Helen Thompson | | READ MORE
Helen Thompson writes about science and culture for Smithsonian . She's previously written for NPR, National Geographic News , Nature and others.
Your cart is empty
🔥 Hot Sale for Christmas | End 8th Dec
90s Paper Cup Clothes
Desert and forest - 90s paper cup collection.
Try our all 90s paper cup collection to create a fun look with a onesie fashion. These 90s paper cup shirts are enough to attract others' attention around you. Browse through our wide range of 90s paper cup collections that are perfect for a fancy dress party or vacation.
Use a 90s paper cup male romper to give a funny touch to the overall look. Our 90s paper cup collection is one of the most popular categories of theme costumes as they include the Jazz Cup Hawaiian Shirt , 90s paper cup swim trunks , 90s paper cup zip hoodie , etc. 
The all 90s paper cup outfits can make a tremendous difference to your entire look. This 90s paper cup collection is sure to attract gazes towards you wherever you go. If you want to look fun & cute at the party or costume parties this year, our 90s paper cup outfits are a must-have
At Desert and Forest, we have kept a wide range of 90s paper cup designs to complement a variety of looks. These high-quality yet cheap jazz cup design shirts are the ideal way to augment your funny look without squandering your budget. Your little investment can make a whole lot of difference in transforming your appearance.
Appearing like you are in the 90s is not difficult by wearing the D&F 90s paper cup collection. Grab the funny pair of all 90s paper cup outfits collection to give the most fun & cute look!
Related Video
90s Paper Cup
Hairy Chest
American Flag
Cat Riding Shark
Colorful Smoke
Paint Splatter
90S Paper Cup Male Romper
90s Paper Cup Sweatshirt
90s Paper Cup Hoodie
90s Paper Cup Funny Hawaiian Shirt
90s Paper Cup Funny Tank Top
90S Paper Cup T Shirt
Funny 90s Paper Cup Joggers
90S Paper Cup Funny Swim Trunks
90s Paper Cup Zip Up Funny Hoodie
Recently viewed.