Grade Levels
Search Site
Language Arts Topics
Writing Prompts
3rd Grade Writing Prompt Worksheets
Related ela standard: w.3.3.
3rd grade is where students start to see extended writing sections on school assessments. It seems like we were just writing for fun up until this point. Students realize very quickly where their weaknesses are in the writing arena and they begin to push for greater understanding in the grammar and mechanics areas.
3rd grade is where our level of expectations for our writers really blasts off. 3rd graders are expected to be able to write a valid and well thought out thesis statement. As they compose these works, we are looking for complete thoughts, supporting details, and conclusion sentences. This is also where we start to let them loose with some research and start to introduce research based tasks.
3rd Grade Writing Prompt Worksheets To Print:
I'm Timeless – Age is just another number, this proves it.
Me The Governor? – The governor is just the right level of responsibility for most people.
The Old West – The lawless Old West was comforting and scary times in history.
My Robot Helper... – Wouldn't your own robot just make the day better?
My Favorite Season – I live for Fall. The leaves and temperature are my favorite.
I Miss You Season – I say that phrase every Winter.
My Thoughts In A Fire Storm! – When your thoughts are just swirling around in your head.
One Special Day – What if you had the best day ever?
Not My Best Day! – Some days we are just not on point.
Really Fuming – What makes you really angry? I'm sure there is something that sets you off.
Sale On Best Friends – What if you could pickup a Best Friend at Walmart?
What Job Best Fits? – The earlier you start asking yourself this, the better.
Any Animal – If you could an animal, what would you be?
To The Photo Shoot – Get the right clothes and hair ready.
Boss For A Day – What if you could be a big shot?
Tasty – What is the most delicious thing that you had over the last year?
My Business – If you could create any business, what product or service would you sell?
Will They Listen? – Exactly what every mother is thinking prior to telling their kids or husband anything.
My Video Game – What if you could create your own game?
Crazy Trolls – Those trolls don't go away quietly.
Creative Writing Projects for Third Graders
Here are some great creative writing projects for third graders.
Prompts are helpful and great creative writing activities in the class. They are appropriate at any stage as with the help of prompts you can think and write clearly. Here are some prompts that are appropriate for third graders. If you could change one rule of your school, what would it be? Why? When was the last time you traveled somewhere? How was your experience? Which food do you like the best? Why? What are you scared of the most? Why?
Free Writing
This is one amazing activity that would help boost the student's cognition and creative writing muscles. For this activity, prepare your students in advance. Tell them to grab a pen and a paper and place it on the desk. Then shout out some word or phrase and tell your students to immediately start writing on that without any research and deep thinking. This would improve their critical thinking abilities. This activity will also produce some amazing results. You can allocate specific time for the writing as well.
Picture Plots
Another great creative writing project is the picture plots. You can download any random picture that you like on the internet. Get it printed and show it to your students. Now it is time for your students to build a story out of that picture. This is a really fun activity in the class.
When your students start getting bored with the stories, you can freshen things up with journaling. Ask your kids to get a clean notebook that they can use for journaling. Tell them to start writing journals. Teach them how to write a journal. They can write their emotions, feelings, and dreams in that journal. It is a great practice to increase creative writing skills.
Teachers: Upgrade Now
Print all 25,000+ worksheets
All grade levels and topics
Save endless hours of your time...
Answers to everything too!
Get FREE English Worksheets In Your Email
How We Are Aligned To The Common Core
Educator Resources
Privacy Policy
Newsletters
© English Worksheets Land . All rights reserved.
Child Login
English Language Arts
Kindergarten
Active and Passive Voice
Capitalization
Conditionals
Conjunctions
Contractions
Determiners and Quantifiers
Direct and Indirect Objects
Direct and Indirect Speech
Double Negatives
Infinitives
Interjections
Participles
Parts of Speech
Past, Present, and Future Tenses
Phrasal Verbs
Prepositions
Punctuation
Question Words
Sentence Diagramming
Sentences for Beginners
Shift in Verb Tenses
Simple, Compound and Complex Sentences
Subject and Object Complement
Subject Verb Agreement
Subjects and Predicates
Tag Questions
Transition Words
Types of Sentences
Abbreviations
Alphabetical Order
Collocation
Commonly Confused Words
Compound Words
Connotation and Denotation
Shades of Meaning
Sorting and Categorizing
Word Search
Alliteration
Onomatopoeia
Personification
Proverbs and Adages
Rhyming Words
Beginning Sounds
Consonant Blends
Ending Sounds
R-Controlled Vowels
Silent Letters
Vowel Digraphs
1st Grade Reading Comprehension
2nd Grade Reading Comprehension
3rd Grade Reading Comprehension
4th Grade Reading Comprehension
5th Grade Reading Comprehension
6th Grade Reading Comprehension
7th Grade Reading Comprehension
8th Grade Reading Comprehension
Alphabet and Letters
Cause and Effect
Dictionary Skills
Editing and Proofreading
Facts and Opinions
Fluency Passages
Making Predictions
Tracing Lines
Writing Prompts
1st Grade Spelling
2nd Grade Spelling
3rd Grade Spelling
4th Grade Spelling
5th Grade Spelling
Summer Review Packets
Social Studies
Holidays and Events
Worksheets >
Language Arts >
Reading and Writing >
Writing Prompts >
3rd Grade Writing Prompts Worksheets
Our printable writing prompts worksheets for grade 3 prepare the young authors to write effective pieces across the board. Introduce a topic confidently and support your points of view. Write opinions and research reports on a range of topics. Allow for your narrative skills to grow, and practice selecting and organizing content in expository/explanatory writing. Use the book report tasks for exposure to rating books, delving into characters, and writing summaries. Write stories to prove your creative genius. Part of this goldmine of 3rd grade writing prompt pdfs can be accessed for free!
Raining Candies
Imagine it's raining candies! There would be so many candies that you would be spoiled for choice. Write how it would feel like when it's raining candies. Incorporate narrative elements.
Water Cycle
Water is always changing states between liquid, vapor, and ice. The water cycle, or the hydrologic cycle, is an exciting study. Here's a 3rd grade writing prompt pdf where kids write a research report on the topic.
Magic Watch
Do you fancy possessing a magic watch? What would you do if you had one? Would you set the time as you please and astound everyone? Write exciting details to imagine the experience.
Tree Houses are great for recreation, and they also make a nice hangout space. In this printable writing prompt worksheet for grade 3, describe how you would build a tree house in your backyard.
Book Report 3
A book report tells how you enjoyed reading the book. In this 3rd grade pdf writing exercise, rate the book, write a short summary, and share six new words you learned from the book.
Story Prompt 1
Have you experienced waiting at a railway station? Write a story that has a railway station for its setting. Use your own past experience and spice it up a little bit to write an interesting story.
Wild or Captivity?
Are animals happier when they are at the zoo or when they are in the wild? Write an essay to make your opinion clear. Support your answer with 3 reasons. Write a conclusion.
Classroom Rules
Classroom rules are pivotal for a functional and successful classroom. What rules are followed in your classroom? In this 3rd grade writing worksheet pdf, tell why it's important to follow these rules.
Louis Armstrong
A native of New Orleans, Louisiana, Louis Armstrong was one of the most influential artists jazz history has ever seen. He was born in 1901. Prepare a research report on Louis Armstrong.
Recess at School
Is your recess long enough? Do you get to enjoy outdoor and unstructured play as you please? In this printable writing prompt worksheet for grade 3, kids write if they like to have a longer recess.
Book Report 4
Practice being a literary critic with this pdf worksheet! As well as writing the names of the book and author, shed some light on its characters and setting. Do share the main events in the book.
Story Prompt 2
Scarecrows have existed since the time of the Egyptians. This writing prompt is a farm with a scarecrow in it. Let the budding writers develop a story and add characters to it.
Name of America
America is named after Amerigo Vespucci. Is it ok for the country to continue to be named so or should it be named after Christopher Columbus? Write reasons to substantiate your points of view.
Lincoln Memorial
A must-see for every visitor to the nation's capital, the iconic Lincoln Memorial is built to honor Abraham Lincoln, the 16th U.S. president. Prepare a research report on Lincoln Memorial.
Favorite Subject
There is nothing as satisfying as spending tons of time to master your favorite subject! What subject do you like the most? In this writing prompt pdf, describe why you like this subject.
Story Prompt 3
Let grade 3 kids write a story that is set on a beach in this printable writing prompt worksheet. Use the picture to kindle your imagination. Give a big shot in the arm to your story-telling chops!
Ice Cream Sundae
Sundae is one of the most loved ice cream-based desserts in the United States. Do you know what toppings to use in it, though? Explain it in this printable 3rd grade writing prompt worksheet.
Related Worksheets
» 1st Grade Writing Prompts
» 4th Grade Writing Prompts
» 2nd Grade Writing Prompts
Become a Member
Membership Information
Privacy Policy
What's New?
Printing Help
Testimonial
Copyright © 2023 - Math Worksheets 4 Kids
Members have exclusive facilities to download an individual worksheet, or an entire level.
3rd Grade Writing Prompts PDF
Print a 3rd grade writing prompts pdf worksheet for your child/student. This worksheet contains 20 writing topics. You can use them as a writing exercise or classroom warm up. Some of the writing prompts are fun and silly, others and thought-provoking and insightful.
Click the image below to visit the corresponding download page. I've also posted the questions online below the PDF image link.
3rd Grade Writing Prompts List
What will your life look like 10 years from now?
If you could bring back an extinct species, what species would you choose, and why?
Describe your ideal vacation.
Imagine you are a famous inventor genius. You have been asked to create a new invention to help humanity.
What will you invent? How will you build it?
We drove deep into the jungle. Suddenly, the wheels of our Jeep got stuck in the mud. A moment later, we heard a loud roar in the distance…
The lunch box jumped up and down on the table. There was no doubt about it. Something inside my lunch was alive…
On my way to school I found an old bag on the street. Inside the bag was a million dollars…
I turned the eerie key in the lock. The ancient door creaked. Dust swirled around me. I gave the door a push and…
What happened inside the haunted house? If you could have an exotic pet, what sort of animal would you choose? Describe how you would take care of it.
What is a valuable skill to have? Why is this skill valuable, and how could you learn it?
What is your favorite song? Why do you enjoy this song?
If you were stuck alone on an island and could only bring one item, what would you bring and why?
Imagine you are a powerful magician. Describe one of your spells and how to use it.
Cerberus is a giant three-headed dog in Greek mythology. Describe what would happen if you had Cerberus as a pet.
You are on a quest to slay an evil dragon. What weapon do you take with you, what obstacles will you meet on your journal to face the dragon? Who do you meet along the way and why is the dragon evil?
Describe a time in your life when you really tried your best.
Describe your favorite breakfast.
Describe the pros and cons of owning an enormous duck.
What do pirates do on their days off?
Register New Account
Log in to renew or change an existing membership.
Password Again
Choose your membership level
Monthly Membership - $8 - $8.00 - 1 Month Month-to-Month access to all of Tim's Printables. For individual personal, educational, noncommercial and classroom use.
Half-Year Membership - $36 - $36.00 - 6 Months Access to all of Tim's Printables for half a year. For individual personal, educational, noncommercial and classroom use.
Yearly Membership - $50 - $50.00 - 1 Year Access to all of Tim's Printables for one year. For individual personal, educational, noncommercial and classroom use.
Discount Code - Valid - Invalid Apply

English Language Arts
Graphic Organizers
Social Studies
Teacher Printables
Foreign Language
Home > English Language Arts Worksheets > 3rd Grade Writing
These worksheets will help draw the writer out of your 3rd graders. Students will be presented with a scenario that will stimulate their creative sides. We would encourage students to outline their thoughts before they begin to write. This is a great activity to stimulate writers to organize how they write and frame their overall message. Some of these passages will get the creative juices flowing for some and not for others. We encourage teachers to give students a choice of several of these to write. Students with stronger interests in a topic will normally write deeper pieces. Celebrate the differences that make each of your students unique and develop important writing skills at the same time with these worksheets.
Get Free Worksheets In Your Inbox!
Printable 3rd grade writing worksheets, click the buttons to print each worksheet and answer key., bring them back.
If you could bring back just one species of dinosaur, what would it be? Why? How do you think it would get along in the modern world?

Third Grade Writing Prompts
If you could have one superpower, what would you want it to be? Imagine you have been asked to design a new school. What features do you want the school to have?

Really Different
Imagine that you wake up one day looking really different from everyone else. What happened? What do you do?
My Ninja Skills
What is one skill you would like to learn? Why do you want to learn it? How will your life be different when you master this skill?
I knew there was something different about that cat the first time we locked eyes. I felt all funny at first, and then...
Alien In My Backyard
An alien lands in your back yard. He is friendly. He only has an hour to stay, and he wants to learn all that he can about Earth while he is here. What do you tell him? What do you show him?
Create A Creature
If you could create a creature to be the perfect pet, what characteristics from different animals would you include? What would your pet look like? What kind of personality would it have?
Space Journey
Imagine that you are traveling into space on a rocket to visit a distant planet. Describe the journey.
Finish the Story
There was a loud rumbling sound and the sky filled with smoke. When it cleared, I saw a tiny blue spaceship in the middle of my back yard...
When Humpty Dumpty fell off the wall, he didn't break to our surprise, he...
Don't Be Angry With Me
What do you think would make a bee angry? Write a story about a bee that gets really angry. What makes him angry? What does he do?
What the Heck Is That?
Look at the picture. What kind of creature is this? What does it want? Where did it come from? What happens next?
George the Gorilla grew up in a zoo. More than anything in the world, he wanted to be a human. One day...
How many people live in your home? Who are they? Describe a pet that you have or that you would like to have.
You have been asked to design a cool new vehicle. What will it look like? Where will it travel? What will it be able to do?
Writing Exercises For 3rd Graders
Students at the 3rd grade level are struggling to express themselves through writing. As teachers we need to embrace this and provide them opportunities to get this greatness out of them. We should inspire students to write with purpose. With this in mind, we want our writers to stay on topic and learn to organize what they are about to write. The overall goal is to have students learn to group sentences well to create well thought out and constructed paragraphs. As the grades fly by, the level of writing improves for students navigating grade school. Your students should love reaching deep into their imaginations to address a hypothetical situation. "Imagine you wake up one day looking really different from everyone else. What happened? What would you do?" Questions like this form the foundation for building writing skills. With all of these worksheets, your class should move leaps and bounds ahead to be prepared for 4th grade writing assignments.
When children enter the 3rd grade, they are just starting to express themselves through words, which is why writing exercises are crucial at this age. Most 3rd graders are learning to put together words and sentences at this age and might even be able to write with some style and humor. However, kids tend to get bored easily and soon; they start looking at writing as homework.
You must help students see writing as fun. One way to do this is to develop several writing exercises that will keep kids interested. Children need to feel passionate about writing rather than seeing it as a chore.
1. Fun Captions
You have to ask students to cut out some pictures from magazines or print some from the internet. You could also print out the images and give them to your students as random prompts. Every day, get the students to paste the pictures into their notebooks and ask them to write a one to three-line caption that best describes the image.
This will allow students to use their imagination without feeling too much pressure. They can write 10 or 100 words depending on how much time they take and how well they can articulate their thoughts. It is essential to give them the freedom to write anything they want so that they can have some fun.
2. Finish the Story
This is a fun writing exercise for 3rd graders that involves the entire class. The idea is that one student will start the story with a small sentence, and then other students in the group will continue using one sentence each. By the end, you will be left with a complete story that all students in the classroom have written.
You will find that the end product is weird and funny, but this is the good part. The story will allow students to be as creative as they want and start to enjoy writing.
3. Storyboarding
Children usually enjoy learning visually than writing. If you find this true for your students, storyboarding is a great option. It uses several skills, such as writing, organisation, and creativity. You can also plan your stories from start to end with ease.
One way to do this is by giving students a storyboard with all images drawn beforehand. Each student will have to write a caption that best describes the image. This is an excellent exercise for kids who do not like drawing.
Another way is to provide students with a half-completed storyboard. You can finish the first two frames and tell the students to complete the rest. They can use their drawings and words for this exercise.
If you have students in your class who are extremely fond of art and have a creative mind, you can give them a blank storyboard template. This will allow students to draw what they like and use their words accordingly. The freedom they get during this exercise will help them fall in love with writing. You could give them a prompt, such as football or a sunny day so that they have an idea of what to draw.
These writing exercises for 3rd graders are perfect for jogging their imagination and keeping them interested without making writing seem like a chore. After all, kids are impressionable, and you do not want them to dislike something as important as writing from a young age, so it is vital to give them the freedom to explore and learn.
3rd Grade Writing Worksheets
53 3rd Grade Writing Worksheets
Addressing letters
Do you know your address? Your school's address? In this language arts worksheet, your children will practice addressing two postcards and writing and drawing information about themselves.
Baby animals!
What's a baby cat called? In this language arts worksheet, your child does some basic research to find and write the names of baby animals, then uses a thesaurus to find adjectives that mean very small.
Big, bigger, biggest (3rd grade)
See how we can change the amount expressed by an adjective! In this language arts worksheet, your child gets practice writing adjectives, their comparative form, and their superlative form, such as big, bigger, and biggest.
Building words
In this language arts worksheet, your child gets practice creating and spelling words by adding -s, -ing, and -ful.
Clauses: parts of a sentence
Is that the main clause or a subordinate clause? In this language arts worksheet, your child learns about main and subordinate clauses as parts of a sentence.
Compound sentences
Simple sentences can become compound sentences by adding a clause. In this writing worksheet, your child gets practice building and understanding simple, compound, and complex sentences.
Compound words: all mixed up!
These compound words are mixed up — can you fix them? In this language arts worksheet, your child gets practice decoding erroneous compound words, correcting them, and writing accurate compound words.
Conjunctions
Conjunctions are words that join sentences. In this writing worksheet, your child gets practice combining two sentences into one using different conjunctions.
Connectives
Connectives are connecting words. In this language arts worksheet, your child gets practice combining two simple sentences into one compound sentence using joining words such as because and conjunctions such as and, but, so, and for.
Editing is an important step that follows writing. In this language arts worksheet, your child gets practice deleting extra or unneccessary words and then rewriting the new, shorter sentences.
Yes! Sign me up for updates relevant to my child's grade.
Please enter a valid email address
Thank you for signing up!
Server Issue: Please try again later. Sorry for the inconvenience

Addition (Basic)
Addition (Multi-Digit)
Algebra & Pre-Algebra
Comparing Numbers
Daily Math Review
Division (Basic)
Division (Long Division)
Hundreds Charts
Measurement
Multiplication (Basic)
Multiplication (Multi-Digit)
Order of Operations
Place Value
Probability
Skip Counting
Subtraction
Telling Time
Word Problems (Daily)
More Math Worksheets
Reading Comprehension
Reading Comprehension Gr. 1
Reading Comprehension Gr. 2
Reading Comprehension Gr. 3
Reading Comprehension Gr. 4
Reading Comprehension Gr. 5
Reading Comprehension Gr. 6
Reading & Writing
Reading Worksheets
Cause & Effect
Fact & Opinion
Fix the Sentences
Graphic Organizers
Synonyms & Antonyms
Writing Prompts
Writing Story Pictures
Writing Worksheets
More ELA Worksheets
Consonant Sounds
Vowel Sounds
Consonant Blends
Consonant Digraphs
Word Families
More Phonics Worksheets
Early Literacy
Build Sentences
Sight Word Units
Sight Words (Individual)
More Early Literacy
Punctuation
Subjects and Predicates
More Grammar Worksheets
Spelling Lists
Spelling Grade 1
Spelling Grade 2
Spelling Grade 3
Spelling Grade 4
Spelling Grade 5
More Spelling Worksheets
Chapter Books
Charlotte's Web
Magic Tree House #1
Boxcar Children
More Literacy Units
Animal (Vertebrate) Groups
Animal Articles
Butterfly Life Cycle
Electricity
Matter (Solid, Liquid, Gas)
Simple Machines
Space - Solar System
More Science Worksheets
Social Studies
Maps (Geography)
Maps (Map Skills)
More Social Studies
Back-to-School
Autumn Worksheets
Halloween Worksheets
Christmas Worksheets
More Holiday Worksheets
Puzzles & Brain Teasers
Brain Teasers
Logic: Addition Squares
Mystery Graph Pictures
Number Detective
Lost in the USA
More Thinking Puzzles
Teacher Helpers
Teaching Tools
Award Certificates
More Teacher Helpers
Pre-K and Kindergarten
Alphabet (ABCs)
Numbers and Counting
Shapes (Basic)
More Kindergarten
Worksheet Generator
Word Search Generator
Multiple Choice Generator
Fill-in-the-Blanks Generator
More Generator Tools
Full Website Index
Creative Writing Prompts
Lots of creative writing worksheets with prompts that spark students' imagination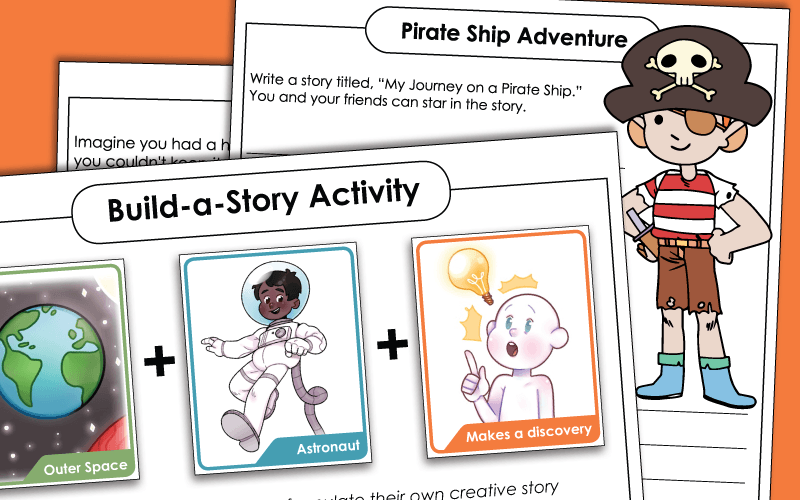 Logged in members can use the Super Teacher Worksheets filing cabinet to save their favorite worksheets.
Quickly access your most used files AND your custom generated worksheets!
Please login to your account or become a member and join our community today to utilize this helpful feature.

Build-a-Story Activity

Proofreading Wheels
Related pages on super teacher worksheets.
Write fun stories to go along with the cartoon pictures.
Worksheets to practice writing dates, writing names, letter-writing, and more.
Write persuasive opinion essays on a variety of topics. Students use details to support their points of view.
Pictures of Worksheets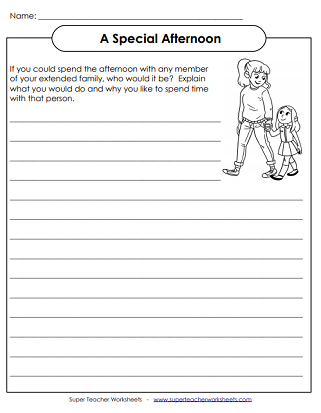 PDF with answer key:
PDF no answer key: