Request new password
Create a new account
Dynamics of News Reporting and Writing: Foundational Skills for a Digital Age
Student resources, newswriting assignments.
Assignment 1: Storify it
Description of Assignment: Social media has forced journalists to rethink how they approach their jobs. The writing and reading now happen on both sides of the conversation, with readers and journalists often discussing issues through Twitter exchanges and Facebook posts.
There is a tool to help journalists tell compelling stories by putting social media posts into order and context. Turn what people post on social media into compelling stories. It's called Storify.
Sign up for a free Storify account at storify.com. Then pick any event where you know people were microblogging or sharing to social media. It could be the fire department's dramatic rescue of a cat in a tree, or it could be an outdoor music festival. Whatever--use keyword searches to identify and collect the posts and then use Storify to stitch them together with your own narrative.
Public Domain Source Material: https://storify.com/  
Assignment 2: Twitterstorm--A class assignment
Description of Assignment: Of all of the microblogging platforms, Twitter has become the dominant force for both disseminating and receiving short bits of information. Each tweet is sent to a group of followers the user has established.
Your assignment will take a few weeks to complete. The first step is creating a Twitter handle for a small group of newsgatherers, or one for the whole class. Give yourself a descriptive and accurate name, for example: Truman State News Group. Over several days, use that account to follow all of the movers and shakers in your community--the college administration, any professional journalists, or other prominent people. Chances are they will follow back.
When you finally have a healthy following of at least a few dozen, it's time to report a story. Use a smartphone to cover a contentious city council meeting, or a football game. Share photos, short videos, and brief descriptions of what you experience. It's OK to be somewhat informal, but write with a professional tone and steer clear of silliness or opinion. Follow the principles described in the textbook.
When you get back to class, use Storify (see above) to collect the tweets into a social media story.
Public Domain Source Material: Twitter.com  
Assignment 3: Blog it
Description of Assignment: The term "blog" is short for 'web log." In its purest form, a blog takes on a diary-style approach that demonstrates the writing style and mindset of the author in a way that is more personal than a traditional news article could. The most effective blogs are written in the first person, and loaded with insights into the author's life and belief system. But an effective blogger cannot rely simply on personality. The best blogs have great reporting in them as well.
Here are four popular blogs:
Gary Vaynerchuk's blog about wine: https://www.garyvaynerchuk.com/blog/
Pat Flynn's blog about online money making: https://www.smartpassiveincome.com/blog/
The TechCrunch blog on all things tech: https://techcrunch.com
Troy Nunes is an Absolute Magician (a Syracuse University sports blog): https://www.nunesmagician.com/
What about the writing style and reporting in these blogs (or others) appeals to you?
Now take what you've learned from your text and work on a blog in a small group of classmates. You can either work separately or together. The blog item should be written as if it were to appear in a blog about campus life, with the audience being other students at your college or university.
Public Domain Source Material:  (See above.)
Assignment 4: IG me
Description of Assignment: Instagram is a visually-based social networking tool that gives people the space to share photos from their phones or other mobile devices. Unlike other forms of social media, Instagram is almost entirely designed for mobile use--you can't even post to Instagram from a PC.
Instagram is a place where words take a backseat to images, but captions are still important and help provide important context for the photo.
It's a great tool for primarily print reporters to hone their photography skills. Using the principles behind the "rule of 3"--skim ahead in your textbook--spend 30 min out of class documenting campus life, finding beautiful or hidden scenes on campus that your audience will find interesting. Don't forget to use the principles of interviewing you've already learned--make sure the people in your photos are identified in your captions and try to get a great quote for every picture.
Post three images and come back to class and compare you work with that of other students'. Which images were the most appealing?
If you have enough good images to document a day in the life of your college, feel free to use Storify to collect them all--and then use Twitter to tweet out the link to your Storify story.
Public Domain Source Material:
instagram.com
twitter.com
storify.com
Kindergarten
Arts & Music
English Language Arts
World Language
Social Studies - History
Special Education
Holidays / Seasonal
Independent Work Packet
Easel by TPT
Google Apps
Interactive resources you can assign in your digital classroom from TPT.
Easel Activities
Easel Assessments
free journalism assignments
All Formats
Resource types, all resource types, results for free journalism assignments.
Rating Count
Price (Ascending)
Price (Descending)
Most Recent
Free Journalism Research Powerpoint Assignment
Journalism Beats Reporting Assignment
Journalism Digital Template Freebie 5W and H Most Important Questions
Journalism assignment --The Digital Age
Freedom of the Press Student Journalists - Broadcast Journalism
Into the Wild by Krakauer UNIT BUNDLE / American Literature Online + Free Slides
Newspaper Writing Rubric and Assignment - Editable
Nellie Bly Investigative Journalist Writing Assignment Questions Gilded Age
Awesome Editorial Persuasive Writing Assignment
Broadcast Journalism Web Portfolio
FREE Lesson Plan & Prezi: Media History Timeline
Interview Assignment (New Faces)
FREE : Back to School Activity
Serial Season 1 Author Response Google Form
Bias in Western Media- Half of a Yellow Sun
Activity: Pick Six Cold War Terms
RUBRIC for WRITING REVIEWS
Constitution Day and First Amendment DISCUSSION AND WRITING ACTIVITY
The First Amendment and Student Rights
UNIT PLAN First Amendment and Student Press Rights and Responsibilities
Mass Media Law and Ethics: Lesson Plan & Prezi
Christmas Writing Activity: Newspaper Article
Thanksgiving Newspaper Article (creative writing, template, & editable rubric)
Fairy Tale Newspaper Article (creative writing, template, & editable rubric)
We're Hiring
Help & FAQ
Privacy Policy
Student Privacy
Terms of Service
Teesside University Student & Library Services
Subject LibGuides
Media and Journalism
Writing Assignments
Ebooks for Media and Journalism
New books This link opens in a new window
eResources for Research
eResources for Inspiration, inc. Media Magazines
Get Research Smart
Go to RefWorks LibGuide This link opens in a new window
More Support ...
Frequently asked questions
Reading Lists Online
Help with writing assignments
You can improve your skills at writing assignments for your subject area in a number of ways:
Read the guidance or view the online tutorial on this page. They both go through the TIME model (Targeted, In-depth, Measured, Evidence-based) to explain what's required in academic writing.
Come along to one of our Succeed@Tees workshops. We run a workshop on academic writing, as well as on other types of writing (including critical writing, reflective writing, report writing). See the http://tees.libguides.com/workshops for more information, including a list of dates and times.
Book a one-to-one tutorial with a learning advisor at the Learning Hub. We can provide guidance on your structure and writing style.
Guidance on academic writing
Evidence-based.
Bringing it all together
Finally ...
Writing an assignment takes time, more time than you may expect. Just because you find yourself spending many weeks on an assignment doesn't mean that you're approaching it in the wrong way.
It also takes time to develop the skills to write well, so don't be discouraged if your early marks aren't what you'd hoped for. Use the feedback from your previous assignments to improve.
Different types of assignments require different styles, so be prepared for the need to continue to develop your skills.
We've broken down TIME into 4 key elements of academic writing: Targeted, In-depth, Measured and Evidence-based.
What is an academic piece of work
Your assignment needs to be targeted . It should:
Be focused on the questions and criteria
Make a decision
Follow an argument
How to be targeted
Academic keywords or clue words
Your assignment needs to be in-depth . You should consider your questions and criteria thoroughly, thinking about all possible aspects, and including the argument both for and against different viewpoints.
You should:
Identify topic areas
Plan your assignment
Think about your introduction and conclusion
How to be in-depth
How to read quickly
An academic writing style is measured. By this, we mean that it's:
Emotionally neutral
Formal – written in the third person and in full sentences
How to be measured
Your assignment needs to be evidence-based . You should:
Reference all the ideas in your work
Paraphrase your evidence
Apply critical thinking to your evidence
How to be evidence-based
How to paraphrase
Once you've found all your evidence, and have decided what to say in each section, you need to write it up as paragraphs. Each paragraph should be on a single topic, making a single point. A paragraph is usually around a third of a page.
We find Godwin's (2014) WEED model very helpful for constructing paragraphs.
W is for What
You should begin your paragraph with the topic or point that you're making, so that it's clear to your lecturer. Everything in the paragraph should fit in with this opening sentence.
E is for Evidence
The middle of your paragraph should be full of evidence – this is where all your references should be incorporated. Make sure that your evidence fits in with your topic.
E is for Examples
Sometimes it's useful to expand on your evidence. If you're talking about a case study, the example might be how your point relates to the particular scenario being discussed.
D is for Do
You should conclude your paragraph with the implications of your discussion. This gives you the opportunity to add your commentary, which is very important in assignments which require you to use critical analysis.
So, in effect, each paragraph is like a mini-essay, with an introduction, main body and conclusion.
Allow yourself some TIME to proofread your assignment. You'll probably want to proofread it several times.
You should read it through at least once for sense and structure, to see if your paragraphs flow. Check that your introduction matches the content of your assignment. You'll also want to make sure that you've been concise in your writing style.
You'll then need to read it again to check for grammatical errors, typos and that your references are correct.
It's best if you can create some distance from your assignment by coming back to it after a few days. It's also often easier to pick out mistakes if you read your work aloud.
Online tutorial for writing assignments
We have an online tutorial to support academic writing. Click on the image below or go to http://tees.libguides.com/academic_writing to view the tutorial.
Further Reading
<< Previous: Frequently asked questions
Next: Reading Lists Online >>
Last Updated: Sep 1, 2023 12:31 PM
URL: https://libguides.tees.ac.uk/media_and_journalism
Journalism Subject Guide: Writing for assignments
News articles
Documentaries
Research a topic
Writing for assignments
Books, articles, and more
Useful Internet Resources
Writing for news media
writing for news media.
Ian Pickering, a journalist of thirty years' experience, offers the following advice for news writing:
Accuracy is all-important: You must not get things wrong! This includes seemingly minor details. If you get the little things wrong, readers will question the accuracy of bigger ones.
Know your audience: Understand who you are writing for. Audiences will differ by a number factors, including platform (online or print), ideology, geography, demographics, and interests.
Perfect your introduction: Keep it to a single sentence of no more than 25 words, and apply some flair to draw your reader into the story.
The above advice is adapted from Pickering's Writing for News Media (pp. 74-145). Find more details and his seven other "golden rules" by downloading a copy of the book via the link below: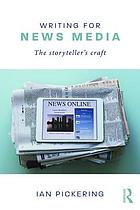 AP Stylebook:
The Associated Press Stylebook is an English grammar style and usage guide. It is commonly adopted in news writing.
Access the Library's subscription to the online version via the link below:
Write for academic assignment
writing for academic assignments.
Your academic assignments will in general require you to present an "argument". In other words, you need to go beyond mere description and address the 'Why' or 'So what?' of the topic.
Make good use of your sources to not only to provide evidence for your argument, but also to construct it. Your writing should be able to show where your ideas came from and how you built up your own original perspective on the topic.
It can be helpful to frame your assignment as a conversation with your reader where you deal with questions and disagreements in order to persuade them of the strength of your argument.
The above advice was adapted from Writing at University: A Guide for Students . The full text has plenty of practical advice and exercises/activities to help you improve your academic writing. You can consult the Library's online copy of the book via the link below:
Cite your sources
cite your sources.
It is vital that you provide full and accurate citations for all of the information sources that you include in your academic assignments. There are many different styles (APA, MLA, Chicago, etc.) so check with your course instructor if you are not sure which style to use.
Click here for the Library's Citation Guide
<< Previous: Research a topic
Next: Books, articles, and more >>
Last Updated: Jun 2, 2023 2:37 PM
URL: https://hkbu.libguides.com/journalism
Close Menu Search
Tips and Lessons
Classroom in a Box
Journalism Training
News Literacy Principles
Media Literacy Articles
Curriculum and Lessons
Q and A with the Pros

SchoolJournalism.org
News writing, asne lessons created for use with the news writing training module.
Day 1 News Writing lesson News Writing PowerPoint – Day 1 News Writing Guided Writing – Day 1
Day 2 News Writing lesson News Writing PowerPoint – Day 2 Inverted Pyramid Handout Mini Evaluations News Writing Guided Writing Day 2
Other ASNE lessons
News Writing and Copy Editing A brief unit before story assignments are made covering the highlights of reporting, feature-writing, spot news, basic subject-verb-object style, quote attribution. A nuts-and-bolts unit to give a good floor for everyone.
The Basics of Journalism: A Little Preview A basic, first-of-the-year lesson that asks students what journalism is and asks them write leads based on a list of topics.
Courage, Risks and Accuracy in Reporting War Stories A plan exploring the history of journalism and the role of the war correspondent. Students construct a War Correspondent's Notebook, an editorial and a commentary.
News: Researching, Interviewing, Reporting and Writing A lesson that gets at the heart of reporting and writing an article and goes through all the steps of doing so.
Fact-Finding Scavenger Hunt A scavenger hunt that asks students to use research materials properly — from almanacs to the Internet. Can be localized.
Categorizing Quotes How do reporters choose the quotes they use? By choosing the ones that move the story forward and convey the most meaning. This lesson delves into that a bit and asks students to try it themselves.
Bringing It All Together Use this exercise to wrap up Unit I of advanced journalism classes or the beginning journalism year class.
Straight News A short lesson that asks students to look at an out-of-order news story and put it back in order. Comes with two worksheets on news judgment.
Introduction to Paragraph Development in News Journalism A lesson to introduce students to paragraphs and their importance. Asks them to look at stories without paragraphs and with them to analyze the most important material. It reinforces the differences between journalistic writing and essay writing.
Practice makes Perfect: An Exercise in News Writing A lesson that you can repeat as a staple of the class over and over again. It asks students to identify the key pieces of information in a story so as to better write their own stories.
Precise Writing Teach students how to choose precise and accurate nouns, adjectives and verbs to create vivid writing.
Revision Strategy: Using Math to Improve Writing Tracey Burger of Miami shares a short and sweet lesson to eliminate passive voice and "worthless words" from student writing.
Learning from Award Winning News Writers Activities to study and learn how the best writers craft their stories.
Comments (0)
Cancel reply
Your email address will not be published. Required fields are marked *
What is Journalism?
General Course Policies
Major Assignment Sheet
MAJOR ASSIGNMENT SHEET
JOUR 2321: Introduction to Journalism
Assistant Professor Jena Heath
We will talk about the news of the day throughout the semester, so keeping up with reading the New York Times, Hilltop Views and other news sources is key. For the first five weeks, we will focus on writing. You will learn to write a basic news story in the Inverted Pyramid style. We will also spend a lot of time discussing the massive changes in the news business. The second five weeks will center on reporting skills and verification techniques. Our focus during the final five weeks will be on libel and ethics.
This sheet details the three major assignments (Big Stories) and explains how you should approach smaller assignments. In addition to the three Big Stories, I will assign homework in the form of reading and exercises throughout the semester. I pace these assignments according to the class's overall progress. For that reason, they are not laid out week by week in this syllabus. I want the class to progress at its own speed and that tends to differ from year to year, depending on how much exposure to journalism students have had. Please understand that the purpose of reading and smaller assignments is to help you build the skills you will need to do the three Major Assignments well. I will post the reading and smaller assignments under Assignments on Blackboard and I will explain them in class. Please be sure to check Blackboard after each class to be sure you haven't missed an assignment. Together, these assignments  – homework, in-class writing and quizzes – comprise 10 percent of your final grade.
You will also take a midterm and final exam. The midterm will cover your reading for the first part of the semester. The final will cover libel and ethics, which we cover in the second half of the course.
Midterm: Tuesday, Oct. 21 in class
Final: Tuesday, Dec. 9 at 9 a.m. in our classroom
Major Assignments (the Big Stories):
You must write three major articles during the semester. As you will see in the Syllabus, the bulk of your final grade for the course  – 60 percent  – will rest with how well you complete these stories. The purpose of these assignments is to give you hands – on experience reporting and writing the basic kinds of news stories you would be assigned to as an intern or entry-level reporter.
Type your stories in 12-point font and double-space your copy. Leave sufficient room in the margins for my comments and questions. Put your name on the top of each page.
The first and second stories must run 750-1,000 words double-spaced. The third story can run to 1,500 words double-spaced.
Your stories must have a minimum of three primary sources, i.e. interviews in person or
on the telephone, with three people. Email interviews do not count (I will check with your sources to verify that you've met for talking on the phone). You must also
incorporate online research or public records research or both. Please note that simply
crediting an online source, including a newspaper, magazine or other news outlet's
report, without independently verifying the information you find there, will not count.
You will be graded on your ability to find a focus, write clearly, compose a compelling
lede and incorporate strong quotes in your copy. Proper presentation and punctuation of
quotes, proper use of Associated Press Style and overall accuracy will also factor into your final grade  on each assignment. You will lose two points for each AP Style error. You will lose five points for each error of fact. You will lose 10 points for each proper name you get wrong.
You are required to write a one-paragraph budgetline (or pitch), a first draft and a final draft. You must attach your pitch and your graded first draft to the final version. Failure to meet the Pitch and/or First Draft Deadlines and to turn in the required material with your final version will mean a zero for the entire assignment. Make substantive improvements to your copy. Incorporating my editing marks and doing little else will not suffice and will hurt your final grade. The first draft will equal 30 percent of your final grade for the assignment.
Assignments are due at the beginning of class. Print out your work, staple it and have it ready to submit when you arrive. I will not accept email submissions. I will not accept work handed in after class has begun. Please review my policies on late work.
1. Your first assignment is to cover a speaker(s) on our off campus. This person can bespeaking by herself or on a panel, informally or before a packed auditorium. You will need to do some planning. Check the events listing on the SEU home page, for example, at UT-Austin and in town. Is anyone interesting speaking? Where? When? Tell the reader what happened, thinking first and foremost about your lede. What is the news from this address? Identify the most important, interesting aspects of the event, find a focus and craft your story around it. Quote the speaker, quote other participants (if this is a panel or group discussion, for instance, or if audience members ask questions). Be sure to stay after the event to get reaction and quotes from those in the audience. Be careful with names. Make sure you have full names and correct titles in your story. Two tips: Research your speaker and the topic before the event so that you have some context when you're listening. After the event, don't wait to start writing. Go home, sit down and begin crafting your story while it's still fresh in your mind.
Budgetline Due: Sept. 9
First Draft Due: Sept. 23
Final Due: Oct. 7
2. Your second assignment is to cover a meeting on or off campus. You may cover a Student Government Association meeting or an Austin City Council meeting or a meeting of any other governmental or quasi-governmental body that interests you. What is the news from this meeting? Identify what is most important and interesting, what decisions this body makes that might have an impact on the reader, and make that your lede. Quote the key speakers, quote other participants and get reaction from audience members and those affected by the decisions this body makes. Again, be careful that you have full, correctly spelled names and titles in your story. Begin writing as soon after the meeting as you can. A tip: Contact Student Life in the first week of the course to find out when and where the Student Government Association is meeting so that you canplan ahead.
Budgetline Due: Oct. 14
First Draft Due: Oct. 28
Final Due: Nov. 11
3. Your third assignment is to  write an issue story. You must identify an issue of interest to students and develop a story about it. For example, you could write about safety on campus, college costs, dorm life, the job market –anything you can establish is of real concern to students at SEU and/or elsewhere. You will need to substantially report the issue, using human sources and thorough research. What else has been written about your issue? Be sure to check other newspapers (including Hilltop Views). Interview stakeholders –the students who are concerned and the administrators and/or policymakers who can respond to these concerns and help explain your issue. You must strive for balance and put your issue into context. Are students at other universities also concerned about the issue you're exploring? Hint: An issue is not a complaint. Students who must walk 10 minutes from the parking garage to their morning classes, for example, may have a complaint. They do not have an issue. Students who can't afford to pay tuition because their parents have been caught in the unemployment spiral are experiencing a very real issue. Perspective in this and all other things is crucial.
Budgetline Due: Nov. 18
First Draft Due: Nov. 25
Final Due: Dec. 9 (same day as the final exam).
This schedule is subject to revision. Please check email and Blackboard for changes.

Comments are closed.
Class Blogs
Introduction to Journalism